This Fund Is Helping Women's Strike Participants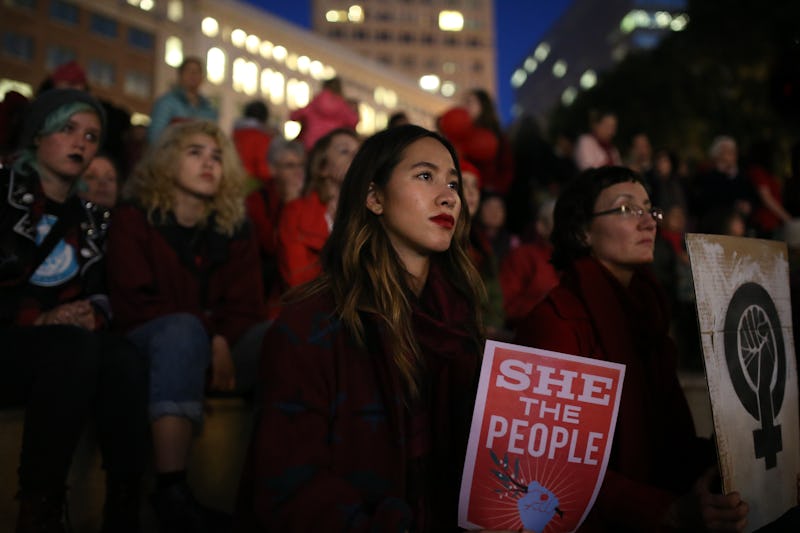 Elijah Nouvelage/Getty Images News/Getty Images
On March 8, women across the country participated in "A Day Without A Woman." This general strike emphasized the socioeconomic impact women and gender nonconforming workers have on a large scale — but refraining from paid work for a day does not come without significant cost for many people, which is where the Grassroots Solidarity Fund comes in. Many have acknowledged that privilege affected the women's strike and people's choice and ability to participate. So, seven women in the D.C. area did something about it, starting a fund you can donate to via Venmo in order to help offset the costs of losing a day's wages for many who participated in the strike.
What started as an email chain among a group of friends grew into this crowdsourced fund, which was created to support women who faced financial ramifications by participating in the women's strike. While discussing how they planned to recognize "A Day Without A Woman," Sarah Thankam Mathews, Katie Garth, Karen Driscoll, Ameesha Sampat, Lauren Mitten, Gabi Kim Huesca, and Jill Nguyen realized they wanted to find a way to support women striking who may not have the economic or employment-based freedom they do.
Within six hours, the women launched the Grassroots Solidarity Fund website and corresponding Venmo account to raise money for women in the D.C., Maryland, and Virginia area who went on strike. Through the website, you can either request aid by filling out a simple form or donate money to contribute to other women's lost wages or childcare support. Between $60 and $90 in funds will be distributed to each woman who requests verifiable aid. You can donate and support request for aid through Monday, March 13.
Any remaining funds will be donated to the organizations Casa Ruby, Calvary Women's Services, and Ayuda. When you donate, every dollar will go to help women and gender nonconforming people who need it, either through direct relief or the above organizations that work specifically to support women.
The women who started the Grassroots Solidarity Fund spoke with Bustle about who they are and how they started the fund.
It's amazing that the creators of the fund were able to organize so quickly and so effectively; indeed, they tell Bustle in an interview, "Maybe women should be running the country. Many of us, through our jobs, have developed the skills and learned to use the tools that made this possible." The email thread, they say, brought together "a handful of women who collectively have professional experience in writing, design, event-planning, press pitching, digital marketing and more"; from there, the rest came naturally. "After deciding to move forward with the idea, we each leaned in to the areas we're strongest in and trusted each other's expertise. While we're politically aware and active women with day jobs at mission-driven organizations, the 2016 election galvanized many of us to do as much as we could, particularly to fill in gaps that we saw," they say.
Sarah Thankam Mathews emphasizes inclusiveness, which was a large part of the impetus behind the development of the fund. "As a woman of color, I was impressed by the organizers of the Women's March for how they have centered the marginalized in their platform and events," she tells Bustle. "We are a majority-women-of-color-group of women and queer folks from widely different economic backgrounds who came together over an email thread. We hoped to do something meaningful and concrete in a media climate that seemed to consider #ADWAW an 'elite' endeavor, despite the urgency of its project to all women, particularly vulnerable women workers."
For those who want to become more politically active, carrying the spirit and the momentum of the strike, and the Women's March before it, into their everyday lives, the organizers of the Grassroots Solidarity Fund keep it simple: "Just go ahead and do it — while always respecting the needs and dignity of people you want to help or be in solidarity with," they say. "Go to events, community meetings, local government meetings like town halls, and pay attention to where the gaps might be — where someone like you might be able to do good." The biggest obstacle to organizing projects like the Grassroots Solidarity fund, they note, "is fear — fear that your idea will fail or be derided." But, they suggest, "Learn more about the foot soldiers of movements — ordinary people throughout history who stood up, said enough is enough, and made serious change with their collective courage."
The fund is currently about $100 away from passing the five thousand dollar donation mark. The organizers ask you donate if you can and pass the website along to someone who participated in the strike that needs it.
Like the Grassroots Solidarity Fund website mentions, protests and strikes have gained us everything from the eight-hour workday to a woman's right to vote. Protests help make progress happen, especially when women like Mathews, Garth, Driscoll, Sampat, Mitten, Huesca, and Nguyen are leading the way.