The LGBT Film 'Desert Hearts' Is More Important Now Than Ever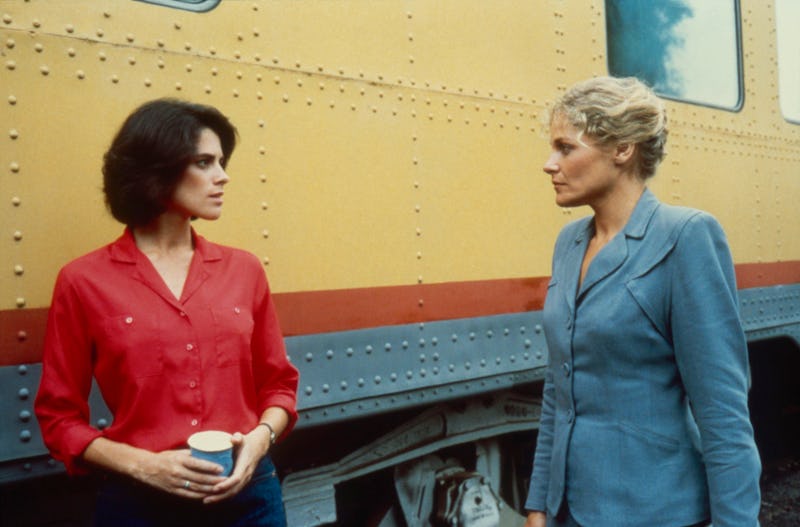 Janus Films
Over 30 years ago, director Donna Deitch made Desert Hearts, a hopeful lesbian love story that was ahead of its time. In 1986, few people could even imagine a queer film that didn't end in tragedy, Deitch tells me over the phone, listing off the all too common ways LGBTQ love stories usually went wrong: suicide, murder, bisexual love triangle, someone suddenly going straight. "That's all they could imagine because that's all there was," Deitch says. "And so you know what, I made the movie I wanted to make, the movie I wanted to see because it hadn't been made."
Desert Hearts, a sweet and sincere coming-out-story set in Reno in 1959, looked at the queer experience in a way no other film had before and, in my opinion, has since. Even in 2017, the affirming message of the movie, which has just been digitally restored by Janus Films, feels revolutionary and much-needed. Deitch agrees, and thinks her film's message of love has never been more relevant than it is right now in the age of Donald Trump and anti-LGBT rhetoric and policies.
"We're constantly up against what is obviously a totalitarian individual who is currently the president," Deitch says. "We are up against incredible racism and homophobia and anti-immigrant positions and legislation. We live in a really hateful time." But her movie, which looks at the relationship between Vivian, a straight-laced Columbia professor (Helen Shaver) who's come to Reno for a quickie divorce and the younger free spirit Cay Rivvers (Patricia Charbonneau), shows that love can still exist and survive and even flourish in a hateful world.
Deitch's film focuses on two women falling in love in the '50s at a time when that was taboo and also dangerous. It's sensual and sensitive, and whether you're queer or not, it's hard not to connect with the two very different women who find what they need in one another's love. "I wanted it to be a universal love story," Deitch says now, "about two people that have nothing in common, but their gender."
When Desert Hearts was released, it wasn't the mainstream hit Deitch hoped it would be, but it was a groundbreaking one that won the Special Jury Prize at the 1986 Sundance Film Festival and nearly broke the box office record in the New York City theater where it opened thanks to word-of-mouth raves. And now, the director is counting the same kind of talk (or, more accurately, tweets) to spread the word about the film again, as it is playing for a limited time at NYC's IFC Center starting July 19.
Although new audiences of the film might be relatively young, Deitch tells me that she wants them to understand the movie's political importance back when the country's president was Ronald Reagan, who had a mixed record on LGBTQ issues that notably included a slow response to the AIDs epidemic. "The personal is political and this film is absolutely 100 percent personal for me," she says. And today, with the LGBT community's rights at risk, Desert Hearts is most certainly still as timely as it gets.
Yet while the film may be considered hugely important today, when Deitch made it, she had trouble getting actors to even audition because it was deemed too controversial. She raised the budget on her own over a span of two and a half years through "investor parties," even selling her home to finally hit her mark. Even then, nothing came easy; she recalls having to fight the studio to keep a sex scene between Vivian and Cay in the movie, arguing that its lack of male gaze made it special and authentic.
Seeing Desert Hearts now, it's amazing how modern it feels, as if this same exact film could have been made today and still feel innovative. Besides last year's Oscar winner Moonlight, there aren't too many hopeful LGBTQ films that celebrate love in all its forms. It's why Deitch is now working on a sequel to Desert Hearts that will revisit the same women in '70s New York City during the heart of the women's lib movement. She believes, she says, that the world needs more films like hers to show this kind of love can, should and does exist onscreen.
"When you see what's possible, everything opens up for you," she explains. "Like the feminists say, 'If you can't see it, you can't be it.'" Deitch wants the queer community to once again know their love is the kind you see in the movies — the kind that deserves a happy ending.