'The Handmaid's Tale' Birth Ritual May Have Realistic Roots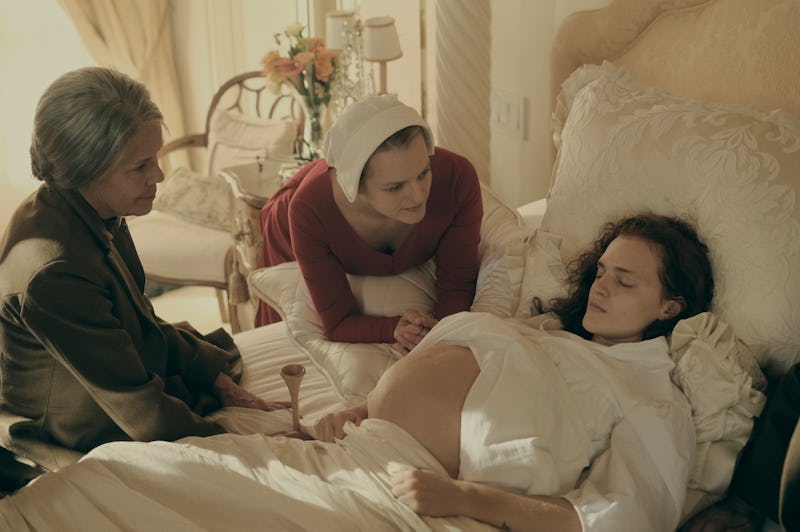 George Kraychyk/Hulu
Hulu's The Handmaid's Tale premieres on the streaming service on April 26 and depicts a chilling dystopian future in which Handmaids are forced to carry out surrogates pregnancies for a higher class of women and their husbands. The series shows the fictional world's strange birth ritual, but there are many weird real-life birth rituals that may have inspired The Handmaid's Tale, which is based on the best-selling novel by Margaret Atwood. In the Republic of Gilead, many women are found to be infertile, thus Handmaids (who are fertile) are assigned to wealthy families to conceive children during a bizarre sexual ritual, called The Ceremony.
The Handmaid's Tale shows many different rituals in the fictional Republic of Gilead, including The Ceremony, as well as an actual birth. In the second episode titled "Birth," Handmaid Janine is shown having a child in a large mansion. The Gilead ritual, though, also requires that the woman for whom Janine carried go through the motions of birth as well. That means she must breathe as Janine breathes through contractions and, when it comes time to push, the higher status woman sits with Janine between her legs as Janine delivers the child. It is a fictional ritual that takes the concept of surrogacy to another level.
But there are also many birthing rituals from around the world that could have contributed to Atwood's ideas.