'The Handmaid's Tale' Season 3 Finally Has A Premiere Date & It Can't Come Soon Enough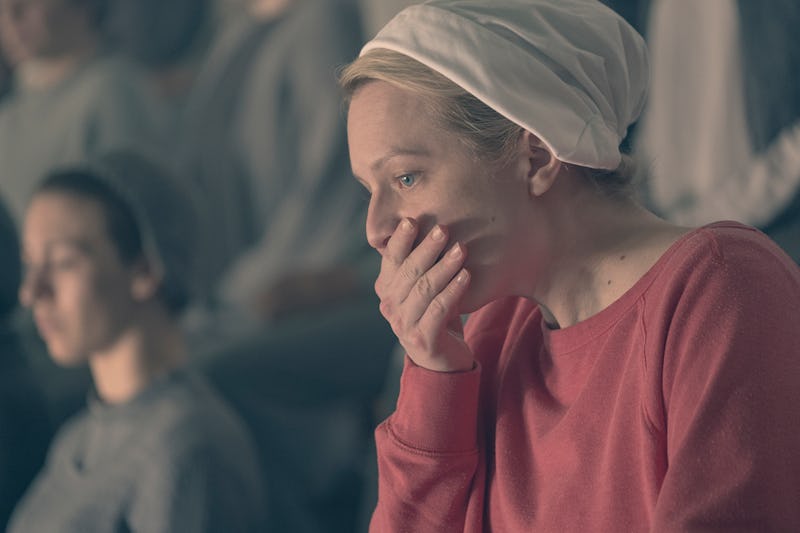 George Kraychyk/Hulu
The time has finally come for The Handmaid's Tale to return to Hulu. Yes, The Handmaid's Tale Season 3 premiere date is finally here, and new episodes will begin airing on Hulu starting on Wednesday, June 5. Hulu announced the news on Monday, Feb. 11, at the Television Critics Association press tour, as reported by Deadline. The new season will kick off on June 5 with three new episodes, with subsequent episodes airing every Wednesday.
Season 3 will have a total of 13 episodes, similar to Season 2. And while June 5 might seem like a long way's off, new episodes will actually premiere only one year after the end of Season 2, so the wait hasn't been nearly as long as it might feel. Still, it's nice to finally know for sure when Offred (Elizabeth Moss) and the rest of these dystopian characters will be back on the small screen. According to Deadline, Season 3 will continue to follow Offred's rebellion against Gilead. Spoiler alert for The Handmaid's Tale Season 2 finale. The last time fans saw Offred, she was making the impossible decision to stay in Gilead, sending her newborn away with Emily (Alexis Bledel), and hopefully toward freedom. It was a decision that left many fans divided, and certainly laid the groundwork for an even more thrilling Season 3.
This announcement comes just one week after Hulu dropped the very first teaser for Season 3, which aired during the Super Bowl. The trailer teased a radically different reality for Offred, who appears to be dressed as a Martha (essentially a housemaid). Meanwhile, it seems like a large scale uprising is imminent, or at least in its early stages. "Wake up, America," Offred is heard saying off screen, before the teaser cuts to a spine-tingling image of handmaids lined up in a kind of procession, a large cross in the background.
Moss teased the impending rebellion in an interview with The Hollywood Reporter, saying that Offred (or June, as she was called before the oppressive laws of Gilead attempted to stifle her identity along with her freedom) was now fully embedded in the resistance. "She knows now she isn't alone," Moss told THR. Moreover, she said, seeing that an underground rebellion was, in fact, operating, it gave June hope that she could rescue her eldest daughter, Hannah. "She doesn't want to leave Hannah, but when she sees Emily and the commander, she realizes she can get her baby Holly out and stay to try to do the same for Hannah."
Moss added that June/Offred wasn't just staying in Gilead to save her own child, but all children. "It's bigger than her and Holly and Hannah," she said. "It's all about the sons and especially daughters of Gilead, and fighting for their lives. Seeing the Martha network and the commander have opened her eyes. She is no longer alone. She has an army, and she's going to fight back."
So fans of The Handmaid's Tale better plan on being in front of their TVs or computers come June 5, because there's a lot of rebelling that needs doing. And June can't do it alone.