'A Christmas Story Live' Changed Things In A Big Way With A Hanukkah Song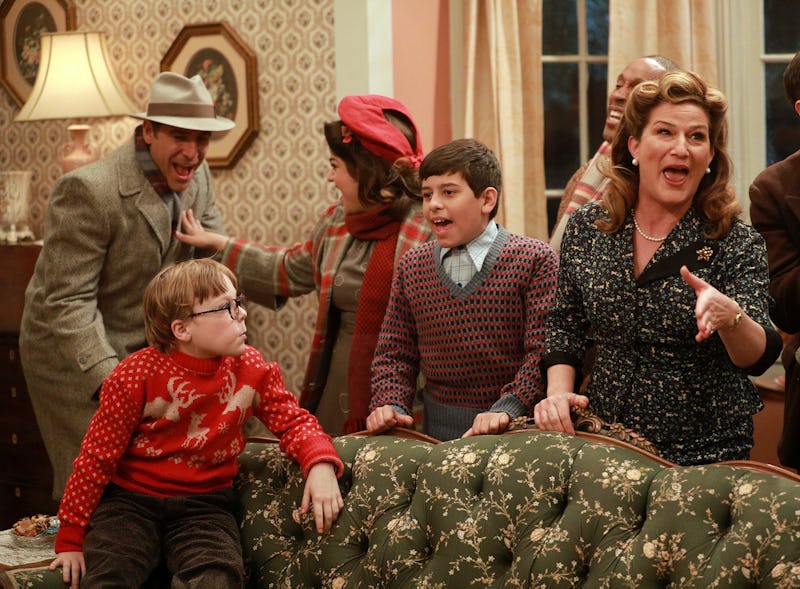 Jordin Althaus/FOX
The staging of a new musical means the ability to make it fresh, make it modern, make it pertinent to the time in which we're living. A Christmas Story Live did so during its broadcast, adding a Hanukkah-themed song, "Market for a Miracle" to A Christmas Story's canon. Ana Gasteyer plays Mrs. Schwartz, who serenades little Ralphie about hoping for a miracle (aka getting his Red Ryder BB gun) when he comes over to apologize to the little Schwartz for getting him in trouble for blaming him on their bad language.
"Market for a Miracle" describes how the Maccabees made one night of oil last for eight nights — thus, a miracle in their eyes. This is a departure from the original musical, which didn't include any songs to reflect the Hanukkah holiday. This new one was a great one, bringing up the joys of being different and the importance of staying positive during life's ups and downs. Lyrics include, "There's no need to be concerned/just think how long that oil burned," and it's a fun way to bring more diversity into A Christmas Story Live and add a show-stopping number for Gasteyer to showcase her Broadway prowess and comedic timing.
She's no novice to the live television musical game, either — Gasteyer played Principal McGee in Grease Live in 2016, and she appeared as Elphaba in Wicked on Broadway. Her new song came about partly because of her own skills and partly just because they needed a song to fill the telecast. In an interview with Entertainment Weekly, Gasteyer explained that the song was written just for her:
"Basically the telecast required one more number because of the way the commercials were paced, so they looked at the piece overall, and they decided there would be a really great moment for a Hanukkah number. The show didn't have a Hanukkah number and so they called me up and said, 'Hey listen, we're thinking about writing a Hanukkah number and we'd like to write it for you, and can we do that?' And I said, 'Why yes, why thank you!'"
Um, when two Tony-and-Oscar-Award-winning writers want to write a song for you, Gasteyer's response is the correct one. You just say yes. The new song, according to writers Robert Cary and Jonathan Tolins, also fills in a big hole in the plot. "We watched the original movie and we saw that there was this issue that Ralphie blames his friend Schwartz for something and we wanted to know 'Where does that go?'" Tolins told Entertainment Weekly. "He never dealt with his friend, and that led to us coming up with this Hanukkah song, so that's exciting that we're adding new things to the world of A Christmas Story."
And as for singing live, it didn't seem to phase Gasteyer a bit. She and co-star Maya Rudolph both come from doing live weekly shows on Saturday Night Live, so this is just sort of in their blood. "We both come from that world, and the thing about theater is it's very refined and it's very rehearsed and there's a sense of wanting to do it really well," Gasteyer told Entertainment Weekly. "Maybe this is just my brain, and then you throw live television on it and there's this kind of catch-as-catch-can grammar, so it's this weird mash-'em-up of fast-and-loose and super-rehearsed. I remember this with Grease, too, I felt kind of like, I don't know, like I was mid-dryer-cycle the entire time... That's what happened with Grease; once the ride started it was incredibly fun."
And it was fun to watch, too — Gasteyer is both incredibly charming and a bit of a pioneer with this new, Hanukkah-focused song in A Christmas Story Live.