The 'Harry Potter' Cast Has Their Own Group Chat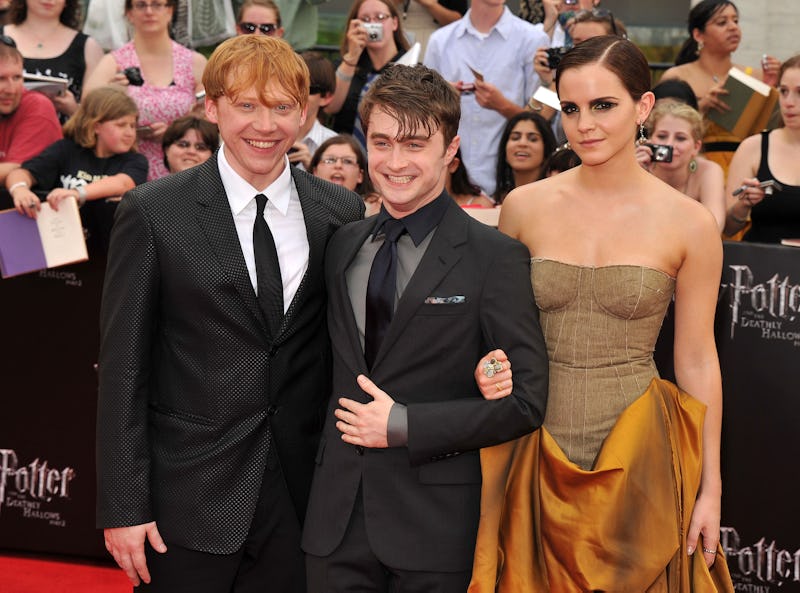 Stephen Lovekin/Getty Images Entertainment/Getty Images
This is something that totally would've happened in Harry Potter, you know, if witches and wizards actually used cellphones. Either way, it's happening in real life and the HP fandom is really excited about it. During a chat with Entertainment Tonight while promoting Beauty and the Beast, Emma Watson revealed the Harry Potter cast has a group chat. Actually, it's all thanks to Watson who set up the chat through the WhatsApp application.
After being asked if she keeps in touch with co-star Daniel Radcliffe and whether or not he's reached out about her new Disney film, she answered, "We actually have a group WhatsApp, which I invited everyone really from the main cast from Harry Potter to come to the screening." How amazing is that? Most of the main stars from Harry Potter are part of a group chat. Now, I usually despise group messaging, but this is one I'm so on board with.
It's unclear how often they communicate or what they discuss exactly, but the fact that they have a group chat is thrilling enough. It seems thanks to the chat, Watson was able to get two of her former co-stars to attend the Los Angeles premiere of BATB. As previously reported by ET, Matthew Lewis and Tom Felton came to the premiere to support Watson. Per ET, Lewis walked the red carpet with his fiancée and Felton chose to skip the carpet, but was reportedly spotted at the event.
Watson admitted it's not easy getting everyone together or trying to stay in touch, but I guess that's why she created the group chat. "It's kind of like Pokémon," she said. "I'm trying to catch them all right now. I've got Bonnie [Wright] and Dan left. You know, we're all spread all over the globe. It's a case of trying to, like, get people into the right places, but I feel very supported by my old co-stars."
As expected, this news has created a stir amongst Potterheads. They are dying to know exactly what their favorite actors are talking about in a group chat. (Side note: Do you think their group chat is named "Dumbledore's Army"? If not, it totally should be.)
The fandom really needs to know about the cast's private conversations. Do you think they're just catching up on life and inviting one another to all of their events? Seeing as they are all so close and have remained friends, their chat is probably just like any old text conversation you and I have with our friends. That's what makes it all the more intriguing.
Potterheads are really invested in this group chat and they have no idea what's even being discussed. Yes, I'm included in that. Too bad we can't use some type of spell to get the chat to reveal itself. Where the heck is Hermione when you need her?