Evanna Lynch's Good Luck Messages From Harry Potter Co-Stars Prove The DA Lives On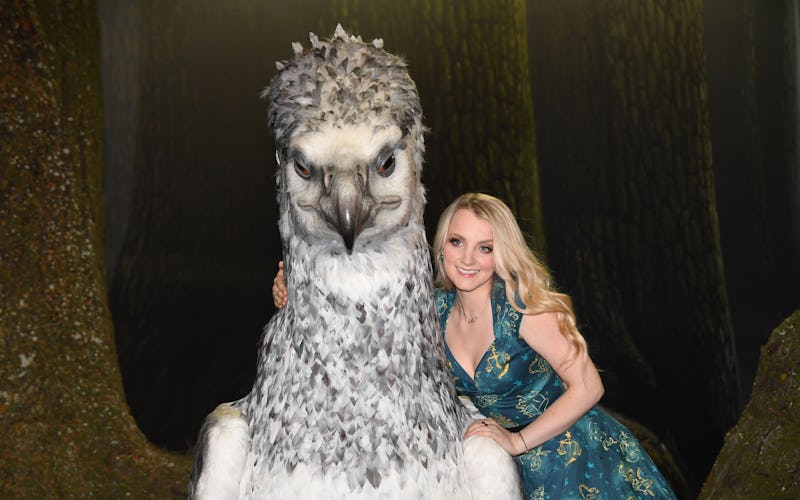 Stuart C. Wilson/Getty Images Entertainment/Getty Images
Harry Potter's Evanna Lynch is currently setting the dance floor alight over in the U.S. on a show called Dancing with the Stars and well, she made it to the final on Monday. The series is very similar to the BBC's Strictly Come Dancing, and she and professional dancer Keo Motsepe have been competing for the show's Mirrorball Trophy (see what I mean about the similarities?). While they got off to a rocky start, she's been nailing it in recent weeks. Right before her last ballroom showdown, the Harry Potter cast sent Evanna Lynch supportive messages in the most Gryffindor move since bringing down Voldemort.
Evanna had to dance not one, but two dances last night, performing her most popular dance from the season, a tango, and a new freestyle one. Right before she jumped up for her tango, she was surprised with a series of messages from the HP cast including her Gryffindor pals Emma Watson, Bonnie Wright (Ginny Weasley), James Phelps (Fred Weasley), and Matthew Lewis (Neville Longbottom). Despite the fierce competition for the house cup, Slytherin and Ravenclaw also turned up to support her including Tom Felton (Draco Malfoy) and Passengers' Katie Leung (Cho Chang).
Naturally, the woman behind it all, J.K. Rowling, also popped her head in to say hello and wish her luck.
Emma's message was easily the most heartfelt and after seeing it, I've decided we need a Luna/Hermione buddy movie immediately. Filmed from her couch, the UN Women for Women ambassador sat cross-legged and gushed over her friend's success on the show.
Watson said, "Let me just say this again, you are in the final! I am so proud of you, I don't know where those dancing skills came from but you are unbelievable. We are so proud of you, we love you, we are rooting for you. Kill it tonight, girl!"
Although Daniel Radcliffe and Rupert Grint sadly didn't pitch in, it totally makes sense that between Harry, Ron, and Hermione that Miss Granger would be the only one to get her video in on time. (I refuse to accept any other theories that they just couldn't be bothered, Hogwarts kids never say die.) That said, Tom Felton proved he's come a long way since his Slytherin days and buried the hatchet with a lovely message.
"Despite all of our differences at Hogwarts," Felton joked, "I want to wish you all the very best tonight! Keep making us all proud."
It seems like Passengers' Katie Leung and Lynch are better BFFs than I previously realised, which warms my heart immensely. It turns out that Leung has been properly following the show, as she hinted she'd even seen Lynch in rehearsals.
She said, "It has been such a privilege to be able to watch you perform, and to see you in rehearsals because I got to witness your dedication, your passion. I love you so so much."
And then of course J.K. Rowling, who seemed to be filming live from what looks like a premiere of Fantastic Beasts shouted into the camera, "Best of luck, Evanna! Hope you win!"
I'm going to admit it all had me a little emotional seeing the whole reunion unfold. (Has it really been nearly eight years since the last film?) I miss those guys so much. I MISS THEM SO MUCH.
And in Luna Lovegood's own words, I'd just like to present you with this GIF which has me ugly sobbing RN:
The cast's messages of support clearly worked their magic, as Lynch wound up securing a perfect score of 30 out of 30 on the show. One judge said of her vibrant freestyle performance, "It was bright, it was colourful, it was quirky."
Sadly it wasn't enough and her competitor, American radio personality Bobby Bones, wound up winning the coveted trophy.
Honestly though, the woman scored a perfect score. What else are you really supposed to do to win? I demand justice for Luna Lovegood.