'The Hate U Give' Started A Conversation. Angie Thomas Hopes It Continues With Book Two.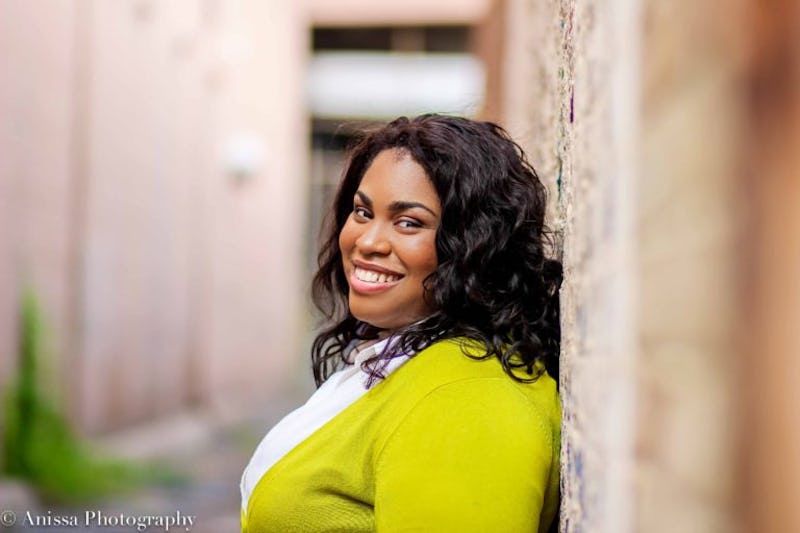 Angie Thomas, courtesy of Anissa Photography
The movie adaptation of The Hate U Give begins with a talk: Maverick Carter sits down with his children — the story's protagonist, Starr, and her two brothers — to talk through The Black Panther Party's Ten-Point Program and instruct them on how to respond if they get pulled over by police. He, like all black parents, knows that his children are probably never more in danger than when in the presence of those who "keep the peace." It's a gut-punch of a scene, and one that immediately sets the tone for the movie, a heart-wrenching account of the personal and political costs of police brutality. Author Angie Thomas tells Bustle that scene was decided upon by she, director George Tillman Jr., and screenwriter Audrey Wells in the very beginning stages of adapting her #1 New York Times bestselling novel for the screen.
"I hope that it really hits home for a lot of people," Thomas tells Bustle. "Especially people who don't have to have that talk with their kids about just how powerful this is and then how dangerous it is and just what type of knowledge young black kids have to be armed with nowadays just to survive."
Thomas first began writing The Hate U Give as a short story in her senior year at Belhaven University, as a response to the 2009 police shooting of Oscar Grant. In the years that followed, more and more black boys, teens and men were killed by police officers — Trayvon Martin, Mike Brown, Tamir Rice — and Thomas decided to expand the story into a novel. The book draws its name from a Tupac Shakur lyric — "The Hate U Give Little Infants F*cks Everybody" — a line that becomes pivotal to the action of the story.
The Hate U Give by Angie Thomas, $18.99, Amazon or Indiebound
The Hate U Give centers on the experiences of 16-year-old black teenager Starr (Amandla Stenberg) who lives in the poor black neighborhood of Garden Heights but attends a predominantly white private school, Williamson Prep, where she has a white boyfriend (KJ Apa of CW's Riverdale) and a slew of white friends. Starr code-switches between her two selves to maintain her identity in both spheres, but her worlds collide violently when she witnesses her friend Khalil killed by a white police officer. Suddenly, Starr faces a tough decision: If she testifies against the white police officer who shot Khalil, she risks incurring the wrath of a neighborhood gang leader and the scorn of her white classmates. But if she doesn't, she could help a white police officer get away with murder. The story is all-too-familiar to anyone who has kept up with the news in recent years, but by hyper-focusing on one case and one girl, Thomas is able to create a story that demands empathy of its readers in order to be understood.
"I definitely had a lot of people tell me that the book has changed their perspective and opened their minds and their hearts," Thomas says. "I've had children of white supremacists who said that it opened their eyes and it helped change them and that was amazing to me, you know? In Mississippi, one gentleman — his family was part of the cover-up with the Emmett Till case — and he watched the movie and it opened his eyes and he sobbed through the whole thing because he realized the error in his ways and his family's ways."
In her next book, On The Come Up, Thomas introduces readers to 16-year-old Bri, a female rapper who lives in a poor neighborhood adjacent to Garden Heights. When one of her songs goes viral for all-the-wrong-reasons, Bri must lean into the false, degrading media narrative of herself in order to save her impoverished family from eviction. It's a novel about finding power in your voice as a black teenager, but it's also a novel about the very real costs of doing so.
Slated for release in February 2019, the book, Thomas hopes, will expand on the conversation started by THUG. "I told the young readers that they have a voice — use it," she says. "But I would be doing them a great disservice if I didn't address the fact that so often when they do speak up, they're criticized for how they speak or they're policed on the way that they speak, especially young black kids. They're often told they're too this, they're too that, they're too aggressive, they're too ghetto, they're whatever. And what are we telling them when we say these things when they do speak up and speak out? So that's what this whole book is about for me."
On The Come Up by Angie Thomas, $18.99, Amazon or Indiebound (Pre-order)
Although the book takes place in the same universe as The Hate U Give, Starr will not make an appearance, and neither will any of the other characters from the first book. Thomas, however, isn't ruling out a prequel starring Maverick as a teenager. "I feel like I've put Starr through enough. Let me mess with someone else," she says, laughing.
Both On The Come Up and The Hate U Give, which has spent 85 weeks on the New York Times bestseller list as of publication of this story, are novels written and intended for teens. Thomas speaks specifically and intentionally to that audience because she hopes that these stories will impact how they move through the world as adults.
"I understand that I'm writing for future leaders," Thomas says. "Honestly, in some ways, I've given up on our current leaders, and so I try to focus on these kids because I feel like they're going to be the ones to right the wrongs. Some of them are way more aware of the world beyond them, they have more empathy, and they have more concern than so many adults. So I'm going to keep writing for them as long as I can to show them how amazing they are, and to hopefully empower them so that they will be the ones to write the wrongs of the past."
She hopes that the kids reading her books become the adults leading the charge for justice reform; she even sees her own protagonist, Starr, as one of the leaders of the (fictional) reform process. "I think 10, 15 years from now, Starr... will have been in law school." she says. "I think she would be dedicated to social justice through that avenue. And I think that she would also, though, she would be taking care of herself in the midst of that. I think she will still have people who remember her as the witness, but I think she would make it her business to go beyond that title and that mindset." Hopefully the real-life Starr Carters are on the same path.
The Hate U Give is in theaters nationwide, and stars Amandla Stenberg, Russell Hornsby, Common, Regina Hall, KJ Apa, Sabrina Carpenter, Algee Smith, Issa Rae, Anthony Mackie, and more.