'The Hate U Give' Soundtrack Takes You On A Tour Through Hip Hop History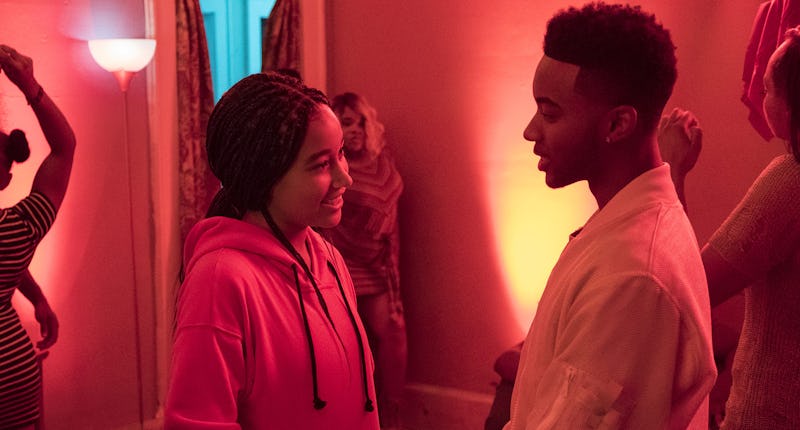 20th Century Fox
The new film The Hate U Give is hitting at a very culturally important moment. It's about a young black girl (Amandla Stenberg) from a black neighborhood who attends a mostly white private school, essentially living a dual life. That is, until she witnesses a white police officer shoot and kill her unarmed black male friend, which inspires her to become an activist in search of social justice. With such a heavy storyline, the movie needs some appropriate music to set the tone, and The Hate U Give soundtrack definitely does not disappoint in that department.
The film's soundtrack comes from Def Jam Recordings, an important label in the annals of rap music, and it serves as a veritable lesson in hip hop history. The 14 song track list includes contributions from pioneering artists like 2 Pac, to current superstars like Kendrick Lamar and Travis Scott, to rising artists who represent the future of the genre, like rapper Bobby Sessions and singer-songwriter Arlissa. You can find the full track list is below:
"Hold On" - Pusha T
"DNA" - Kendrick Lamar
"Hold You Down" - Jadakiss
"Only God Can Judge Me" - 2 Pac
"We Won't Move" - Arlissa
"Goosebumps" - Travis Scott
"The Hate U Give" - Bobby Sessions
"Keep Ya Head Up" - 2 Pac
"Everybody" - Logic
"Kill Moe" - Beau Young Prince
"Ghostfact Killers" - 21 Savage, Offset, & Metro Boomin
"Left Hand Right Hand" - NBA Youngboy
"Ocean Eyes" - Billie Eilish
"Always" - Amandla Stenberg
Three of the songs listed were created especially for the soundtrack: star Amandla Stenberg's "Always," Arlissa's "We Won't Move," and Bobby Sessions' title track, "The Hate U Give." Only Arlissa's song has been released thus far, and you can give it a listen below.
The artist penned the song after watching the film and being asked to take part in the soundtrack. "The scenes made me cry so much," Arlissa told Variety. "The film is about injustice, this constant brutality that generations have faced. But at the end of the day, it's also about what we can do when faced with adversity. You may always feel alone, but when you do speak up, when you use that voice, you connect with so many different people who feel the same. We are showing that there is hope."
As for Sessions , he saw a bit of himself in the film since he grew up in a black neighborhood, moved to a white neighborhood in middle school, and tragically lost a relative to police violence (his cousin was unarmed when he was shot and killed by a white police officer). "Drawing from that personal experience, I felt like I could contribute something of value to the film," Sessions told Variety. "I hope the song, along with the film, will inspire young people to find their voice, speak out, and have these uncomfortable conversations about what's going on in our community, and hopefully motivate everyone to do something about it."
The rest of the artists on the soundtrack came about from Def Jam knowing the message their artists have supported throughout their history lined up with the message of the film. "It's a natural fit for what we do as a company, and the culture of our company," Executive VP of Def Jam Rich Isaacson told Variety. "The movie is about race, about people who are victims of oppression who are just trying to live their lives. So many of our artists speak to these issues, from the beginning of Def Jam to today." The film even takes its title from a 2 Pac song, according to Variety, hence the legendary late artist's two inclusions.
The Hate U Give soundtrack is sure to inspire just as much as the film it's set to, and fans can discover it for themselves when it's released on Oct 12; exactly one week after the film hits theaters.