You're Wrong If You Think 'The Hate U Give' Isn't For You, Says Star Sabrina Carpenter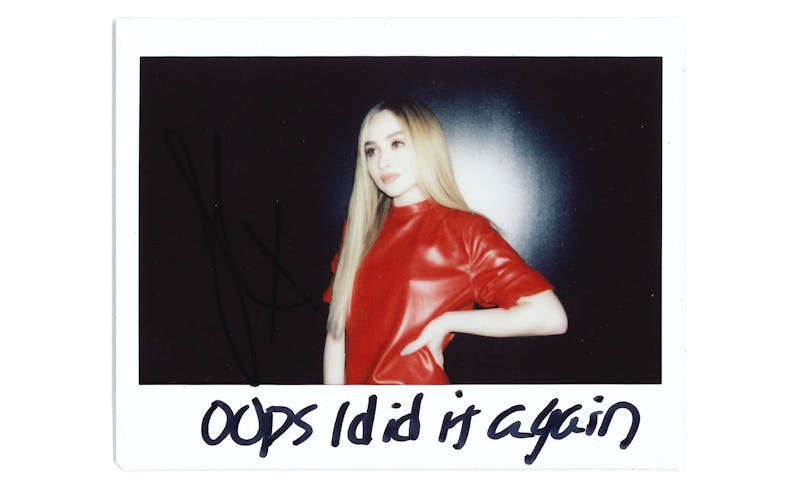 When celebrities hang out with Bustle writers, we want to give them the chance to leave their mark. Literally. So we hand them a pen, a piece of paper, a few questions, and ask them to get creative. The rest is up to them. This time, The Hate U Give star Sabrina Carpenter is leaving her mark in the Bustle Booth.
The day Sabrina Carpenter stops by Bustle's New York office, she's gearing up for the evening's premiere of the The Hate U Give, marking the third time that she's seen the completed film. She says that when she and the rest of the cast got to see the movie for the first time, there were a lot of tears and a lot of tissues, and she expects for tonight to be no different.
"I was blown away. We were very emotional, we were hugging each other and crying," she recalls. "We just wanted to talk."
And she hopes that sparking conversation is exactly what film will do for audiences once it's released nationwide on Oct. 19. But not only does she want folks to talk about the themes raised in the movie, Carpenter also wants people to genuinely listen to and learn from one another, which she says is a key takeaway.
Carpenter plays Hailey Grant, the ignorant, socially disengaged and lowkey racist prep school friend of Starr Carter (Amandla Stenberg). Starr is stuck in a constant battle to keep her white, affluent prep school life and more urban at home life separate. But after witnessing her best friend, a young black man, be murdered by a white police officer, her two worlds collide, her inner social justice activist is awakened, and she's forced to re-evaluate her relationship with Hailey.
The compelling and timely story will without a doubt leave much for moviegoers to mull over and discuss, as it tackles some critical issues facing the black community today, such as race relations in America, the art of code-switching, police brutality, the Black Lives Matter movement and more.
"I think people are going to think this is for a specific audience, and it's not," Carpenter says frankly. "I think there's a lot of people who need to see this movie, no matter who they are or where they come from."
The longer we chat, the more obvious it becomes that Carpenter is a stark contrast from the character she plays. She's much more warm and down to earth, and she speaks on social justice in a manner that makes it clear that she stays attentive to what's going on in the world around her. Hailey is much more oblivious to issues that are not directly affecting her.
"People that are like [Hailey] will hopefully see those things in themselves that they haven't seen before," she says. And although Hailey is far from her favorite type person, she concedes that getting to play the role and being involved with the film "definitely taught me so much and opened my eyes to so much that I wasn't aware of before. I think it did exactly what it was supposed to do."
Being cast for The Hate U Give happened in the midst of a turning point for the young actor. She'd played Maya Hart on Disney Channel's Girl Meets World for the show's three-year run, and she had a few different options for projects that could have taken off around the time of the show's end. She says that film has always been a dream of hers and she's grateful that this project is the one that fell into place.
When I ask about her time filming, she affectionately reflects on the star-studded cast that she got to work with, and all of the love that filled the set. Her costars include Stenberg, Regina Hall (Girl's Trip), Anthony Mackie (Avengers: Infinity War), and K.J. Apa (Riverdale), just to name a few.
"It was such an incredible experience to be around people that are all so passionate about what they do. No one who did this project wasn't one hundred percent in love with the story and the message behind it and you could feel that energy on set," she says.
And finally getting to work with Stenberg was an added bonus. She laughs when she mentions that they met when they were young performers, auditioning for some of the same projects. But they were never cast together, until now.
"I feel like this role was made for her, and it is so special to see someone who is so much like this character in real life get this chance," she says of Stenberg's lead performance. "It's very powerful, and I just hope everyone sees it."