The 'Haunting Of Hill House' Costumes Actually Reveal So Much About Those Hidden Ghosts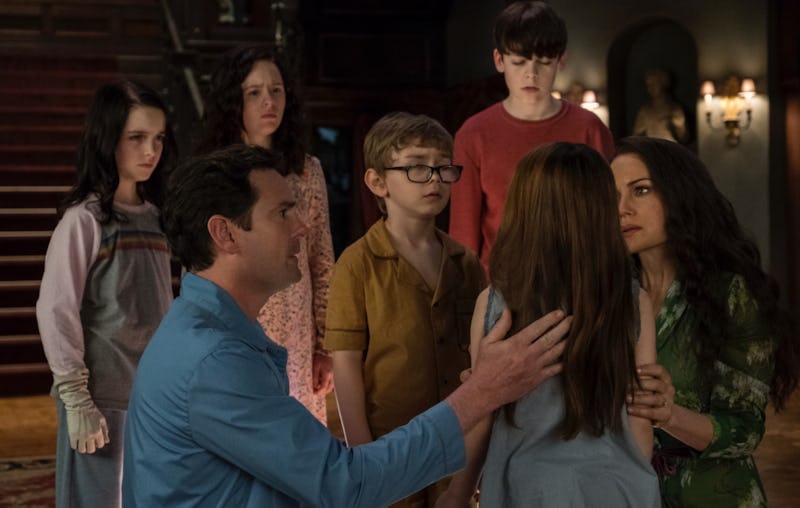 Steve Dietl/Netflix
In the mere weeks since it hit Netflix, The Haunting of Hill House has become a bona fide sensation. Aside from its jolting scares and moving commentary on family and trauma, much of the show's magic comes from its attention to detail. Everything that appears on-screen — down to each stitch of clothing — is cultivated and displayed with purpose. Just ask Lynn Falconer, who designed the costumes for Haunting of Hill House.
"We did full-fledged costumes for all of them," Falconer tells Bustle of the hidden ghosts that nestle themselves into the edges of almost every scene. Director Mike Flanagan has said that all of these figures, no matter how buried, have a backstory, and though Falconer was tight-lipped on specifics, it's safe to say she knows many of Hill House's secrets — even the ones viewers didn't get to see.
"There was ... a very rich backstory of the house. I utilized that [history of] I'd say, nine to 15 different [characters] that I was kind of aware of, without going too much into their story," Falconer reveals. "And then there's service people that probably succumbed to the house. I mean, it's eating people, right? That's the whole idea — it consumes life. So yeah, definitely the backstory of the [house] was very present in the designs that you see and the ones that you don't see."
Though Hill House is filled with ghosts and apparitions, it's the Crains that take center stage, and their wardrobes weave in subtle clues about their stay in the mansion. "When Olivia first enters the house ... when they first move in, you notice the whole family is at their brightest and their happiest," Falconer says. "She's in her most '90s, high-waisted shorts — there's an innocence there."
Placing the scene where the family first arrives at the house toward the middle of the season, and having them looking so visually bright, Falconer says, helps drive home how badly things have deteriorated in the time since. "All of a sudden, you feel that dread even more so by being able to see where they started," she continues. "And then [Olivia] ends up with migraines, barely able to dress herself in a way, and she's wearing a lot of loungewear."
Another detail viewers may not have picked up on? Nell's wardrobe when she appears to her family after her death. "In the case of when Nell visits her siblings and she has died, one of the rules was that she wears whatever [that particular sibling] saw her in last. There's not some penultimate signature Nell outfit," Falconer shares.
Each item of clothing was carefully selected to bring deeper meaning to the show; the younger versions of the Crains and their older selves are linked by a simple shirt or pair of shoes. To make these connections come to life, Falconer drew from her personal vintage archive as well as local estate sales, then dyed, tailored, and painted garments to achieve the exact hues she and the crew were searching for. Jewel tones, cranberries, ocean-deep blues — those are some of the colors Falconer used to create a lush palette that had just the right amount of darkness. "It's almost like a math problem, if you think about it," she explains.
Falconer is no stranger to this genre — she previously worked with Flanagan on films including Oculus and Ouija: Origin of Evil. "I would say I love ghost stories," Falconer says, noting that psychological horror intrigues her more than anything overtly violent. It certainly isn't the last you'll see of her, and as evidenced by Hill House, her costumes are worth paying extra attention to. "I put 500 percent into everything I do," she says. "If that's a small commercial or if it's something like Haunting of Hill House, I don't differentiate. I do the same amount of work."
So if you're thinking of rewatching Haunting of Hill House — or even pressing play for the first time — make sure you're not just taking note of the dazzling camera work, the devastating monologues, or the mysteries you might've overlooked. Really soak in every sweater, every jacket, every gown — they were all selected with the story and its many secrets in mind.