The Hospitalized Senator Trump Keeps Blaming The Health Care Failure On Doesn't Exist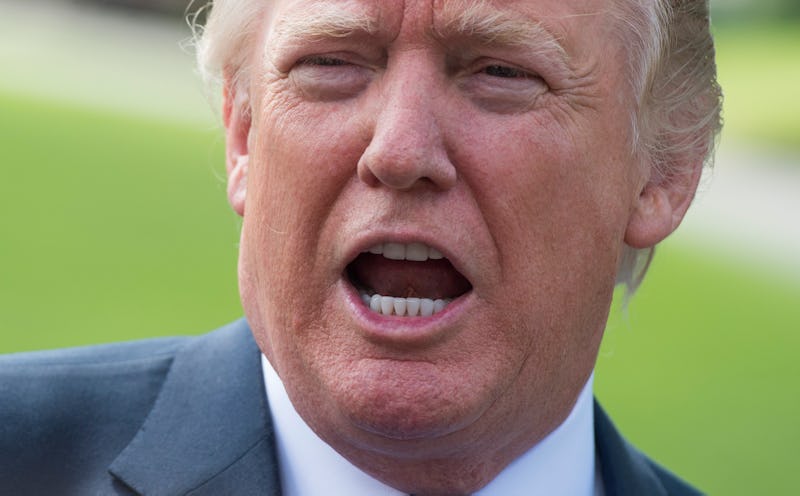 SAUL LOEB/AFP/Getty Images
On Tuesday, Senate Majority Leader Mitch McConnell announced that there would be no vote on the GOP's latest bill to repeal and replace Obamacare. The Graham-Cassidy bill's failure marked the Republicans' fourth defeat on health care since the beginning of the summer, according to Politico. Sens. Lindsey Graham and Bill Cassidy attribute the bill's failure to the fact that they ran out of time, even as several Republican senators — notably John McCain, Rand Paul, and Susan Collins — remain opposed to or skeptical of an Obamacare repeal. However, Trump invented his own explanation for Graham-Cassidy's failure: He claimed that a senator who would have voted "yes" on the bill was in the hospital.
Trump told Fox contributor Pete Hegseth on Thursday that the bill would have passed with this senator's "yes" vote, but because of their hospitalization, they would not have been present in time for a Friday vote, which was why the vote was canceled. This is not the first time Trump has made this claim, either; he first posted this theory on Twitter Wednesday morning, and Politico's White House reporter, Josh Dawsey, later tweeted that Trump has made this claim a total of six times. This was also confirmed by the Washington Post.
But the reality of the situation is that there is no hospitalized senator; Trump seems to have crafted this theory to deflect criticism from his support base.
The senator to whom Trump appears to be referring could be Mississippi Sen. Thad Cochran, who tweeted later on Wednesday that he is not, in fact, in the hospital. Instead, Cochran is recovering at home after being treated for a urological issue in his home state, according to a statement from his office.
"I'm not hospitalized," Cochran tweeted, "but am recuperating at home in Mississippi and look forward to returning to work soon."
It could be argued that Trump merely got the details wrong, and that Cochran's absence was still a significant blow to Graham-Cassidy's potential success. However, Vox reported that this is not the case. According to Cochran's office, he is taking the time to recuperate at home because there is no crucial upcoming vote in the Senate. Cassidy himself said on Tuesday that he and Graham simply do not have the necessary votes to pass the bill at this time, so it's clear that they have not postponed the vote on Cochran's account alone.
According to USA Today, Trump continued to claim that a senator was in the hospital — even after Cochran had clarified the situation.
"He can't vote because he's in the hospital," Trump reportedly said. "We have two other votes that are coming and we will have them, but the problem is we can't have them by Friday because reconciliation ends on Friday. So we'll have to do it in January or February."
There does not appear to be anybody else that Trump could be talking about. McCain is currently undergoing cancer treatment, but Trump specifically named him as a "no" vote in a tweet. Louisiana Republican Steve Scalise was hospitalized after being shot during a congressional baseball practice, but he is a member of the House, not the Senate.
Moreover, McCain, Collins, and Paul have all been outspoken in their opposition to Obamacare repeal-and-replace efforts, so Trump's assertion that the bill would pass if this fictional hospitalized senator were to return to work has absolutely no basis in fact. However, Trump does not seem to recognize this; he told reporters on Wednesday night that he thinks "Rand will be there for us." Paul, meanwhile, has been pushing Trump to honor one of his campaign promises to allow people to purchase health insurance across state lines, which Trump has reportedly started to consider as a possibility.