The Hound Appears In The 'GoT' Season 7 Trailer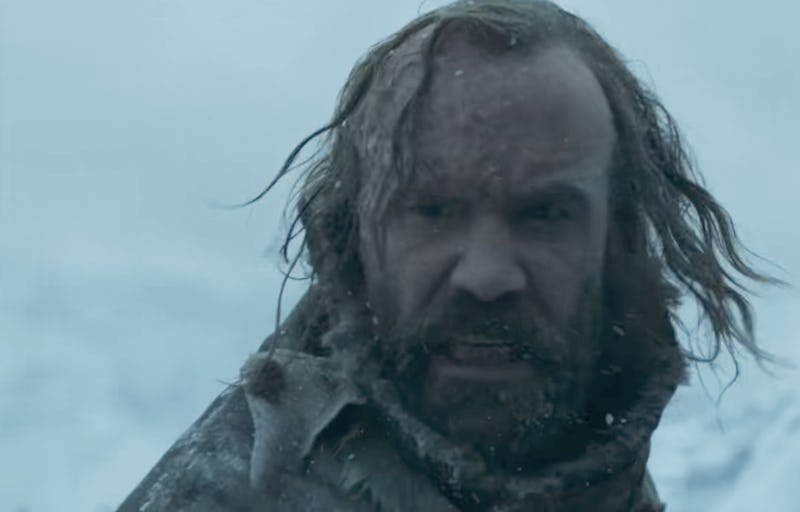 HBO
This just in, straight from Westeros: the Hound is in Game Of Thrones Season 7. At least according to the #WinterIsHere trailer, in which we see his face for a split second. If you'll join me on a stroll down memory lane, you might remember that he got separated from the major characters when he was almost killed off by none other than Brienne of Tarth. In the Season 4 finale, Lord Selwyn Tarth's daughter comes across Arya, practicing her fencing alone, and recalls her oath to Catelyn Stark to bring her daughter back safely home. When the Hound resists her attempts to take back Arya, she's forced into fighting with him, and, after a long, bloody, battle she punches him down the side of a cliff.
Despite Arya abandoning him, we know he survives because we meet him again in the Season 6 episode "The Broken Man." In it, we find that he's been nursed back to health by Brother Ray, a former mercenary turned septon, and is living in a pacifist community. It looks like the Hound can finally live a peaceful life here, but, when the villagers are slaughtered, he goes on a revenge mission.
So how will he slot into the larger plot of Season 7? I think this might have something to do with Cleganebowl, one of the most popular fan theories surrounding the show.
To back up a little, the theory is about the animosity between the Hound with his older brother, Ser Gregor Clegane (also known as The Mountain), who stuck his little brother's face into a fire for playing with one of his toys without permission when the Hound was a child, causing his facial disfigurement. As they grew up, there wasn't much love lost, and, in Season 1, the Mountain and the Hound battled each other.
As Business Insider defined the Cleganebowl theory:
"Sandor 'The Hound' Clegane is going to return to King's Landing in order to fight his brother, Gregor 'The Mountain' Clegane, to the death in a trial by combat for Cersei Lannister."
Obviously, since the trial by combat for Cersei Lannister never took place, this makes the exact situation outlined above pretty damn unlikely. But here's another theory. The Hound now has his motivating emotion back: hate. He hates his brother, and he hates the Lannisters. So, I feel there's a fairly good chance that he's going to take the first offer that he gets that sends him back to King's Landing, where he'll stir up some trouble. And maybe Gregor will be the one sent to discipline him, which will lead to that much-discussed fight.
What effect would this have on the war? If the Hound murders his brother (which I have a hunch he might), then I wouldn't put it past wily Cersei to find the Hound's weak spot. Arguably, this will be an emotional motivation rather than a financial bribe, and she'll persuade him to replace his brother as her defender. Which might even lead to him taking on the Starks in battle.
At this stage, it's all speculation. Anything could happen. But if there's any justice for the Cleganebowl fans of the world, this could be the something that does happen.
Editor's Note: The original headline of this article implied that this was the first time the Hound had been seen alive, which is untrue as of "The Broken Man."