This New Anthology Features Advice On How To Resist From SO Many Authors And Celebs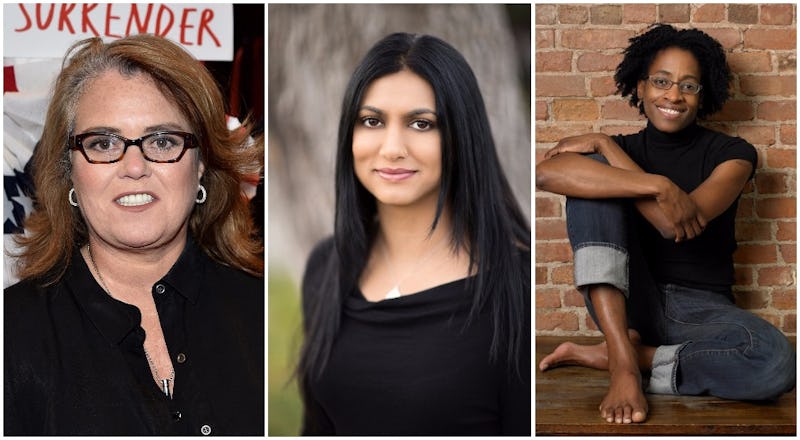 Mike Coppola/Getty Images Entertainment/Getty Images; Goodreads; Marty Umans
When young adult author Tim Federle logged onto Twitter in the days after the 2016 presidential election, he had one important question to ask the internet: "When is a YA publisher going to put together an anthology of essays about resistance?" A year later, and the award-winning writer has provided the answer himself with How I Resist (May 1, Wednesday Books), an inspiring collection about protest, debate, and change featuring contributions from some of today's most influential authors and celebrities.
Co-edited by Federle and fellow bestselling young adult author Maureen Johnson, How I Resist: Activism and Hope for a New Generation is an empowering anthology about activism that doubles as a practical guide to the resistance. It features a variety of essays, interviews, songs, and illustrations intended to help jumpstart a conversation about hope while teaching young readers about their individual power to be a force for change in their communities.
Contributors include some of today's sharpest minds and most passionate protesters. Here's the star-studded list:
John Paul Brammer, Freelance writer, speaker, and activist
Libba Bray, YA author of The Diviners series
Carolyn DeWitt, Rock the Vote president
Lauren Duca, Teen Vogue political columnist
Modern Family's Jesse Tyler Ferguson and his husband Justin Mikita
Alex Gino, Lambda Literary Award- and Stonewall Book Award-winning children's author
K.C. Green, Webcomic creator
Hebh Jamal, Student activist
YA author Malinda Lo
Dylan Marron, Writer, performer, video-maker, and podcaster
Hamilton star Javier Muñoz
Actress and host Rosie O'Donnell
Junauda Petrus, Writer and dancer
Author Jodi Picoult
Jason Reynolds, National Book Award finalist writer
Karuna Riazi, Middle grade author
Rebecca Roanhorse, Author
Jeffrey Rowland, Author and artist
Maya Rupert, Senior Director for Policy & Managing Director for the D.C. Office at Center for Reproductive Rights
Dana Schwartz, Writer and comedian
Dan Sinker, Director of Knight-Mozilla OpenNews
Ali Stroker, Actress and singer
Jonny Sun (aka @jonnysun), Graphic novelist
Sabaa Tahir, YA author of the Ember in the Ashes series
Shaina Taub, Singer
Daniel Watts, Actor
Jennifer Weiner, Writer and TV producer
Jacqueline Woodson, National Book Award-winning author
As if creating an accessible guide for young people who want to learn how to change the world wasn't impactful enough already, each of the contributors in How I Resist, including Johnson and Federle, pledged their book advance — a total of $50,000 — to the ACLU, according to the cover reveal on Entertainment Weekly.
Like most good ideas, the inspiration behind How I Resist was born out of a Twitter exchange. According to the book's introduction, which was shared along with the book's cover image on EW, Federle was feeling upset after the election of Donald Trump when he turned to the internet to express his feelings and his frustration to his Twitter followers. He had no idea in that moment that a book would be born, but when Johnson saw an quoted Federle's tweet, their ambitious project officially found its start.
To create their inspirational anthology, Federle and Johnson had their work cut out for them. Their goal was to put together a common sense guide readers could actually use when creating their own personal plans for resistance—even and especially if those readers weren't old enough to vote. To do that, they reached out to writers and activists whose work they thought would be right at home in their collection and searched for existing pieces on the topics they were trying to focus on: change, hope, activism, and resistance.
Less than a year after their book was just the seeds of an idea, and now it has 30 all-star contributors, a stunning cover design, and an official release date: May 1, 2018.
According to the book's editors, How I Resist will offer more than inspiration and encouragement. It will offer practical how-tos for young adults and grown-ups alike who want to do something, but don't know how or what to do. "It's a hallmark of this time that many people feel the urge to DO SOMETHING and the question is often BUT WHAT?" Johnson explains in the book's introduction. "So how this book came to be is in many ways the message of the book: just make something. There are many ways you can get involved with the political and social world, even if you can't vote yet."
Ready to join the resistance, or know a young reader who is? Then make sure How I Resist: Activism and Hope for a New Generation is on your 2018 reading list.
How I Resist: Activism and Hope for a New Generation (May 1, 2018, Wednesday Books), $18, Amazon