The Identity Of "Individual-1" In The Michael Cohen Charging Doc Is Not Subtle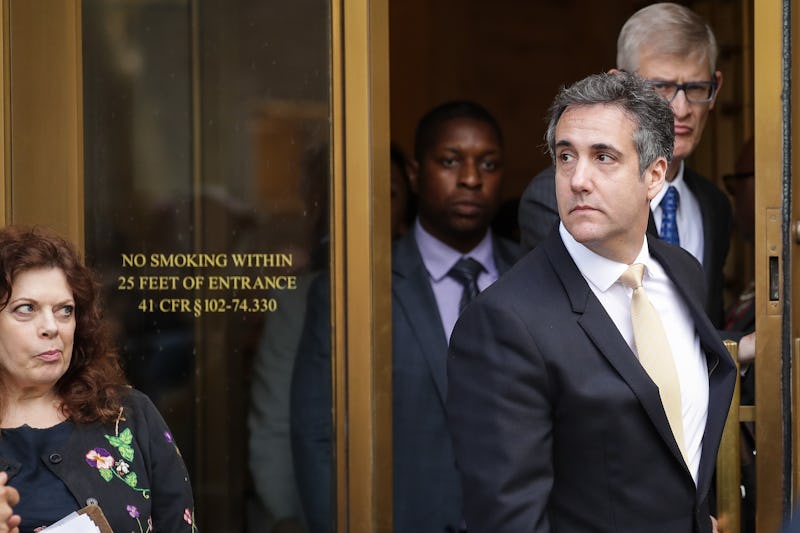 Drew Angerer/Getty Images News/Getty Images
In a lighter moment amidst one of the more dramatic courtroom days of the summer, the identity of "Individual-1" in the Michael Cohen charging document isn't exactly a secret — and a lot of Twitter users have been having a good time pointing that out. It's safe to bet that Individual-1, who is named repeatedly throughout the indictment and is implicated in several of Cohen's charges, is almost definitely Donald Trump. In fact, it's so obvious that people have begun to make a joke out of it.
For anyone wondering if the Twitterverse has jumped the gun on implicating Trump, check out this excerpt from the Cohen indictment, via Slate: "In or about January 2017, Cohen left the Company and began holding himself out as the 'personal attorney' to Individual-1, who at that point had become the President of the United States."
So it's pretty incontrovertible who Individual-1 is. Chris Geidner, the legal editor for BuzzFeed News, tweeted out his verdict, "To be clear, Individual-1 is President Donald J. Trump."
From there, the tweets only seem to become more sarcastic. Will Bunch, a national columnist for Philly.com, tweeted, "Individual 1 is holding a rally in West Virginia tonight."
Benjamin Wittes, editor-in-chief for Lawfare, threw his own two cents into the mix, tweeting, "Coming soon to a bumper sticker dealer near you: "Individual 1-Pence 2020."
Of course, immediately beneath his tweet, a Twitter user had already supplied the graphics for what an Individual-1 bumper sticker might look like.
Individual-1 is implicated pretty heavily in coordination with Cohen's crimes throughout the indictment. Two of Cohen's charges are related to campaign finances, and beyond that, Cohen actively admitted that he was "in coordination with and at the direction of a candidate for federal office." In other words, the indictment implies that Individual-1 actually knew what was going on and supported it.
Despite the fact that Trump is pretty clearly implicated all over the Cohen indictment, Trump's lawyer, Rudy Giuliani, insists that Trump has nothing to fear.
Immediately following Cohen's guilty plea, Giuliani released the following statement: "There is no allegation of any wrongdoing against the President in the government's charges against Mr. Cohen. It is clear that, as the prosecutor noted, Mr. Cohen's actions reflect a pattern of lies and dishonesty over a significant period of time."
Cohen's lawyer, Lanny Davis, disagrees. In a tweet following Cohen's guilty plea, Davis wrote, "Today he stood up and testified under oath that Donald Trump directed him to commit a crime by making payments to two women for the principal purpose of influencing an election. If those payments were a crime for Michael Cohen, then why wouldn't they be a crime for Donald Trump?"
Whether Trump will or won't be indicted is unclear, mostly because of his presidential status. Dylan Matthews of Vox writes,
"While it seems pretty likely that Trump violated federal law by instructing Cohen to make illegal payoffs, the potential charges against him in, for example, New York and Florida are less obvious. The campaign finance violation is a federal, not state, offense.
But the state option does provide a path for the Supreme Court to ultimately settle this question. If a state or local prosecutor concludes that Trump broke a law, they could secure an indictment and finally force the courts to come to a decision about whether presidents can be indicted and prosecuted."
Though Trump's lawyer has insisted the president did nothing wrong, Trump himself had not responded by the time Tuesday came to a close.