'The Flash' Waitress Is Coming Back & This Time, Fans Will Get Answers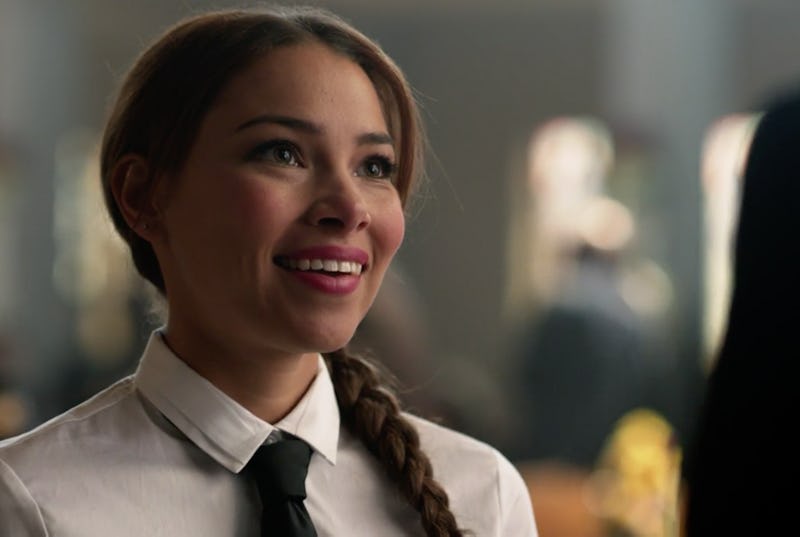 The CW
We may be in the midst of the show's winter hiatus, but The Flash Season 4 is returning to the CW on Jan. 16. In the meantime, the crossover event Crisis on Earth-X event still has people still talking about just who the waitress from Barry and Iris' wedding is. According to actor Jessica Parker Kennedy, who made her Arrow-Verse debut as the mysterious caterer, the crossover wasn't the last you'll be seeing of that character.
In case you need a refresher, Kennedy's character met with Barry Allen just before his wedding. She sought him out, touched his arm, congratulated him, and commented that his wedding would be one for the ages. She also cautioned him to be sure to say "I do" when the time came. Her brief appearance felt very meaningful, and set fans off and speculating, some wondering whether she might be the happy couple's daughter from the future. While the actor can't reveal who the character is or how much more we'll be seeing her, she does confirm that she's set to appear again this season.
"I'll be around," Kennedy teases, speaking over the phone in early December. "You'll see me at least one more time, I can tell you that." And promisingly, she indicates that her next appearance will perhaps provide some answers. "You'll see me again on the show and things will make more sense," the actor says.
According to the actor, by the time we speak, she had only filmed two episodes. The first was one episode of Supergirl, which was techically the first episode of the crossover event. The second is one episode of The Flash, which will come at some point in the second half of the season.
And we'll probably have to wait till that episode to get those answers, since her character identity is on lockdown. Kennedy says that only her and a select few others know the secret — not even many of The Flash actors. She can't even reveal her character's name.
"No, it's really funny," she says. "They have me listed as 'Mystery Girl' and I just hang out as Mystery Girl on set. Even [the costume department] are like, 'Who are you?' And I'm like: 'I am Mystery Girl.' It's been a very secretive mission and it's been fun to be a part of."
Kennedy has been part of secretive storylines before. Working on the series Black Sails meant that she was obliged to not share spoilers. But, she says that working with the CW superhero universe has been something altogether different.
'I've had to be secretive before about parts, but nothing like this," she explains. "It's been really hard, because I can't even talk about it on set really, so I wanna wear sunglasses everywhere I go. Because on set, all the other actors are like, 'Who are you? What's going on? What character are you?' And I just have to be like … 'I don't know!'"
Kennedy actually never had to audition for her mystery role. Instead, it was the creators of the show that sought her out. "I got brought into the office and the producers had kinda let me know what their idea was, and it was so cool because it was such a personal meeting," she says. "They told me about it, and I was really excited. It's a very cool concept, and you know, it's very secretive and hush hush."
But, just because she can't confirm who she's playing doesn't mean that fans don't have their suspicions. Bustle writer Leah Thomas outlined all of the many reasons to believe that this quirky caterer is none other than Dawn Allen, Barry and Iris' daughter, one of the Tornado Twins, and future superhero. Another theory is a second family connection, just even further in the future. Some fans think that Kennedy's character will be Jenni Ognats, Barry's granddaughter and, again, another superhero from the future.
Maybe a bit surprisingly, Kennedy doesn't keep up with fan theories much. "I try not to. I get really nervous any time anyone's talking about me on the internet," she says. "Even if it's a character. It makes me feel weirdly uncomfortable." But she calls those two prevailing theories "interesting guesses."
However, just because she wasn't previously aware of specific theories doesn't mean she doesn't care what fans are thinking. In fact, it's quite the opposite. "I'm excited that the fans are excited and guessing and involved. That brings me so much joy to know," Kennedy says. "I'm just excited that they'll get to be on that journey and I'm glad to be a part of it."
"Mystery Girl" is certainly a Flash character to keep an eye on. With all of this secrecy around her and at least one confirmed future appearance, there's apparently much more to her than we know. The fun part will be finding out just what Kennedy and The Flash have been keeping from us.