'I'm Dying Up Here' Was Inspired By Jim Carrey's Real Life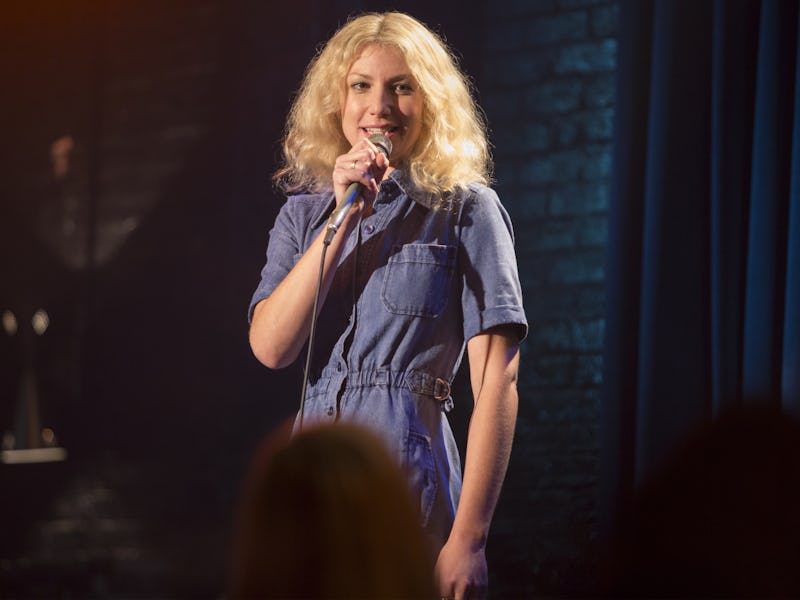 Justina Mintz/Showtime
During the '70s, the Los Angeles stand-up scene became a mecca for now-legends like David Letterman, Jay Leno, and Robin Williams, drawing aspiring comics from the chaos of New York and Vegas for a chance to snag a spot on Johnny Carson's The Tonight Show. Showtime's new dramedy, I'm Dying Up Here, reimagines that so-called Golden Age, starring Melisso Leo as Goldie, a brassy comedy club owner and resident mentor to the circle of funny hopefuls who frequent her stage. But because the story is so heavily rooted in history, viewers may wonder if the I'm Dying Up Here Cast is based on real comics.
There's no telling what conversations were had behind scenes, but for the most part, the characters seem fictional. Still, that doesn't mean the show didn't have plenty of real-life inspiration. It's based on the 2010 book of the same name by William Knoedelseder, then a reporter for the Los Angeles Times, who recounts the sex, drugs, dreams, and laughter that marked the era's rise and fall.
Jim Carrey, who was just beginning to find his footing as a comedian in the '70s, also contributed a number of his personal stories to the series, for which he serves as an executive producer. According to The Hollywood Reporter, during a panel for I'm Dying Up Here in January, the actor revealed that throughout his first year in Los Angeles he lived in a closet — a narrative that Ron and Eddie (played by Clark Duke and Michael Angarano) also follow in the show.
Per THR, another idea culled from Carrey's life was getting pulled from a Tonight Show slot after being previously booked. Shortly after the then-up-and-coming comedian had landed the coveted gig, he had a lackluster set at a showcase for the Improv, and his appearance was subsequently canceled. Undeterred by the setback, Carrey remained persistent, and he booked The Tonight Show again only six months later.
While at the panel, Carrey explained that much of I'm Dying Up Here centers around The Tonight Show because of its profound influence at the time. According to THR, he said:
"At that time, there was a beam that could catapult people to the stars, and that was The Tonight Show. We all came out and gathered around the heat of that and were hoping for the best."
Beyond Carrey's input, there are also a number of real-life comics who appear in the show, including L.A. Comedy Store fixtures like Andrew Santino (Bill Hobbs) and Erik Griffin (Ralph King), former Daily Show correspondent Al Madrigal (Edgar Martinez), and Comedy Central's Kroll Show veteran Jon Daly, among others.
Watch them reimagine the famed Los Angeles comedy scene when I'm Dying Up Here premieres Sunday, June 4.