New Data On Workplace Harassment Complaints Shows Just How Much Impact #MeToo Has Had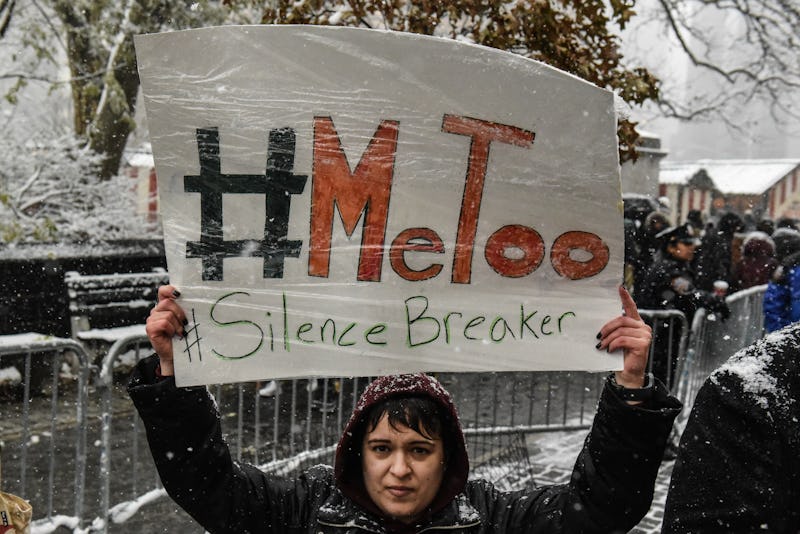 Stephanie Keith/Getty Images News/Getty Images
Originally created by activist Tarana Burke in 2006, the #MeToo campaign burst into the mainstream in October 2017 after several women came forward with sexual assault allegations against Harvey Weinstein. One year on, and it seems like the movement had a tangible effect on the number of reports of workplace harassment, according to new data from the Equal Employment Opportunity Commission (EEOC). The commission's data on workplace harassment showed that some 7,500 complaints of harassment had been received between October 2017 and September 2018, NBC News reported.
Those thousands of complaints represented a 12 percent increase compared to complaints filed in 2016, according to the EEOC. "The impact of the #MeToo movement is undeniable," Victoria Lipnic, acting chair of EEOC, told NBC News.
While the movement itself may have appeared to center sexual misconduct allegations in high-profile industries like entertainment, technology, media, and politics, it also went beyond those fields. According to NBC News, hundreds of women and men filed complaints of harassment in the retail industry, as well as medicine.
The EEOC acting chair said that while overall complaints had gone down, complaints related to workplace harassment and discrimination had gone up. She added that visits to the EEOC website's sexual harassment section had doubled in October 2017.
The sexual harassment web section for the EEOC includes a guideline on the definition of sexual harassment, the time limits on when exactly a person can file a complaint, statistics about such harassment, and more. In addition to the complaints filed to EEOC, NBC News reported (without specifying the number) that lawsuits concerning workplace harassment had also increased.
NBC News also reported that while there were official complaints to the EEOC, there were also "anecdotal" reports from several corporate human resources departments. These departments said that they had internally reviewed complaints of workplace harassment and resolved them without turning to the EEOC.
In addition to #MeToo inspiring people to come forward with their experiences, anti-sexual assault initiatives like the ones from Time's Up and the National Women's Law Center have focused on highlighting workplace harassment — and offering legal help. Both groups collaborated to provide attorney consultations and primers on legal fees to low-income women who said they had experienced sexual harassment at their workplaces.
Public attention toward sexual harassment helped Time's Up and the National Women's Law Center remarkably bolster their program's goals, based on various media reports. To put it in numbers, the fundraising efforts led to a whopping $22 million in donations for the groups' collective project. This amount was then used to help some 3,500 men and women across the country.
The subject of #MeToo and its social impact has been a contentious one. Many have strongly supported it, saying it transformed their lives and encouraged them to speak about their experiences with sexual assault and harassment. There has also been backlash against the movement. But if one thing is clear, it's that #MeToo has gone from being an internet-centered campaign in 2017 to a much broader social movement — and the EEOC workplace data shows just that in concrete numbers.