What This Woman Told Her Assaulter About How He Impacted Her Life Will Shatter You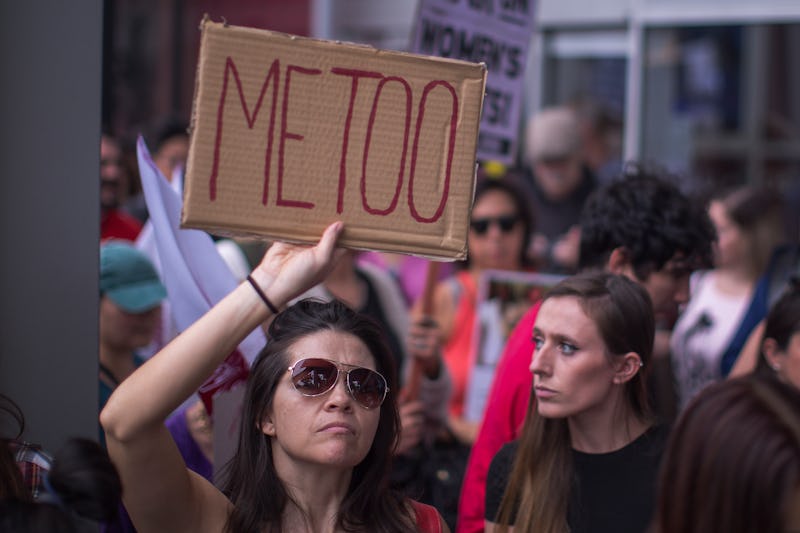 David McNew/Getty Images News/Getty Images
In Boston on Tuesday, a horrific sexual assault case came to a close, but not before the survivor confronted her assailant in court. Reflecting her assault in graphic detail, an unnamed 22 year-old woman from Boston University delivered an impact statement describing her assault as a trauma that changed not only her life, but also those closest to her.
The assailant, former MIT basketball player Samson Donick, avoided jail time by agreeing to a plea deal, but had described his crime to the court, according to The Boston Globe. The woman, who described herself as a survivor, also graphically described the assault, as well as its aftermath, as she lay in the hospital with her best friend and lacrosse coach.
"The Sexual Assault Nurse examiner assigned to my case arrived after three hours of waiting 'because it was a busy night,'" the woman said, according to a transcript published by the Globe. She continued:
A busy night in her life means other men and women were becoming victims. With each buzz of her pager, I personally now know the harsh reality of what it means... The pain of having blood drawn because I needed to be tested for sexually transmitted diseases and screaming "I'm in a serious relationship... this can't be." The humility of being given plan B "just in case sperm was present," and being told to go to the student health center in three weeks to take a pregnancy test. The stomach wrenching feeling of filling out paper work for my "rape kit" and having swabs taken from areas I never wanted touched again.
The incident reportedly took place in October of 2015, when Donick entered the woman's dormitory at Boston University and proceeded to a assault her. They reportedly did not know each other prior to the incident.
The case was originally scheduled to go to trial on Thursday, but the woman reportedly decided she didn't want to go through with it. Instead, both teams of lawyers devised a plea deal, which required Donick to plea guilty to a lesser crime — indecent assault and battery instead of rape — as well as breaking and entering.
"She expressed a strong preference to resolve the case prior to trial with an unequivocal admission of responsibility and apology from the defendant," said Jake Wark, a spokesman for the Suffolk Country District Attorney's Office, in a statement, according to WBZ, a Boston CBS affiliate.
Though the indecent assault and battery charge could have carried up to a five year prison sentence, Donick only received five years probation. He will also reportedly have to wear a GPS monitor, receive counseling, not contact his accuser, and will likely have to register as a sex offender in California, where he lives with his family. The requirement that he register as a sex offender in Massachusetts was reportedly waived as part of the plea deal.
Though the woman requested certain levels of leniency toward Donick, the presiding judge in the case, Judge Janet Sanders, was not eager to tread lightly. She described the consequences as "lenient," and reportedly said that the case "cries out for jail time," according to both the Globe and WBZ. She also reportedly required that Donick describe in detail, before the court, precisely what he did to the woman when he entered her dorm room.
In her impact statement, the woman reiterated her request that Donick be offered the chance to repent for his crimes.
"I ask that you make a positive impact in every life you touch because the many negative impacts you made in mine and my families are enough for a lifetime," she reportedly said. "I ask that you take seconds, minutes and hours and truly realize how that one early morning you changed a 20-year-old girl from a student to a victim to a survivor. I ask that you live each day with a little reminder of what you did and make up for it."
The "most haunting part," she added, was that there "will never be an answer to why some one feels the have the right to violate another person without consent. Without having permission to enter their apartment, let alone their bedroom. Without even knowing their name. Without them being conscious."