The National Book Foundation Just Awarded This Amazing Program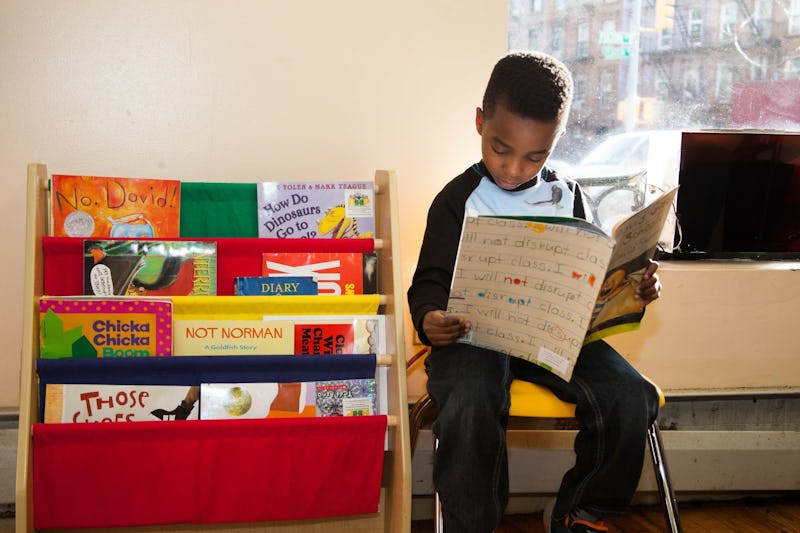 Every year, the National Book Foundation awards a prize for Innovations in Reading to an individual or organization who is helping to change the world through reading. This year, the Innovations in Reading prize went to Barbershop Books, a program which builds child-friendly reading spaces in barbers. The empowering organization will receive $10,000 to help them in their incredible mission, as well as the chance to appear at the National Book Foundation's Why Reading Matters conference in June.
The aim of Barbershop Books is to help black boys between the ages of four and eight identify as readers. To do this, they have set up reading areas in the traditional male-centered space of a barbershop, where male role models can get involved in young boys' early reading experiences. In response to receiving the prize from the National Book Foundation, the founder of Barbershop Books Alvin Irby had a special message of thanks to the barbers who have helped with their mission, saying "We dedicate this Innovations in Reading Prize to the many barbers across America who make time each day to inspire young black boys to say three words, 'I'm a reader.'" I'm not crying, I just have something in my eye...
Irby also thanked the National Book Foundation "for sharing our passion for helping the babies read" — and I certainly can't wait to see how this new prize money helps Barbershop Books achieve even more. So far, they have set up over 50 transformative reading spaces in 20 different cities — and they plan to use the prize money to fund new locations in Irby's hometown of Little Rock, Arkansas.
Four other organizations received an honorable mention from the National Book Foundations: Books@Work, which brings literature seminars to workplaces and community settings; the Great Reading Games from Learning Ally, which helps children with reading difficulties improve their reading success; Poetry-in-Motion from the Poetry Society of America, which places poetry on public transport; and Reach Out and Read, which incorporates books and reading into pediatric care. All of these organizations are doing fantastic work, so it's wonderful to see all five of them being honored for everything they do — especially Barbershop Books. The Executive Director of the National Book Foundation, Lisa Lucas, said that "integrating books and reading into everyday experiences — like barbershops — is a powerful way to accomplish that goal," and praised Barbershop Books as "an inspiring and innovative program that shows how a simple idea can have a profound impact." I couldn't agree more.