Barack And Michelle Obama Broke The Internet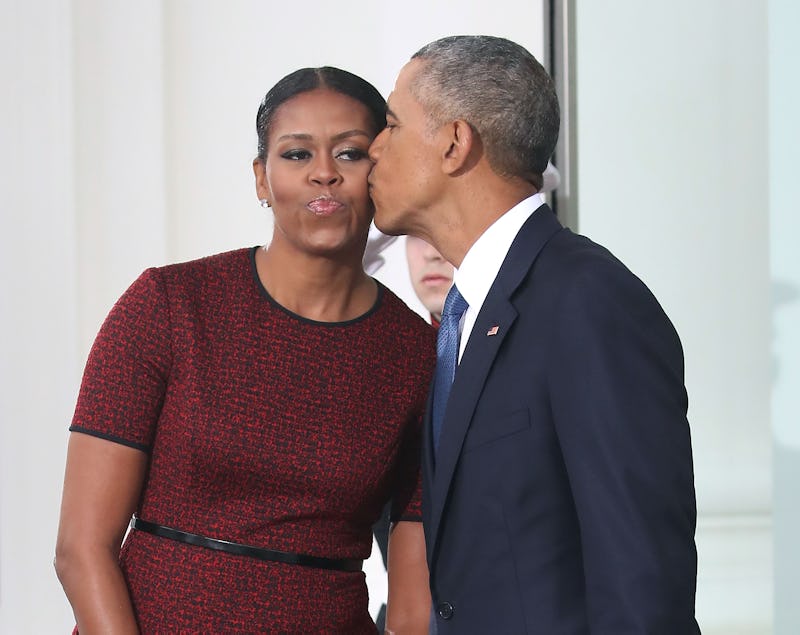 Mark Wilson/Getty Images News/Getty Images
No, not that one right there — just trust me and keep reading, OK? It's totally worth it.
America's former first couple has been keeping a relatively low profile since they left the White House in January. But after returning from a prolonged vacation post-presidency, the Obamas have been out and about once again. Now that they're back on the scene, the possibility of Obama sightings has been thrilling the paparazzi and us commoners alike. So the internet is currently freaking out over this new photo of Barack and Michelle Obama, and now you can too.
The Obamas were in New York City on Friday to have lunch with activist and U2 bandleader Bono, because sure, why not? According to People, the trio sat in the upstairs private dining room of Upland, in Manhattan's Gramercy neighborhood. They entered the restaurant to applause from the dining room, and when they left, Barack waved and smiled at his fellow diners.
As the Obamas made their way back to the car, they looked more relaxed and happy than most of us have seen in a long time. (I guess running the free world can get pretty stressful.) Paparazzi snapped this photo of the couple as they exited. It serves as definitive proof that Barack Obama should never ever ever ever ever wear a tie. Ever.
Look at it! Look at how perfect and chic they are! Ugh, y'all, I miss you. Can I please come visit? You haven't called. I know you've been busy, but, like, I have a lot on my mind...
In addition to giving your retinas a gift, the replies on this tweet from comedian Billy Eichner are pure gold.
And someone even translated my thoughts into emojis:
As People noted, this is a much more polished look for Barack, who rocked "new and improved dad jeans" as he visited the National Gallery of Art in Washington, D.C. with Michelle last weekend. And Michelle, well, she looked just as stunning as usual. I'm currently trying to track down whatever coat she's wearing, because it's perfect.
I'm sure that while looking so fabulous they were cooking up some humanitarian efforts with Bono, because, you know, they have hearts of gold as well as superb fashion sense. So anyway, feel free to lose your mind over this photo. You deserve it. It's been a rough year—wait, it's been less than two months since they've been gone?!