Obama Appeared In NYC & The Internet Went Wild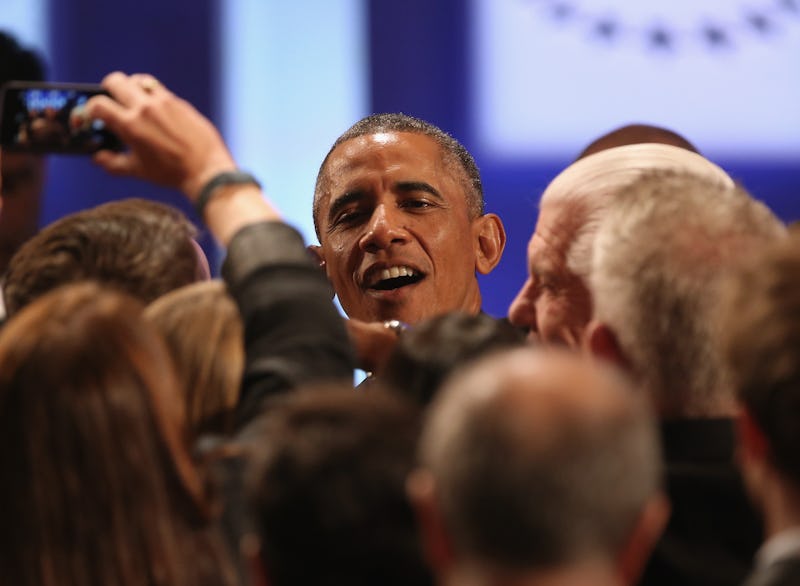 John Moore/Getty Images News/Getty Images
One year you're grappling with sinking approval ratings and the next you're walking to your motorcade as a gathering crowd screams your name. Such is the life of former President Barack Obama, who appeared in New York City on Friday much to the delight of those Manhattanites lucky enough to spot him.
While it's not 100 percent clear what spurred Obama's trip to the Big Apple, his surprise appearance caused many New Yorkers to temporarily lose their minds in excitement. The former president was spotted Friday holding what appeared to be a coffee and waving to a crowd that had gathered outside 160 Fifth Avenue as he ducked out of the building and into a waiting three-car motorcade. In video clips of the incident shared on social media, the gathered crowd can be heard applauding and cheering loudly when the former president appears.
According to Eater, Obama stopped for lunch Friday at Gramercy Tavern, a fine-dining restaurant owned by Danny Meyer in New York City's Flatiron District. Gramercy Tavern's floral designer, Roberta Bendavid, said the former president dined in the restaurant's private dining room in a series of posts shared on Instagram.
Obviously, people went wild.
OMG, OBAMA
President Obama also reportedly took his eldest daughter Malia, who lives in the city while interning for the Weinstein Company, out to dinner on Thursday night. The two dined at the hip old-school Italian eatery Emilio's Ballato and snapped a picture with the restaurant's staff before leaving.
Since leaving the White House — and the nation — in the hands of President Donald Trump, former President Obama has kept a relatively low profile. Obama kicked off his post-presidency life with a trip to Palm Springs. He was then spotted learning how to relax — I mean, kitesurf and foilboard during a vacation on a private island located just off the British Virgin Islands with British entrepreneur Richard Branson. In early February, the Obamas returned to Washington D.C., where they plan to stay until daughter Sasha finishes high school.
Although it may feel like it's been ages since Trump took over the Oval Office, Obama's post-presidency life is really only just beginning. And while it's not yet completely clear what role he or former First Lady Michelle Obama will take on next, the former president may have been in New York pursuing a book deal (he revealed a desire "to do some writing" in his final press conference as president) or overseeing the details of his first post-White House project, the Obama Foundation.