Women In Iowa Just Won A Huge Victory On Abortion Rights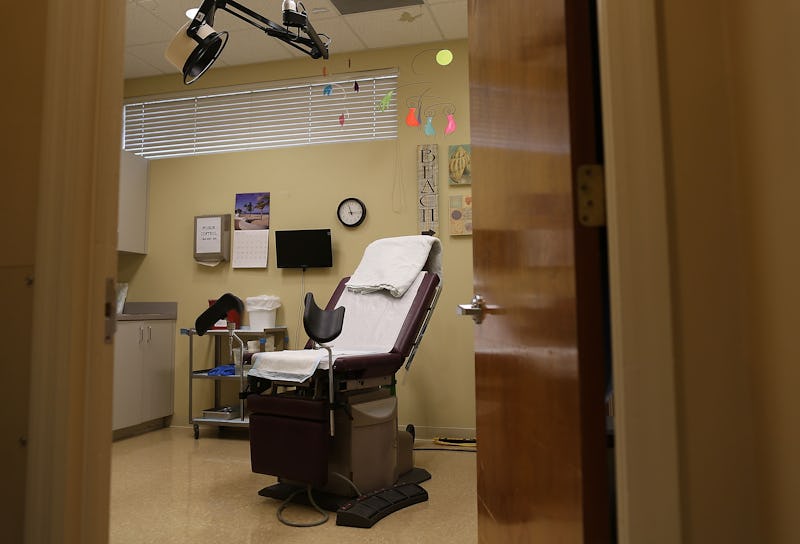 Joe Raedle/Getty Images News/Getty Images
Reproductive rights advocates in Iowa won a huge victory on Friday. The Iowa Supreme Court struck down a 72-hour waiting period imposed on women seeking abortions. The ruling is being hailed as a victory for women by advocates as some researchers say such waiting periods can lead to delays in care and increase the overall cost of having an abortion.
"The vast majority of women have made their decision by the time they present for care so the laws [mandating waiting periods] do not lead women to change their minds, Dr. Sarah Roberts, an abortion waiting period researcher who works as an associate professor at the University of California, San Francisco, tells Bustle. "They really just lead to increases in financial costs and increases in delay and also some increases in emotional distress along the way."
According to the Associated Press, the Iowa Supreme Court ruled the three-day waiting period was in violation of the state's Constitution and thus tossed out the ruling of a district court judge who had upheld the law last year. The American Civil Liberties Union (ACLU) of Iowa, which, along with Planned Parenthood of the Heartland, challenged the waiting period provision in court, called Friday's ruling, "a major win for Iowa women" on Twitter.
Reproductive rights advocates say abortion waiting periods, like the one struck down in Iowa are obvious attempts to delay abortion care. But Roberts argues their delay isn't always what it seems.
"A 72-hour waiting period isn't just 72 hours," Roberts tells Bustle. "From our study we found that, on average, women actually waited eight days from their abortion information visit until they had an abortion.
And according to Roberts' research, abortion waiting periods not only delay care but also place additional burdens on women by increasing their overall financial costs and stress. "It also leads to increased cost associated with having to make two visits to a clinic," Roberts says. "It increased the cost of having an abortion by about 10 percent."
Roberts adds that women reported experiencing "stress and frustration" due to "not being able to implement a decision that was already made."
The ACLU of Iowa and Planned Parenthood of the Heartland moved to challenge two provisions of a 20-week abortion ban Iowan legislators passed in May 2017 — a mandatory 72-hour waiting period and a required second clinic appointment. According to Reuters, the law allowed for exceptions when the women's life or health is at risk but not in cases of rape or incest.
In court, attorneys for Planned Parenthood of the Heartland argued the 72--hour waiting period was one of several burdens placed on women's health care. "Iowa has chosen to impose more severe burdens on women who choose abortion than almost all other states in violation of both the Iowa Constitution and federal law," CBS News reported attorney Alice Clapman said in court arguments.
Planned Parenthood of the Heartland Medical Director Jill Meadows, M.D. had previously characterized Iowa's 72-hour abortion waiting period as a law "not based on science or current medical practice" but rather "on ideology."
"This law risks patient health rather than improves it, and it burdens vulnerable Iowans who already face significant barriers to care," she said in a statement released earlier this year when the Iowa Supreme Court began hearing arguments in the case. The women's health organization called the Fridays ruling "a huge victory for access to safe, legal abortion care in Iowa" on Twitter on Friday.
The ACLU of Iowa and Planned Parenthood of the Heartland are also involved in a lawsuit against Iowa's restrictive 6-week abortion ban, also known as the "heartbeat law," which a Polk County District Court judge temporarily blocked earlier this month. If allowed to take effect, the law would ban abortions as soon as a fetal heartbeat can be detected — often at about six weeks, a time when many women are only just discovering they're pregnant.