You May Have To Wait Longer Than Expected For That New iPhone X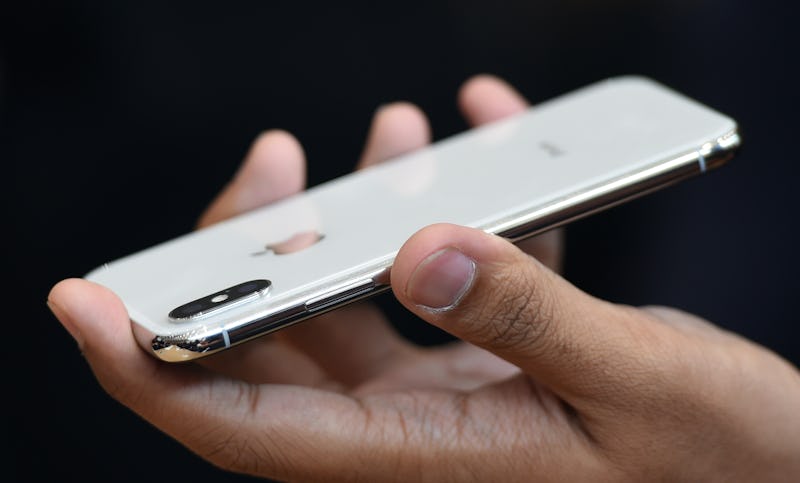 JOSH EDELSON/AFP/Getty Images
The new iPhone models were announced Tuesday, but sadly, that does not mean you can head to the Apple Store after work and pick up your favorite version, be it the iPhone 8, iPhone 8 Plus, or the new feature-packed iPhone X. Tuesday's iPhone event does not mark the calendar for when you can get your own, but rather it's when the new features and designs are officially announced at Apple headquarters in California. The actual iPhone X release date isn't until November 3, when pre-ordered devices begin shipping out. You can start pre-ordering as early as Oct. 27.
It's easy to understand why you're crazy to get your hands on one. The iPhone X is a big step forward — something that the most diehard fans knew as early as the weekend. Before the actual Apple event, there was a big leak of Apple code, perhaps bigger than even those doing the leaking even realized. In addition to the new iPhones, Apple released a new version of its mobile device software, iOS. The leaked version of iOS 11 had within its code lots of the new devices' specifications and features.
One of the biggest is facial recognition. The iPhone X actually doesn't have a finger print scanner. Instead it will use facial recognition technology to scan your face. Then, anytime you look at the phone, it will automatically unlock. It sounds like the future, but what it really means is that an infrared camera will take a 3D image of your face, creating a map of what you look like, taking into consideration the angles. Thus it should be pretty hard to fool, which is good because it will also be used for Apple Pay.
The reason that the facial recognition is replacing the TouchID — or fingerprint sensor — is that the new iPhone X screen didn't leave any space for you to unlock with your thumb or pointer finger. The OLED display stretches from side to side, and therefore the was no room for the fingerprint reader, which was built into prior home buttons and the iPhone 7's home non-button.
Also of note is the phone's new chip, a six core processor. That means the iPhone X will be plenty fast. Named the A11 Fusion chip, it will have four cores that are high performance to blast out whatever processes you're working on and whatever apps you have open. But then there are also two more that are known for their energy efficiency. Thus the lighter tasks won't wear down your battery. As 9to5Mac puts it, "The new iPhone 8, iPhone 8 Plus, and iPhone X will be Apple's most powerful iOS device by wide margin."
One of the constant upgrades on an iPhone is the camera, and this year is no different. Both the front and back cameras are seeing a big upgrade. Now, both cameras are to have support of 4K video recording at 60 frames per second, up from just 30 frames per second on the iPhone 7's back-facing camera. This is truly a huge development for those of you using your phone to record your first short.
Finally, charging may seem like one of the less-exciting features of the typical phone. But not so with the new iPhone X because it will feature wireless charging. No more plugging in. Rather, you can just set the phone on a charging pad and it gets to work. Be prepared for your battery to be topped up with this new feature.
Now if that doesn't have you beyond excited — and a bit nervous about waiting these next weeks for the new iPhone's release — I don't know what will. So put in your pre-order and get your iPhone X shipped to you; waiting in those release day lines is so 2007.