Apple's Face ID Didn't Work In Its First Public Appearance & Twitter Felt Some Second-Hand Embarrassment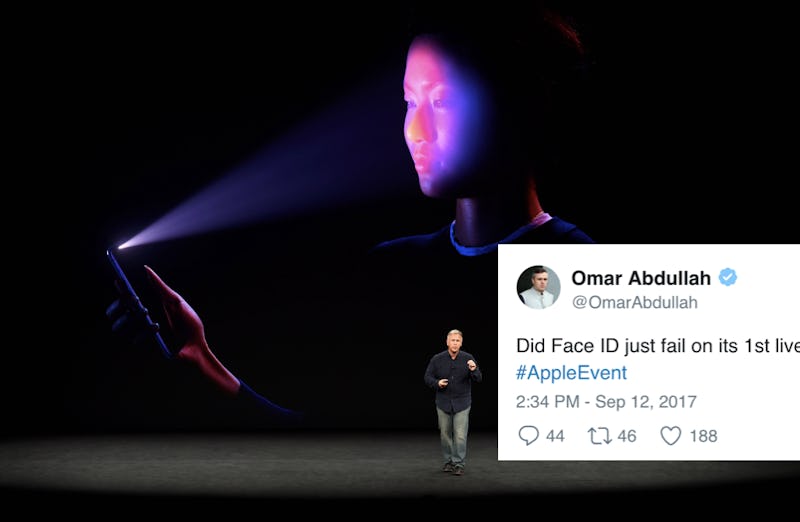 JOSH EDELSON/AFP/Getty Images
Apple released a trio of its most anticipated smartphones in Cupertino, California, on Tuesday. With iPhone 8, iPhone 8 Plus, and iPhone X, Apple marked its 10th anniversary with the launch of the company's brand new phones that boast some pretty cool hardware and software additions and enhancements. That said, there was an apparent technical hiccup at the event as the Apple iPhone X's Face ID failed to work in its first public demonstration.
According to a report in Business Insider, the failure took place when Craig Federighi, a senior vice president of software engineering at Apple, tried to test-drive the new phone's facial recognition software in front of the audience. iPhone X's Face ID is a new system in the Apple line of products and how it works is supposedly simple: you look at your iPhone X front-screen, your phone recognizes you (the authorized user of the device) and allows you to access your phone. It's quite impressive and futuristic — when it works.
This isn't the first time that a device utilized facial recognition for user authorization; products like the Microsoft Surface Pro 4, which works as both a laptop and tablet, uses an internal software that recognizes your face and lets you unlock your laptop. While Microsoft went ahead with "Windows Hello," iPhone X's facial recognition system is called "Face ID."
According to Apple, its Face ID feature is more than simply effective; the company claimed that its facial recognition software was tested and secured by special-effects experts from Hollywood. To truly demonstrate the veracity behind this claim, the company shared images of highly realistic and equally creepy renditions of human faces which apparently can't go past iPhone X's razor-sharp Face ID system. So if you gain weight, wear a hat, get a haircut or grow facial hair, the system apparently will still recognize you regardless.
Twitter users naturally noticed the gaffe — how could they not? — and pointed it out on social media.
For those interested in the technology behind its face-scanning feature, iPhone X uses a complex infrared camera that creates a map out of your facial features. The artificial intelligence in such a system retains the memory of your face and uses that information to ensure that you are indeed the person unlocking your phone and no one else.
The phone's facial feature is embedded in its system called "TrueDepth camera" which is present in the front-camera of iPhone X. This system comprises of several neat things: a camera lens, sensors, and dot system that outlines your face to create a three dimensional map.
The illuminator in the camera is for brightening images and the proximity sensor evaluates the distance it needs between your face and your selfie camera for effective visual authorization. In other words, if you're too far away from your camera, you won't be able to unlock your screen. Apple's vice president of marketing, Phil Schiller, described the system as a "dot pattern to push through neural networks to create a mathematical model of your face."
Face-scanning authorization systems have always fascinated people. The idea that one's physical face can essentially be one's virtual password is a subject in technology and security that continues gaining the attention and curiosity of people. It is possible that Tuesday's hiccup must have disappointed the crowd in California but for all we know, it could have been an ordinary mistake and not a systematic failure on Apple's behalf.
It seemed as if Federighi's phone restarted. If you use an iPhone, you already know that a reboot requires a passcode. So, maybe, the hiccup was simply a case of a rebooted iPhone X asking for Federighi's passcode before he could demonstrate the efficiency of the phone's FaceID.