The James Toback Allegations Are Strikingly Similar To The Harvey Weinstein Claims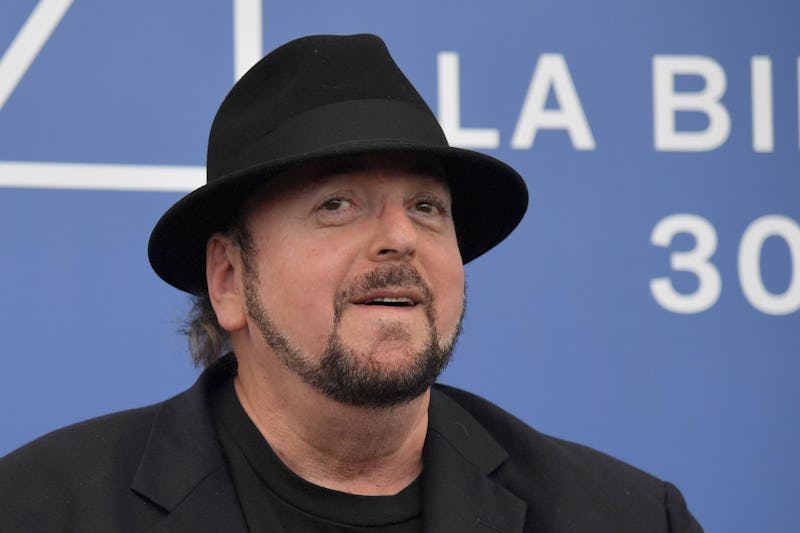 TIZIANA FABI/AFP/Getty Images
In a Los Angeles Times story published Sunday, 38 women came forward to accuse film director James Toback of sexual harassment. The allegations, which stretch back over 20 years, share many similarities to the recent accusations against Harvey Weinstein, and shed light not only on how common sexual harassment is in Hollywood but also the frequency with which workplace power dynamics can lead to sexual abuse — even when a world-famous producer isn't involved.
Toback, who promptly denied all of the allegations, has been working in Hollywood since the 1970s, and was nominated for an Oscar for his 1991 screenplay for the Warren Beatty film Bugsy. He later went on to direct the films Black & White and Two Girls and A Guy, frequently worked with Oscar-winner Robert Downey, Jr., and recently directed a documentary about convicted rapist Mike Tyson.
Toback is accused of using his power and status as a filmmaker to set up meetings with young women — often aspiring actresses looking for a role in Toback's films — and then engaging in sexual activities with them at those meetings. Toback's alleged offenses include him grinding against women, masturbating in their presence, demanding that they touch him sexually, and asking them to undress in front of him. Some of his accusers — many of whom went on the record to the Times — say that Toback also asked them about their own masturbation habits and other sexual topics.
"The way he presented it, it was like, 'This is how things are done,'" one of Toback's accusers, actress Adrienne LaValley, told the Times. "I felt like a prostitute, an utter disappointment to myself, my parents, my friends. And I deserved not to tell anyone."
The allegations against Toback — which, according to the author of the piece, doubled in number after the article was published — are strikingly similar to the harassment claims against Weinstein that started becoming public not one month earlier.
The New York Times reported in October that Weinstein, who produced Pulp Fiction and many other hit films in the 1990s, would allegedly invite aspiring young women to a hotel "for what they thought were work reasons," then disrobe, ask to given them a massage, or sometimes directly proposition them. Many of the women quoted said that the producer boasted of his power in Hollywood during or leading up to these meetings, the suggestion being that they might achieve such fame if they engaged with Weinstein sexually.
"If I wanted to be an actress, then I had to be willing to do this sort of thing," actress Lupita N'yongo wrote in an op-ed accusing Weinstein of attempting to coerce her into receiving a massage from him. "He said he had dated Famous Actress X and Y and look where that had gotten them."
Later, three women told the New Yorker that Weinstein had raped them, a charge he categorically denies.
One big difference between the two men is that Toback, unlike Weinstein, isn't a household name, and never has been. This illustrates a crucial point about sexual harassment in the workplace: Bosses who abuse their power to make unwanted sexual advances don't have to be famous in order to get away with it. What matters more than fame is power, and specifically, the power imbalance between low-ranking employees and their superiors.
A 2015 poll by Cosmopolitan found that one in three women between the ages of 18 and 34 had been sexually harassed at work — and 38 percent of those women said that it was a male manager who did the harassing (others reported harassment from co-workers or clients). Twenty-nine percent of women reported their harassment — but only 15 percent felt that their reports were handled "fairly."
And this doesn't only happen in flashy, high-profile industries like the entertainment business. According to the Cosmo poll, 42 percent of women reported workplace sexual harassment in the food service industry, and 36 percent in retail. By comparison, 31 percent of women said it happened in the entertainment industry.
"I am a 28 year old woman trying to make a living and a career," a former colleague of Weinstein's wrote in a memo about the harassment she allegedly witnessed. "Harvey Weinstein is a 64 year old, world famous man and this is his company. The balance of power is me: 0, Harvey Weinstein: 10."
This type of power imbalance exists everywhere, in every industry; it's not just Hollywood, and it's not just one person. Whenever a person is in a position to employ someone, he has leverage over her career. The enabling factor isn't fame. It's power.
If you or someone you know has been sexually assaulted, call the National Sexual Assault Telephone Hotline at 800-656-HOPE (4673) or visit online.rainn.org.