Fans Are Honoring #JanetJacksonAppreciationDay On Twitter Before The 2018 Super Bowl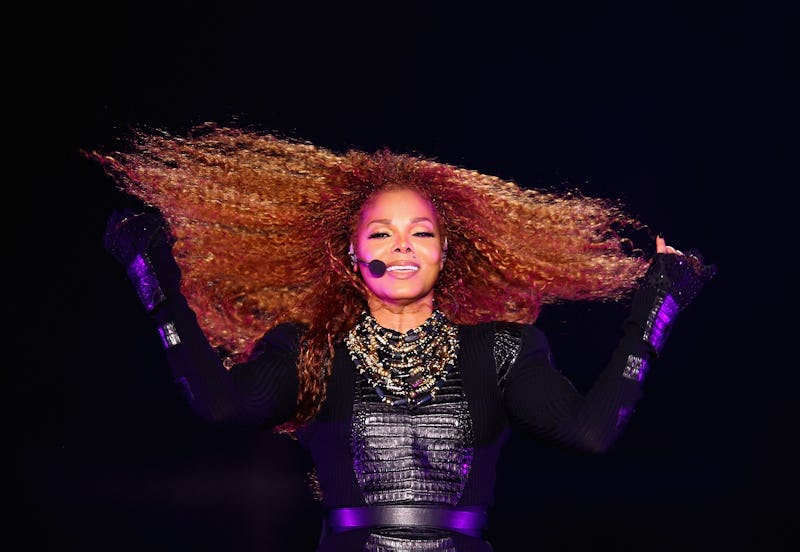 Francois Nel/Getty Images Sport/Getty Images
The 52nd Annual Super Bowl airs on Sunday, and Justin Timberlake is scheduled to make a controversial appearance at the 2018 Halftime Show. The Janet Jackson Appreciation Day hashtag on Twitter has fans honoring the singer on Super Bowl Sunday, since many feel the star should have been invited to perform as well. In 2004, Timberlake and Jackson gave an infamous performance at the halftime show that ended with a "wardrobe malfunction". The two singers performed a duet of "Rock Your Body", which was meant to end with Timberlake tearing Jackson's corset. The stunt failed, causing Jackson's bra to rip and reveal her right breast for a brief moment. It was a minor accident, but it caused a major uproar and resulted in Jackson being blacklisted from the Grammy Awards and Viacom's music channels, according to many sources.
In the months leading up to his Super Bowl performance, Timberlake addressed the controversy. In January, he told Beats 1 radio host Zane Lowe that he had spoken privately with Jackson about the incident and made peace. There was speculation that Jackson would appear alongside Timberlake during his performance on Sunday, but both stars have shut these rumors down. Timberlake confirmed at a Super Bowl LII press conference that his performance would be solo. On Saturday, Jackson posted on Instagram to clarify that she wouldn't appear. In the post, she wrote:
"To put to rest any speculation or rumors that I will appear at the Super Bowl tomorrow; I will not. Thank you for your support and I do look forward to seeing you all very soon."
Since neither the Super Bowl or Justin Timberlake will give Janet Jackson justice, fans on social media are trying to instead. Sunday, February 4th is now #JanetJacksonAppreciationday, and here's what fans are posting.
The Astro Poets took a moment to acknowledge the legendary Janet, whose star sign is Taurus.
Writer Hanif Abdurraqib asked an important question.
The Root shouted out some of Janet's most iconic musical moments, and how they established the singer as a true legend.
On Instagram, talk-show host Joy Ann Reid took a moment to recognize the singer. She wrote: "Happy Janet Jackson Appreciation Day! #sunday".
Writer Charlotte Clymer acknowledged Jackson's support of LGBTQ rights. One of Jackson's friends died of AIDS, and "Together Again" was written in their memory.
This writer shouted out Janet and Damita Jo, the under-appreciated album that Jackson released in the months following the Super Bowl incident.
Comedy writer Jake Fogelnest also took a moment to appreciate some of Jackson's music, posting a pic of her album When I think of You.
This fan pointed out that in addition to a music legend, Janet Jackson is also an influential fashion icon.
YouTube personality Akilah Hughes shared some Janet Jackson lyrics and a few of the singer's legendary dance moves.
There were more Jackson fans who took time to appreciate her work. April, a Marketing Director for Fractured Atlas, brought up "V
The writer and podcast host Ira Madison also took a moment to recognize Damita Jo, and how the industry prevented the album from greater success.
At the time, Jackson issued a written statement about the incident, according to MTV.
"The decision to have a costume reveal at the end of my halftime show performance was made after final rehearsals. MTV was completely unaware of it. It was not my intention that it go as far as it did. I apologize to anyone offended — including the audience, MTV, CBS and the NFL."
Timberlake issued the following statement in 2004 after the incident, according to Digital Spy.
"I am sorry that anyone was offended by the wardrobe malfunction during the halftime performance of the Super Bowl. It was not intentional and is regrettable."
Timberlake has apologized multiple times for the incident at the 2004 Super Bowl, but he hasn't yet recognized how much of the blame was put on Jackson. After the incident, CBS uninvited the singer from the Grammy Awards where she was scheduled to present an award. In contrast, Timberlake not only attended, but accepted several awards with speeches. VH1, MTV, and Viacom's other music video channels also blacklisted Jackson, and radio stations would not play her music. For all these reasons, Damita Jo did not initially perform as well as expected.
Timberlake didn't seem to face any of these repercussions, and went on to have a successful and lucrative solo career. For this reason, many feel the star should apologize for the media treatment and are disappointed that Jackson won't show up during the game. However, the Super Bowl doesn't seem likely to address the controversy and Timberlake hasn't faced questions about the difference in how the media treated Jackson following the incident. Instead, fans took the initiative to start #JanetJacksonAppreciationDay to show that if Timberlake gets another moment in the spotlight, Janet Jackson should too.
The good news is that Jackson has big plans for the upcoming season. She will headline the Panorama Festival in New York City, and a new album is reportedly in the works as well. She may not her redemption on the halftime show stage on Sunday, but on social media people are showing the singer just how meaningful her work is.