'Is O.J. Innocent?' Focuses On Jason Simpson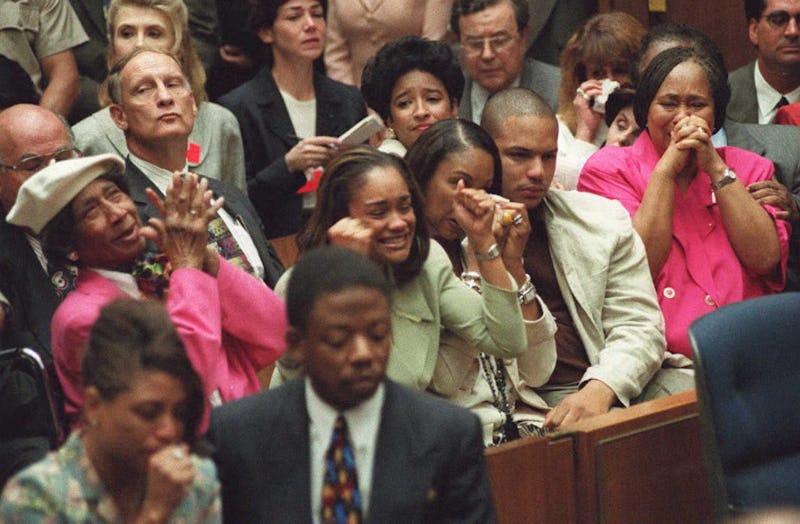 MYUNG CHUN/AFP/Getty Images
It's safe to say that public interest in the O.J. Simpson case hasn't waned — in 2016, The People v. O.J. Simpson: American Crime Story and O.J.: Made In America garnered critical acclaim and high ratings. Now, the case will be explored from another angle when Is O.J. Innocent? The Missing Evidence premieres on Investigation Discovery on Sunday, Jan. 15. American Crime Story and Made in America both stayed fairly neutral when it came to the matter of Simpson's guilt versus innocence in the murders of his ex-wife, Nicole Brown Simpson and her friend Ron Goldman. (Simpson was acquitted of both murders during his criminal trial and was found liable for their deaths during the ensuing civil trial. He has consistently maintained his innocence.) But, as its title suggests, Investigation Discovery is taking a different approach and it will focus on various theories, one of which claims that O.J. Simpson's son Jason allegedly played a role in the murders of Brown Simpson and Goldman. Jason has never been considered a suspect or charged in connection with the murders. Producers for the series reached out to Jason and he did not respond. Bustle could not reach Jason for comment.
Jason was never considered a suspect in the murders and thus has never publicly commented on any such allegations, but that hasn't stopped some from speculating. According to The Hollywood Reporter, Is O.J. Innocent? is based on William Dear's 2012 book titled O.J. Is Innocent and I Can Prove It, which has been discredited by many publications. The outlet reports that Dear claims to have "hard evidence" proving the football star is innocent — and, in his book, he claimed that evidence allegedly pointed towards Jason.
Dear's theory, which Investigation Discovery will look at, postulates that Jason (who was 24 at the time of the murders) allegedly killed Brown Simpson and Goldman in a fit of rage and O.J. Simpson came to the scene to help his son cover up the crime. As outlined by Business Insider, Dear claimed in his book that Jason had allegedly been diagnosed with "intermittent rage disorder" and was prescribed the drug Depakote to control it — the outlet noted it could not confirm the validity of this statement. Dear's book made several claims that have never been verified and alleged that Jason abused alcohol and cocaine, had a history of attempting suicide, and "nearly killed" a former girlfriend with a knife during a fit of rage. Again, Business Insider emphasized that it couldn't corroborate any of these claims.
According to Business Insider, Dear also claimed that Jason's alibi was weak, he owned a cap that resembled the one found at the crime scene, and Simpson hired a lawyer to represent his son four days before his own arrest. Dear's claims have been widely criticized and discredited by outlets including The Village Voice and The Telegraph and they haven't received much media attention until now. According to The Village Voice's article on the subject, Jason testified in a civil deposition that "he was never interviewed by either the LAPD or the D.A.'s office in the wake of the killings," while statements from police and prosecutors "suggest that Jason was never considered a suspect."
Lead prosecutor Marcia Clark has weighed in on Dear's claims — in an April 2016 interview with TODAY, she expressed outrage about Investigation Discovery's documentary and described the allegations against Jason as "offensive." She went on to tell Savannah Guthrie that: "It is nonsense, because there is no real logic, there's no evidence, there's nothing to back it up, nothing." But, as Is O.J. Innocent? illustrates, the public remains fascinated with every angle of this case, even decades later.