The 'Jersey Shore Family Vacation' Trailer Is Here & Yup, It Looks WILD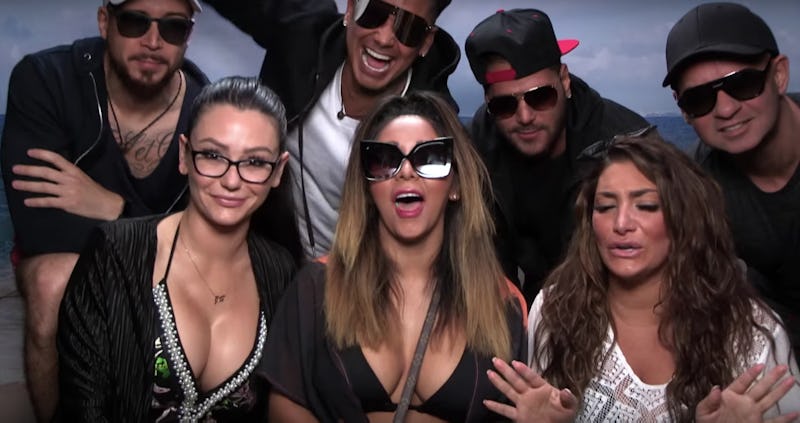 MTV
Miami, get ready. It looks like everyone's favorites from Jersey Shore are older, questionably wiser, and back to rage some more. MTV dropped the trailer for Jersey Shore: Family Vacation, and it looks like the housemates are taking their party vibes south to the sultry Sunshine State.
So heed the warning from Paul "Pauly D" Delvecchio: "We're going harder than we've ever gone before." MTV describes the premise of this comeback like so:
The cast of Jersey Shore swore they would always do a vacation together. Now, five years, five kids, three marriages, and who knows how many GTL sessions later, the gang is back together and on vacation in a swanky house in Miami Beach.
The Facebook version of the trailer starts off with introductory fanfare from the bros of Jersey Shore — Pauly D, Vinny Guadagnino, Ronnie Ortiz-Magro, and Mike "The Situation" Sorrentino. "It's vacay tiiiiiiime," they sing. Judging by their appearance of sunglasses indoors, gelled hair, and at least one muscle tank, it seems like their style hasn't changed at least. Of course, the guys are not the only ones making the road trip. Also joining the summer shenanigans are Deena Nicole Cortese, Jenni "JWOWW" Farley, and Nicole "Snooki" Polizzi.
Sammi "Sweetheart" Giancola will be notably absent from the reunion. A source told E! News that out of respect for her current relationship, Sammi chose to skip the Jersey Shore revival to avoid meeting up with her ex-boyfriend Ronnie.
The Jersey Shore: Family Vacation trailer runs through a few familiar sights of South Beach nightlife, plus ample squealing, a lot of drinking from various receptacles, bit of grinding, and one housemate sharing her bed with a giant pepperoni pizza. This getaway is more than reunion though. It seems like the friends are also taking advantage of this break from adult responsibilities they've taken on over the years.
"I'm a soon-to-be dad, f***," freaks out Ronnie.
"I love my children, but I never let loose," says JWOWW.
"We're older, but I don't think any of us are wiser," Ronnie adds later.
The trailer seems to confirm Ronnie's comment. Based on the preview, you can expect Jersey Shore: Family Vacation to include plenty of messy nights out, plus flashy cars, hair spray, ring shopping, and someone possibly going to jail. No bets on who's going to jail, but Snooki says "he literally is not going to survive."
"I feel like we're classy now," muses JWOWW as the trailer shows the Jersey Shore housemates getting up to their usual antics and proclaiming themselves "the hottest messes ever."
"We're just loving each other and having a blast," adds Deena.
While they seem excited about fist bumping their way out of Jersey, the television BFFs also comment on how things have changed now that they are older.
"The Situation has become the inspiration," says The Situation, who's still all about the "GTL" (gym, tan, laundry).
"As we age, we just get more delinquency. What's the word?" tries Snooki.
It seems like a lifetime ago (or just yesterday) since a group of loud and tan Americans graced our TV screens with their chaotic mess. Now, they're back again and you can expect things to be just as wild as in the past — if not wilder.
The season premiere of Jersey Shore: Family Vacation will air on Thursday, April 5 at 8 p.m. EST. Then tune in every Thursday — or as MTV calls it, "Jerzday" — to see if these housemates can survive Miami with their livers in tact.