Read What The Jewish Nurse Who Treated The Pittsburgh Shooter Wrote About "Love"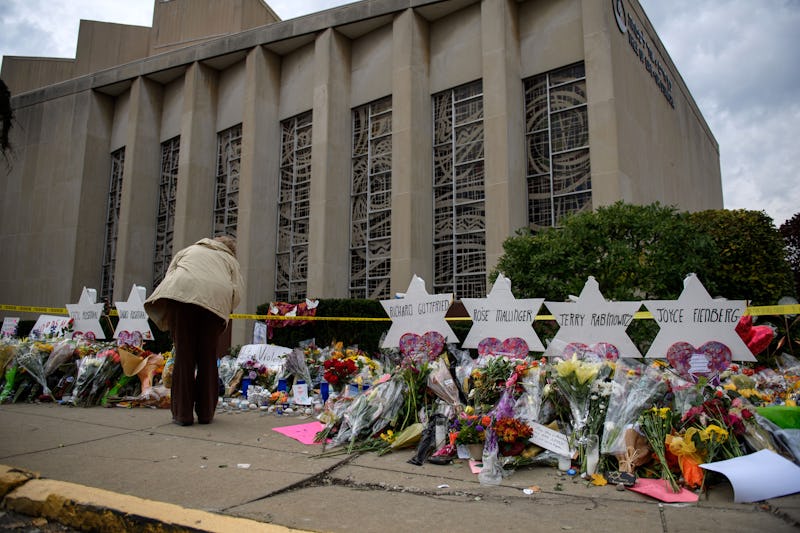 Jeff Swensen/Getty Images News/Getty Images
The Pittsburgh synagogue shooting has had a huge impact on many, including the nurse that attended to the shooter's wounds after the attack. Ari Mahler, the Pittsburgh shooter's Jewish nurse, wrote on Facebook about his role as a nurse, past experiences of anti-Semitism, and how "love" was why he cared for someone who "just committed mass homicide."
Mahler wrote the post Saturday night, explaining that he was nervous to share, but that he wanted to speak for himself after being mentioned in news reports following the attack at the Tree of Life synagogue that killed 11 people.
"I am The Jewish Nurse," Mahler posted. "Yes, that Jewish Nurse. The same one that people are talking about in the Pittsburgh shooting that left 11 dead. The trauma nurse in the ER that cared for Robert Bowers who yelled, 'Death to all Jews,' as he was wheeled into the hospital. The Jewish nurse who ran into a room to save his life."
Mahler noted that he had been mentioned in reports by CNN, Fox News, PBS, The New York Times and The Washington Post. "The fact that I did my job, a job which requires compassion and empathy over everything, is newsworthy to people because I'm Jewish. Even more so because my dad's a Rabbi," Mahler wrote.
Mahler went into detail about why he decided to care for the shooter. "I didn't say a word to him about my religion," Mahler wrote. "I chose not to say anything to him the entire time. I wanted him to feel compassion. I chose to show him empathy. I felt that the best way to honor his victims was for a Jew to prove him wrong."
The nurse said he has long experienced anti-Semitism, particularly during his years in school when he would receive violent notes invoking the Holocaust and Hitler. "The fact that this shooting took place doesn't shock me," Mahler wrote. "To be honest, it's only a matter of time before the next one happens."
"History refutes hope that things will change," he continued. "My heart yearns for change, but today's climate doesn't foster nurturing, tolerance, or civility."
Mahler shared statistics on hate crimes committed against the Jewish community. In 2016, the FBI reported that 54 percent of hate crimes based on anti-religious views targeted Jews. Then in 2017, the Anti-Defamation League reported that anti-Semitic incidents rose 57 percent, the second-highest number since 1979.
Then Mahler addressed the reason that he helped the shooter — the same person that "instilled panic in [his] heart worrying my parents were two of his 11 victims less than an hour before his arrival." He wrote:
Love. That's why I did it. Love as an action is more powerful than words, and love in the face of evil gives others hope. It demonstrates humanity. It reaffirms why we're all here. The meaning of life is to give meaning to life, and love is the ultimate force that connects all living beings. I could care less what Robert Bowers thinks, but you, the person reading this, love is the only message I wish instill in you. If my actions mean anything, love means everything.
Mahler's message was posted as vigils across the country — and at Tree of Life — honored the victims and their families. Love was a common response to what is one of the deadliest attacks on the Jewish community in the country's history.