The Jonas Brothers Celebrated The Anniversary Of 'A Little Bit Longer' & Fans Are Emotional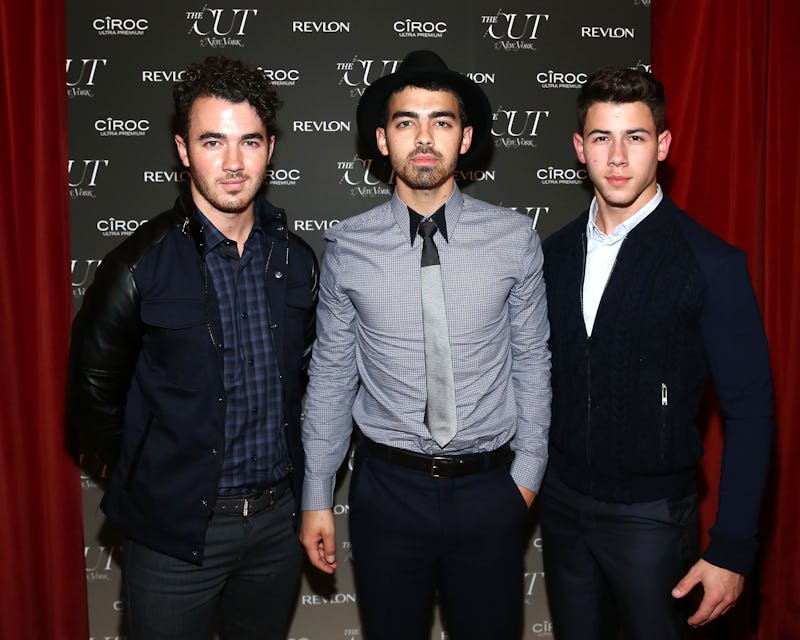 Neilson Barnard/Getty Images Entertainment/Getty Images
The world wasn't in need of a new boy band in the early part of the century. But a special void was missing in the hearts of teen girls everywhere — one that yearned for fresh music, real vocals and hilarious talent. And, in 2005, along came three brothers, ready to give the world what it needed. Now, the Jonas Brothers' A Little Bit Longer is celebrating its 10th anniversary, and fans are definitely feeling a little nostalgic.
A Little Bit Longer turned 10 on August 12, and all three brothers — Kevin Jonas, Joe Jonas, and Nick Jonas — shared the same video on social media to celebrate the milestone. And, as it boasts, A Little Bit Longer was kind of a big deal. It hit the charts at number 1 and sold half a million copies in just its first week, and, according to Billboard, is considered one of the highest first week debuts at number-one for a Hollywood Records artist in the U.S. and worldwide.
Even if you've ever slightly heard of the band, or are a casual fan — yes, surprisingly, they do exist — a ton of the big, staple-Jonas songs are on this one. Album hits like "Lovebug," "A Little Bit Longer," and "Burnin' Up" are all a decade or so old now as well, and it's just a lot to take in if you're a fan.
Starting with their semi-punk pop single, "Mandy," released in 2006, the brothers were originally going to be called "Sons of Jonas," and it all stemmed from Nick Jonas' proposed solo gig. But they were signed as a band, and their fans will be forever grateful. It's a tossup on what allured fans the most: the real instruments being played by three (pretty cute) boys, or the smart, original lyrics written by said (cute) boys. Whatever the draw was for for individual fans, they were (and still are) well-loved. Just check out when they released A Little Bit Longer 10 FRICKEN YEARS AGO, and shut down Times Square when they came to their own album release party.
Needless to say, the same fans who counted down the days until A Little Bit Longer's release are having a hard time dealing with the fact that it was 10 long years ago.
There was a lot of personality on this album. While the band's first album, It's About Time (2006), was pretty much their introduction, and their self-titled second album, Jonas Brothers (2007) was what solidified them in the world of music, this third album is what really established them as superstars, and marked their most personal album to date.
"Lovebug" gave fans a love song for the ages, and showed their depth. "Burnin' Up" not only gave us the line about that "red dress," but also gave us a video filled with hilarious (and hot) moments (including a cameo from Nick Jonas' then-girlfriend and fellow Disney star Selena Gomez). And if you couldn't tell, it even got a little personal for a hot second.
Some fans used the anniversary to express how much they missed the Jonas Brothers. The last time they toured was in 2012, and even though Nick and Joe have both released new music recently, it's not the same.
This moment in history is a sad milestone for some, and brings the nostalgia level to a dangerous high, but without A Little Bit Longer, the Jonas Brothers wouldn't be where they are today, and the memories will be enough. At least until the reunion tour.