Who Are The K-Pop Bands At The Olympic Closing Ceremony?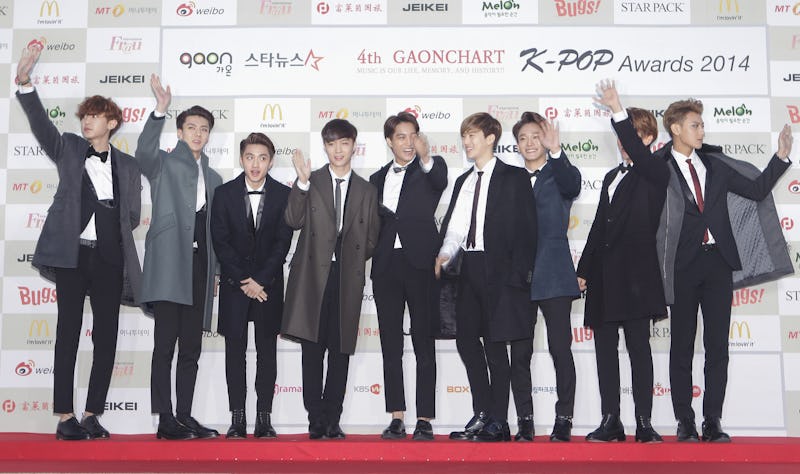 Chung Sung-Jun/Getty Images Entertainment/Getty Images
The 2018 Winter Olympic Games in PyeongChang are set to end the same way they began, with an incredibly entertaining show. As you watch the ceremony, you might be left wondering who the K-Pop bands at the Olympic closing ceremony are. The ceremony is shaping up to not only be a celebration of the Olympics, but a celebration of K-Pop culture, as well.
According to the site All K-Pop, there are a bunch of bands who are joining in on the Olympic fun. In particular, the popular group EXO is set to appear at the closing ceremony as confirmed by the official Olympics Twitter account. EXO is kind of in the same league as fellow K-Pop group BTS when it comes to popularity. And they're the biggest boy band in this post-One Direction world in terms of how large their following is, according to Dazed. The group, who produces music in Korean and Chinese, sold over 6 million albums as of 2016. Multiple albums of theirs have even been featured on Billboard's 200 List, including The War: The 4th Album (which hit #87) and EXOdus: The 2nd Album (which reached #95). Their fans (dubbed EXO-L's) will surely be thrilled to see their undoubtedly show-stopping performance.
Some members from EXO were previously involved in the Olympic festivities. On Feb. 5, prior to the Olympic opening ceremony, popular members Baekhyun and VIXX performed at the opening ceremony for the International Olympic Committee general assembly, according to Billboard. Baekhyun sang the South Korean national anthem while VIXX performed the song "Shangri-La."
Other than EXO, K-Pop bands 2PM, GFriend, and BtoB will reportedly be a part of the closing ceremony, according to All K-Pop, although this hasn't yet been confirmed by the Olympics. 2PM only recently reunited in advance of their closing ceremony performance. According to All K-Pop, the band got back together for the first time in a while to perform in PyeongChang, South Korea, the location of the 2018 Winter Olympics, in the "PyeongChang Headliner Show" on Feb. 19. 2PM was forced to put themselves on a hiatus on 2016 because the group's members were set to complete a mandatory military service in South Korea (all male citizens in South Korea are required to serve in the military for two years, according to Business Insider). But, it looks like the band is getting back to their music roots now.
GFriend is a popular all-girl K-Pop group that has seen success with their albums, Snowflake and Parallel, amongst others. They marked their third anniversary as a group recently, which they celebrated with their fans aka BUDDYs. And BtoB? They're yet another popular South Korean-based group. BtoB (which stands for Born to the Beat) debuted in 2012 and have hit success with their self-titled 2012 debut EP and their 2017 hit "Missing You."
K-Pop was also represented in the Olympic opening ceremony. In particular, four musicians from different groups came together to sing a rendition of John Lennon's "Imagine." As Rolling Stone notes, Guckkasten's Ha Hyun-woo, Bolbbalgan4's Ahn Ji-young, Jeon In-Kwon from oldie K-Pop band Deulgukhwa, and Lee Eun-mi all sang the classic song together during the opening ceremony as performers in the ceremony grouped together to form a dove around the musicians to symbolize peace around the world. It was beautiful. And if the opening ceremony is any indication how the final event is going to go, it's going to awesome.
It seems like the closing ceremony, which will include the aforementioned bands along with former 2NE1 member CL, as confirmed by the Olympics, will focus heavily on the K-Pop music that fans everywhere have come to love. All of these fantastic musicians are certain to put on a truly show-stopping performance to close out the 2018 Winter Olympics.