The Kardashians Are In Tokyo & Already Sharing Pics From Their Latest Adventure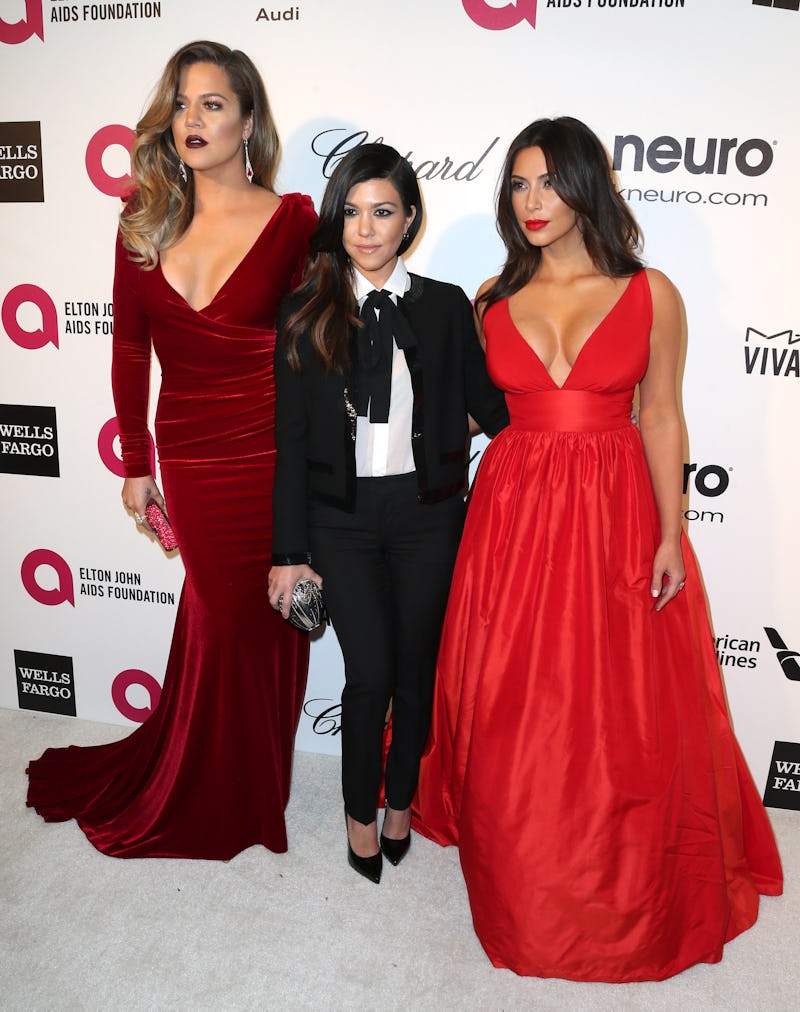 Frederick M. Brown/Getty Images Entertainment/Getty Images
It's been a big year for the Kardashian-Jenner family, and three of the sisters seem to be taking a break. Kim, Khloé, and Kourtney are in Tokyo on vacation, and it already looks like an exciting trip. Let's hope the getaway will be featured on the show, but if that's not the case, it wouldn't be the first time the family went away to get away from the cameras. Even if they're looking for some escape, the sisters have already given fans a glimpse of their touchdown in Tokyo, showing off the view from the plane, their travel looks while en route, and some of the first destinations they visited in the city.
The sisters landed in Japan on Sunday night, and it isn't yet clear what they have planned for the stay in the country's capital. Khloé shared a pic of her suitcases, which, as People reports are by Maison Goyard and are personalized. The matching set of bags were printed with a "KoKo" label, for her nickname. She also shared a picture of the plane on the runway.
As for Kim she shared a video of a flip phone shaped like a pink Ferrari. Kourtney shared some pictures to Instagram, as well, including her stylish travel clothes: a pair of red pants, black pumps, and mesh fishnets. She also shared a snap of Kim crossing a busy street in Tokyo.
In Kourtney's photo, Kim is entering a gateway to a street called "Hyakkendana". According to People, the street is in the Shibuya district of Japan and has plenty of bars and restaurants. The snap also offers a good look at Kim's new pink hair, which she unveiled on Twitter and Instagram on Sunday. On Saturday, the reality star tweeted about being over her blonde look, which she debuted in September at New York Fashion Week, according to Allure. The choice to go pink came after a couple months of considering a change — on January 1, she posted a throwback photo on Instagram captioned "Dark hair for the new year?" Her new pink locks were done just in time for the vacation, and hopefully she will share more pics of her new style while documenting the trip to Tokyo.
This isn't the first vacation in recent years that brought Kim K to Tokyo. In June of 2017, she surprised Kanye West with a trip to the city. The star recently revisited the memory on Twitter, posting a picture of Kanye on the plane:
The trip was a gift for Kanye's 40th birthday. Kim opened up about the trip in an interview with The View. "I surprised him with a trip to Japan, a place where he loves to go to get away and get inspiration," she said. "It was great for me because I had never been, and we always talked about wanting to go together." She also mentioned how special the trip was, and the city clearly made an impression on her.
It's not yet clear how long the three sisters plan to spend in Tokyo, or what their main destinations will be during the trip, but it's not the only recent vacation the family has gone on. A few weeks ago, Kim, Kourtney, and Kendall Jenner went to Deer Valley in Park City, Utah. According to E! News, the sisters enjoyed a weekend of snowboarding and skiing, as well as plenty of mountain views. Kourtney also recently visited Punta City, Mexico with her boyfriend Younes Bendjima, as People reports. The two have reportedly been dating since December of 2016, and shared a weekend at one of the city's eco-resorts.
Kim, Kourt, and Khloé are enjoying their trip to Tokyo, but the whole family isn't in attendance. Kendall is absent and Kylie Jenner is likely at home with her newborn daughter, Stormi Webster. Kris Jenner also doesn't seem to be vacationing with her daughters, so it might just be some Kardashian-sister bonding time. Khloé is expecting her first child with boyfriend Tristan Thompson and is due around April. It's possible the three sisters wanted to spend some time together before the baby is born.
The vacation in Tokyo already looks like a memorable getaway for Kourtney, Kim and Khloé, and hopefully fans will get to see more on this season of Keeping Up With the Kardashians. It wouldn't be the first time the family shared one of their vacations on the show, but it's also possible they are trying to get away from the cameras. Even if it doesn't appear on the series, it looks like fans will at least get lots of updates via Instagram.