The Kardashians Went WAY Over The Top For Easter This Year & Thankfully, They Shared Pics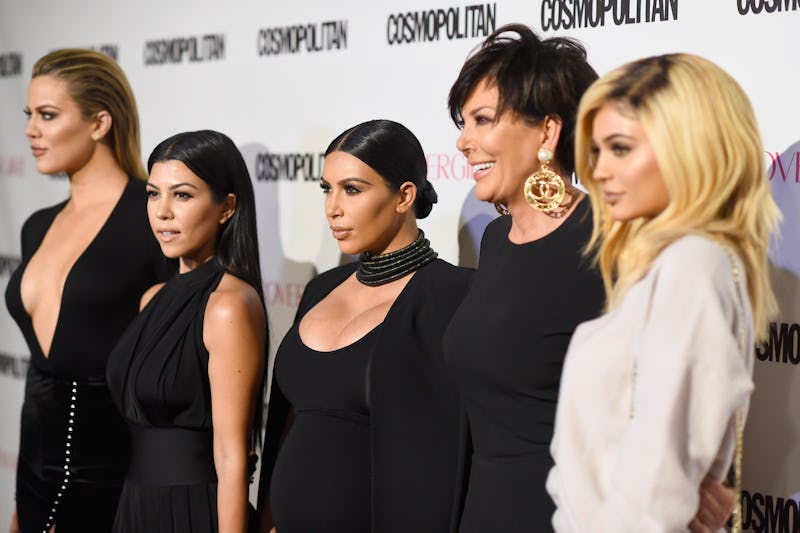 Frazer Harrison/Getty Images Entertainment/Getty Images
No matter how good you thought your Easter was, chances are you'll be a little jealous when you see how a certain family spent their holiday. After seeing all the photos shared on social media, it seems certain that the Kardashian Easter celebration on Sunday had to be one of their most elaborate ever — and not just because the kids got to hunt for cash-filled eggs.
Over the years, plenty of anniversaries, birthdays, and Christmas card shoots have proven that this family takes their special occasions very seriously. Even if you've only seen a few episodes of Keeping Up With The Kardashians, you probably already know this. But it seems like this Easter, they were definitely trying to outdo themselves... and they succeeded.
Most of the day was shared on Snapchat and Instagram stories, but fortunately, tons of fans came through sharing the photos on Twitter so that everyone could see them... and probably glean a little inspiration for their future Easter parties. However, Kris Jenner did share something that was totally worth its own Instagram post: an absolutely massive floral bunny that was sent to her by friend Jeff Leatham. This rabbit is 10 feet tall and covered in flowers:
To give you an idea of how awesome their party was as a whole, though, there's an important fact you have to understand first: this bunny? It's the least exciting part.
The decorations alone were amazing; even the way the children's table was set up was probably fancier than most adult tables are typically decorated. And can we talk about this spread? Not only did they have gold donuts, but they also had all kinds of other yummy Easter-themed snacks covered in pastel icing. Everyone chowed down on a pretty Easter egg-covered cake, pastel Rice Krispies treats, candy apples, and more. It probably goes without saying that everything was gorgeous and perfectly Instagram-able.
And then, there's the egg hunt. On Snapchat, Kylie Jenner revealed that the kids took part in the tradition, except in the Kardashian family, there are gold eggs filled with cash... and this time, Mason found all of them, as evidenced by his basket. Is there a chance that Kris can throw an Easter egg hunt for we adults who could use a few extra dollars next year? Just a thought.
According to the rest of Kylie's snaps, the fun didn't stop there. There were live animals present (bunnies and chicks, in particular) and a giant inflatable slide, which she and her friends — including BFF Jordyn Woods — took the opportunity to use. Because when there's a giant inflatable slide present, you have no choice but to play on it. No matter how old you are.
One of the most exciting moments that Kylie shared involved her two-month-old daughter, Stormi, celebrating her first Easter. On Snapchat, she shared videos of her and Travis Scott cuddling with Stormi:
And another close up video of Scott holding Stormi, where Kylie's followers got a good look at her adorable face and her pink Easter dress. Is this baby gorgeous or what?
If there's one thing that's for sure after seeing these photos and videos, it's that Kris has outdone herself this time — and that's saying a lot, considering how awesome her other holidays have been.
It's hard not to be jealous of this kind of party, but even if it's hard to get on that Kardashian guest list, it's still fun to live vicariously through their outrageous celebrations. If this is what Stormi's first Easter was like, just wait until it's her first Christmas... and all of the holidays in between.