The Kardashians Threw Saint & Reign A Very Specifically Themed B-Day Party This Year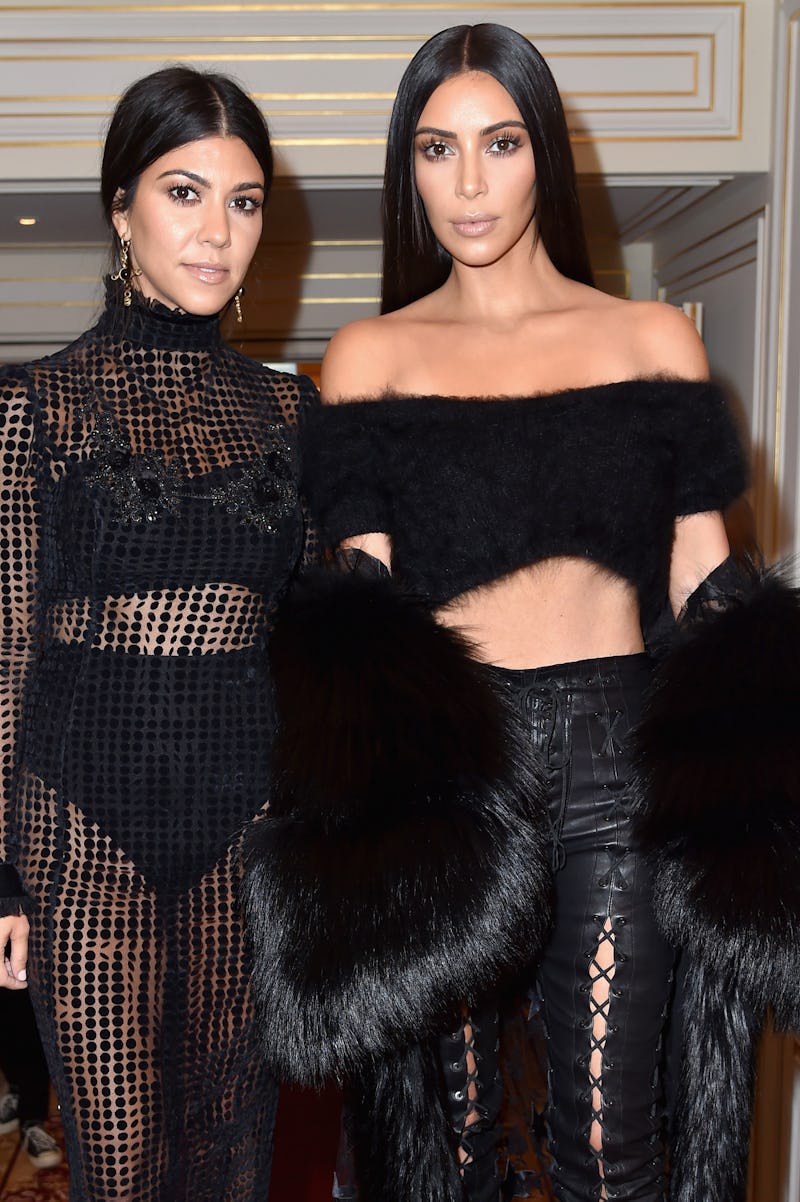 Pascal Le Segretain/Getty Images Entertainment/Getty Images
It's an eventful winter for the Kardashians, and the family has only just started their seasonal celebrating. On Sunday, Kim and Kourtney Kardashian threw Saint and Reign a Monsters Inc. themed birthday party that incorporated some holiday cheer, as People reports. Even though the Kardashian-Jenner family is preparing for their annual Christmas Eve Party, the sisters took the time to put together a birthday celebration for their youngest children.
Saint, who turns two on Tuesday, and Reign, who turns three on December 14, got to celebrate with their siblings and family with a Merry Monsters Mash themed party. The event was a full-on winter wonderland with an ice skating rink, big holiday decorations, sledding on manufactured snow, and even an early visit from Santa Claus. The day wrapped up with two birthday cakes celebrating the Pixar film; one featured Mike Wazowski and the other James P. Sullivan or "Sully", both crafted from frosting.
This festive birthday get-together, which by Kardashian standards was fairly modest, was likely just a small preview of what everyone can expect from the family's traditional Christmas Eve bash. This year, the family has a lot to celebrate: Kim and Kanye West are expecting their third child via surrogate this winter, and Kylie Jenner and Khloé Kardashian are reportedly expecting their first first children. While the fam's holiday celebration, traditionally hosted by Kris Jenner, has been extravagant in the past, with wild decorations, dance-floors, and fancy holiday food, this year could take the event to a whole new level.
At Kris Jenner's Christmas Eve gathering in 2016, the whole family dressed all the way up. Kylie wore a full-sequined bodysuit, Kris had a fur stole, and North West wore Alexander Wang, so you get the idea. There were Christmas lights hanging from every inch of the Jenner household, and a convincing Santa Claus showed up in several family photos. John Legend was even on hand to perform music. Nobody would doubt the KarJenner's ability to plan an extravagant occasion, but their holiday event is definitely the star on the top of the party tree.
Even so, Saint and Reign's birthday wasn't overlooked by the fam. In one picture from the afternoon, Kanye can be seen leading North and Saint onto an ice rink, which appeared to be set up in the backyard. Above the rink the words "Merry Monster Mash" were spelled out in silver balloon letters. Holiday lights and garlands were also strung everywhere, adding some more festivity to the afternoon.
Even for the Kardashian-West family, it's been a particularly eventful couple of months. This birthday party comes just a few weeks after Kim's own baby shower. She held a tea party in early November to celebrate the arrival of her third child. The whole event was filled with pink cherry blossom trees, and lots of guests shared pictures of the elegant afternoon. "Okay guys, my baby shower for baby number three," Kim said on Snapchat according to People. "It is a beautiful tea and cherry blossom forest."
Kylie, who is reportedly expecting a baby girl with her boyfriend Travis Scott, may have held a shower of her own a few days after the cherry-blossom tea. The party reportedly took place at her home in the Hills, according to a source who spoke with People, and was reportedly attended by close family and friends and stayed off social media. According to People, sources reported that it was pajama-themed and that the whole family was in attendance.
In 2018, there may be three new Kardashian-Jenner babies, meaning the family would be in for even more birthday party planning. This festive Monsters Inc. party seamlessly blended the Pixar classic with holiday cheer, so it seems at least Kim and Kourtney have the birthday celebrating down. If this season has told us anything, it's to anticipate more wild parties from the Kardashian-Jenner family in the new year.