'The Keepers' Is A Plea For Justice, Says Teresa Lancaster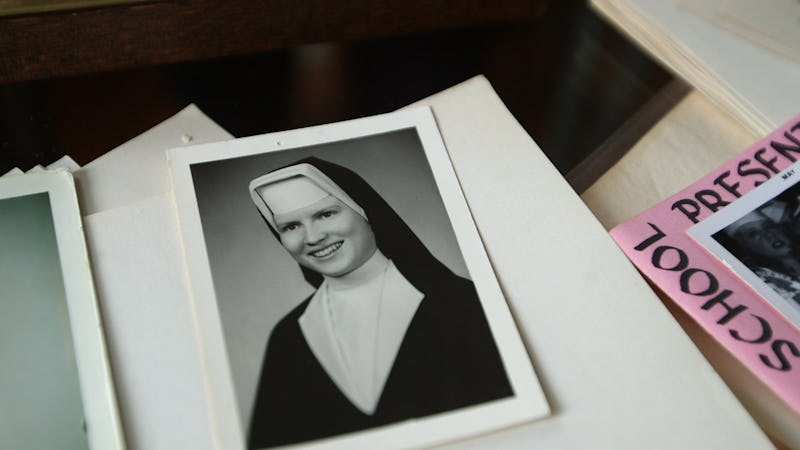 Netflix
In 1994, under the pseudonyms of Jane Doe and Jane Roe, two women filed a civil lawsuit against a Catholic priest named Father Joseph Maskell. He'd been the chaplain of Baltimore's Archbishop Keough, an all-girls high school the women attended in the late '60s. They alleged that their years there were riddled with repeated sexual abuse at his hands, and that a beloved nun, Sister Cathy Cesnik, was murdered to cover up his crimes. (Maskell denied the sexual assault accusations until his death in 2001 and was never charged in connection with Cesnik's case). His sexual abuse accusers identified themselves a decade after their lawsuit was dismissed. Now, they're telling the story in The Keepers, a gripping and poignant new docuseries that one of these women, Teresa Lancaster, tells Bustle is a plea for justice.
"When I came forward back in the '90s, I wanted to let people know that this did happen, and that there were a lot of victims," Lancaster says. "I wanted people to realize how the church providing safety for the abusers kept the abuse ring going for years. It's always been an objective to stop the abuse. First and foremost, tell your story, and then second, don't let this happen again."
A spokesperson for The Archdiocese of Baltimore, the division of the Catholic Church which employed Maskell and oversaw Keough high school, released the following statement to Bustle acknowledging the multiple sexual abuse allegations against Maskell:
Since the 1990s, when the Archdiocese of Baltimore first learned of an allegation of child sexual abuse against Maskell, and on numerous occasions since, the Archdiocese has publicly acknowledged and apologized for the horrific abuse committed by him. The Archdiocese reported the allegations to civil authorities in the 1990s and cooperated fully in any investigation, removed Father Maskell's faculties to function as a priest, apologized to victims and offered them counseling assistance, sought additional victims, and provided direct financial assistance to 16 individuals abused by Maskell.
Though it was unaware of the abuse at the time it occurred approximately 50 years ago, the Archdiocese deeply regrets the damage that was caused to those who were so badly harmed and has worked diligently since becoming aware of their abuse to bring some measure of healing to them. The Archdiocese is wholly committed to protecting children, holding abusers accountable — clergy and laity alike, and promoting healing for victims. These are hallmarks of the Archdiocese's child protection efforts, which we strive to constantly strengthen.
There is no room in the Archdiocese for anyone who would harm a child and every effort must be made to ensure what happened before never happens again. It is our hope that The Keepers advances this pursuit, just as we hope the series helps those who have kept alive the memory of Sr. Cathy and our collective hope that justice will be won for her.
In the years since, Lancaster has become a vocal activist for child sexual abuse. She works directly with survivors through Survivors Network of Those Abused By Priests, a national advocacy group commonly known as SNAP. Though Lancaster maintains that she'd always remembered the alleged abuse incurred during her years at Keough, Jane Doe — whose real name is Jean Wehner — repressed it until the '90s, and their case had hinged heavily on the credibility of recovered memories, a controversial concept at the time. Ultimately, the judge ruled that the lawsuit could not restart Maryland's three-year statute of limitations, and it was dismissed. "It was horrible. It was like being abused all over again," Lancaster says of the verdict.
When she speaks, Lancaster is forthright, matter-of-fact, and even a little feisty. She calls herself "agnostic at best" and doesn't bridle her disdain for the Catholic Church.
"40 years after the fact, they gave me an apology," she said, referring to the $40,000 in damages she received from the Archdiocese in 2010. "But not before raking me over the coals claiming that our charges weren't valid, and basically calling me a lying slut. So yeah, I got the [apology] letter, and that's nice. But why so late?" (The Archdiocese of Baltimore's website claims to have passed no judgement on the accusers' claims, saying, "Dismissal of the lawsuit was not seen by the Archdiocese as a judgment regarding the credibility of the claims. This is why Maskell remained prohibited from ministry in the Archdiocese even after the lawsuits were dismissed in 1996.")
Lancaster says she hopes The Keepers will shake people from stagnation and help to shatter the stigma against abuse victims that persists five decades later. "In 1970, when it happened to me, nobody would have believed me. I didn't have the words to describe what was going on. And then, when we came forward in 1994 there was still a lot of people that did not believe," she explains. "Now, [the Archdiocese] admits that Maskell was an abuser. It's out there, and there's nothing to dispute ... [But] it hasn't stopped. We have a pope that claims he wants to do something, but so far it's all words."
Instead, she wants tangible action. "[The Church gets] up there and they say, 'Well, we're praying for the families,'" she says. "I don't need anyone's prayers. If that makes you feel better, fine, but don't pray for me. Do something for me. Make sure this doesn't happen again."
If you or someone you know has been sexually assaulted, you can call the National Sexual Assault Telephone Hotline at 800-656-HOPE (4673) or visit online.rainn.org.