A White Police Officer Was Convicted Of Murder In The Shooting Of Laquan McDonald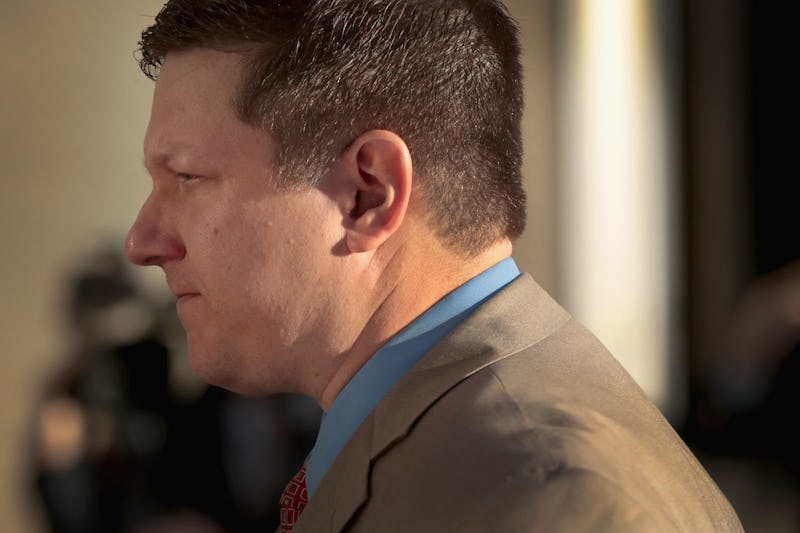 Scott Olson/Getty Images News/Getty Images
On Friday afternoon, a jury convicted Chicago police officer Jason Van Dyke of second-degree murder in Laquan McDonald's shooting, the Associated Press reported. In an incident that was captured on video and quickly went viral, Van Dyke shot McDonald 16 times as he was walking away from police in 2014.
Van Dyke had been charged with first-degree murder, 16 counts of aggravated battery and one count of official misconduct, but jurors were given the option of convicting him of second-degree murder. They found him guilty of that charge, plus all counts of aggravated battery, CBS News reports. The jury found him not guilty of official misconduct, however.
According to CBS News, this is the first time in 50 years that a Chicago police officer has been convicted of murder for an on-duty death. Van Dyke is white and Laquan was black, and the shooting became the focus of long-running debates surrounding police violence against people of color in America.
Van Dyke won't be sentenced until October 31st. However, his bond was revoked, and he faces a minimum of six years in prison on account of the second-degree murder conviction, CBS Chicago reports. According to CNN, Van Dyke "sat impassively in a dark suit" as the verdict was read with "his shoulders slumped."
Before video of the murder was released, Van Dyke falsely claimed that McDonald, who was 17 at the time, had lunged at him with a knife. However, dashcam footage showed that McDonald was in fact walking away from the eight police officers on the scene when Van Dyke shot him. McDonald immediately fell to the ground, but Van Dyke continued shooting him for 13 seconds, according to the BBC.
The shooting caused uproar among racial justice activists in Chicago and the nation as a whole, and had significant reverberations throughout the city's government. Protesters marched for weeks in Chicago's streets, and the incident ultimately led to the dismissal of Chicago Police Superintendent Garry McCarthy, the defeat of Cook County state's attorney Anita Alvarez in her reelection campaign and a Justice Department investigation into the Chicago Police Department. In a decision that some linked to McDonald's murder, Chicago Mayor Rahm Emanuel announced in September that he won't run for reelection.
According to the New York Times, activists had planned mass protests in anticipation that Van Dyke would be acquitted, and city officials had extended police officers' shifts to make way for expected protests. Activist William Calloway told the Times prior to the announcement of the verdict that "anything less than a murder conviction, including a hung jury, is not justice," adding that he and his fellow demonstrators would "respond appropriately."
Activists ultimately did march in the streets after the verdict, but they did so in celebration rather than outrage. There were some cheers as the verdict was announced, the Chicago Tribune reports.
"This case was really about a very narrow question: Did Officer Van Dyke murder Laquan McDonald?," said reporter Jamie Kalven, the first journalist to report on McDonald's shooting. "I think having resolved that question definitively with this jury verdict, it's now possible to go forward and address the larger systemic issues, the underlining institutional conditions that for so long allowed for police abuse and then shielded it when it occurs."