The Las Vegas Suspect Was A 64-Year-Old White Man Who Is Being Described As A "Lone Wolf"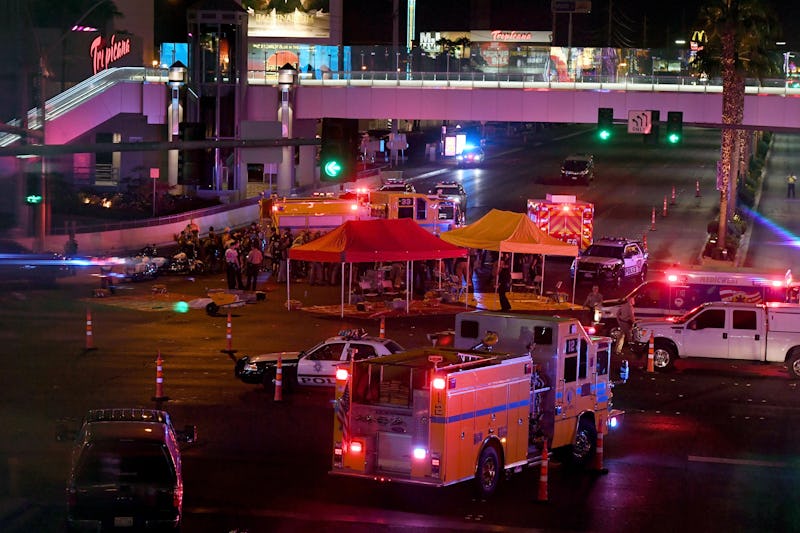 Ethan Miller/Getty Images News/Getty Images
On Sunday night, as country music star Jason Aldean performed as the closing act for the three-day Route 91 Harvest music festival in Nevada, Las Vegas, a man began shooting at random from the window of a nearby hotel. More than 50 people were killed, according to Las Vegas authorities as of Monday morning, and more than 200 more injured, making this the deadliest mass shooting in U.S. history. "Right now we believe it's a solo act, a lone wolf attacker," noted Las Vegas Metropolitan sheriff Joe Lombardo early Monday of the Las Vegas shooting suspect.
The suspect has been shot dead by police, Las Vegas authorities said in a statement Monday. He has been identified as Stephen Paddock, a 64-year-old local man. Las Vegas authorities were also looking for a "companion" of the suspect, Marilou Danley, but noted later Monday, "We're confident — but not 100 percent sure — we have located the female person of interest."
Paddock is believed to have started firing into the crowd in the early hours of Monday morning as Aldean played. Paddock was doing so from the window of the Mandalay Bay Resort And Casino, where police found him shortly after the shooting begun. The suspect was shot dead by police after authorities used a controlled explosion to break into his hotel room.
Paddock was known to local authorities, but not to national law enforcement, according to the sheriff's office.
The death toll as of Monday morning makes the Las Vegas shooting the deadliest in the nation's history. Prior to this, the Pulse shooting 18 months ago had left 49 people dead.
The Route 91 Harvest music festival is a three-day event that was set to close Monday morning with Aldean's performance. It takes place on the Las Vegas Strip, and the site has capacity for 400,000 people, according to The New York Times.