The Latest Blizzard 2017 Forecast Is In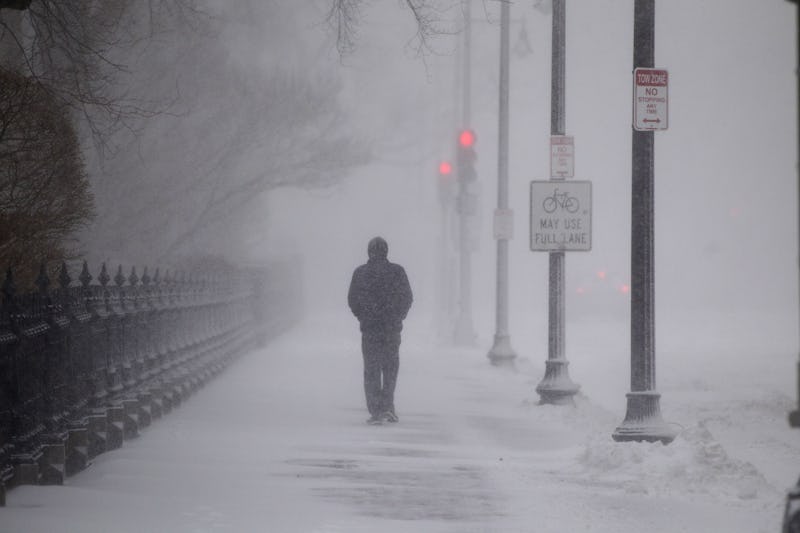 Scott Eisen/Getty Images News/Getty Images
Winter Storm Stella is rapidly approaching the East Coast, and it's shaping up to be a big one. If you're anywhere in the area, you should be prepared for what's coming, which means keeping up to date with the latest blizzard 2017 forecast for winter storm Stella.
Stella is making its way across the states, and according to the Weather Channel, it'll snow a bit in the Midwest as well. But the effects of the high-impact snowstorm are expected to be most prominent in the Northeast, which the storm is expected to hit on Monday night as it moves in a northerly direction. Heavy snowfall, at the rate of 1 to 3 inches per hour, is expected in New York City, Boston, and Washington D.C., starting Monday evening and continuing throughout the next day.
It's also going to get windy. From the New York City metro area to parts of southern New England, winds may reach 50 miles per hour, potentially creating blizzard conditions. Needless to say, this will make driving extremely difficult — perhaps impossible — and could also lead to downed power lines and trees. The National Weather Service has issued blizzard watches for New York City, Long Island, southern Connecticut, southern Rhode Island, and parts of southeastern Massachusetts.
In totality, the storm could bring up to a foot and a half of snow. Although meteorologists can't predict exactly which areas will end up with the most snow, they suspect that the I-95 corridor may have around a foot of snow or more. Although there will probably be some lighter snowfall on Wednesday, the worst of the storm will most likely be over by then.
The storm may also cause coastal flooding. The Jersey Shore, Long Island, and Cape Cod are all at risk, with the tides on Tuesday expected to be 2 to 3 feet higher than average. Waves on the ocean could become as high as 18 feet, though they're expected to shrink to 6 to 9 feet once they hit shores. Any flooding that results from this could cause road closures.
Stella will also bring moderate levels of snow to the Midwest, including up to an inch in Chicago. And the storm has already produced snow in Southern states as well, including as far south as Columbia, South Carolina.
Needless to say, you'll want to prepare for significant travel delays if you live in one of the affected areas. In addition to road closures, poor visibility, and power outages, there will likely be delays at major airports in the area, according to the Weather Channel.