Harvey Might Be The Most Powerful Hurricane To Hit Texas In Almost 20 Years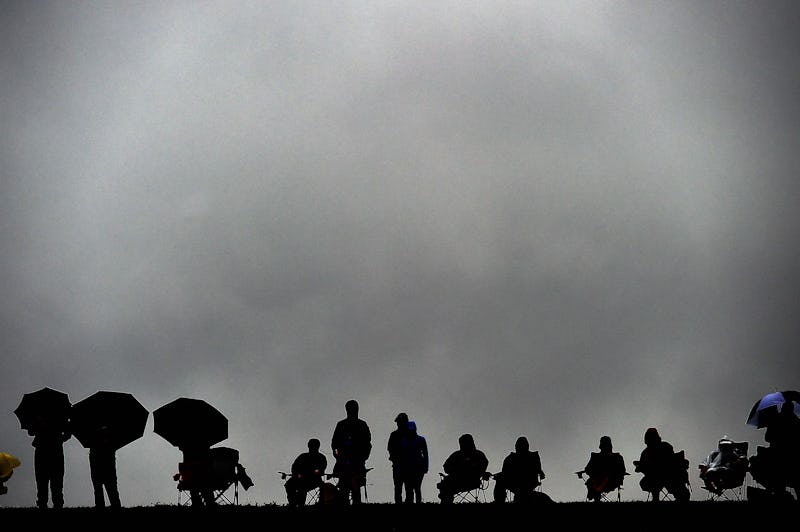 AFP/AFP/Getty Images
Hurricane Harvey is expected to reach the coast of Texas early Saturday, and as it travels through the Gulf, forecasters have revised their predictions as to the storm's severity. What began as a tropical storm was upgraded to a hurricane Thursday, and now the latest Hurricane Harvey forecast predicts a Category 3 hurricane to land on the Gulf coast of Texas.
The last time Texas was hit with this severe of a hurricane was on Aug. 22, 1999, when Category 4 Hurricane Bret touched down in the state. The last hurricane to hit Texas was Hurricane Ike in 2008.
According to ABC News, Hurricane Harvey is predicted to bring 10 to 20 inches of rain to Texas, and up to 30 inches in some places. Flash flooding and 115 mph winds could also occur. ABC News Meteorologist Melissa Griffin said that based on its current track, Harvey will make landfall at 1 a.m. on Saturday.
While the high winds are certainly a concern, it's the prediction of Harvey to linger over southeast Texas that could cause the most damage with severe flooding. As of Thursday afternoon, Corpus Christi Mayor Joe McComb, the Texas town expected to get hit hardest by the hurricane, has not declared a state of emergency. He has opened up emergency center and issued a voluntary evacuation order.
Texas Gov. Greg Abbott declared a State of Disaster Wednesday for Aransas, Austin, Bee, Calhoun, Chambers, Colorado, Brazoria, DeWitt, Fayette, Fort Bend, Galveston, Goliad, Gonzales, Harris, Jackson, Jefferson, Jim Wells, Karnes, Kleberg, Lavaca, Liberty, Live Oak, Matagorda, Nueces, Refugio, San Patricio, Victoria, Waller, Wharton, and Wilson counties, according to KRISTV, Corpus Cristi's NBC affiliate.
According to CNN, surrounding areas are taking measures to keep residents safe from the approaching hurricane. Houston has canceled the first day of school on Monday, and Mustang Island's Port Aransas as well as Portland have issued mandatory evacuation orders.
Hurricane Harvey is also worrying because about a third of the United States' refining capacity is in its current path, according to NBC News. Tom Kloza, global head of energy analysis at Oil Price Information Service, told NBC News of the rise in gasoline trading prices ahead of the hurricane, "You're talking about something that might knock down crude oil runs, which is going to deter some exports briefly. That's why you have crude oil down and gasoline up."
Only time will tell how much damage Harvey will actually do, but for Texas residents, now is the time to think about evacuating for safety before it's too late.