The Latest Stella Forecast Is Intense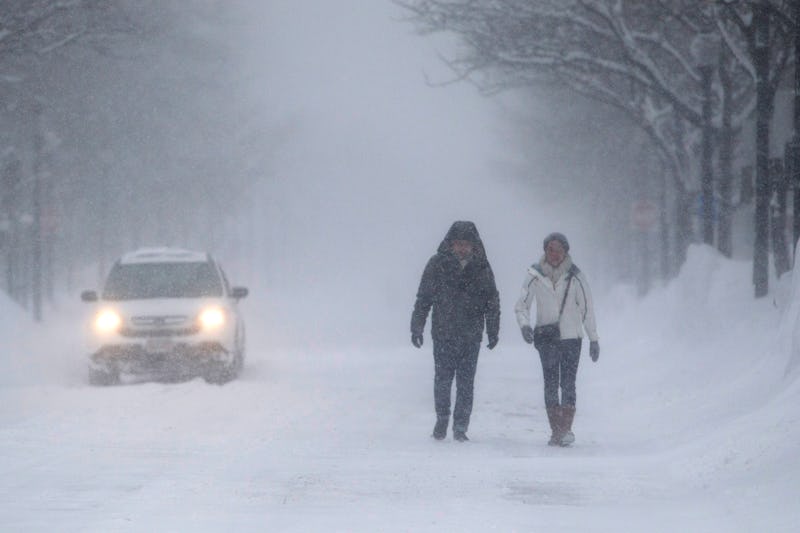 Scott Eisen/Getty Images News/Getty Images
Winter Storm Stella is making its way across the country, leaving snow and increasingly cold temperatures in its wake. It already hit Chicago, which, for the first time since December, has accumulated more than an inch of snow on the ground. It's made its way through the Great Lakes region, and even dusted parts of the South. Now, it's on its way to the Northeast, where the impending development of a nor'easter has resulted in blizzard warnings, wind advisories, and the possibility of power outages. So, what's the latest forecast for Winter Storm Stella?
One of the most recent developments is that all New York City schools will be closed on Tuesday, as the city is poised to receive up to 18 inches of snow at the height of the storm. Snow is expected to start falling between late Monday night and the early hours of Tuesday morning in New York, before intensifying during the late morning and early afternoon. New York Gov. Andrew Cuomo announced on Sunday that he would be activating the New York State Emergency Operations Center on Monday evening, with equipment such as snow-removal vehicles and generators at the ready.
New York City and surrounding areas are currently under a blizzard watch, and New Jersey, Pennsylvania, and much of New England have been included in a broader winter storm watch.
As for school closings, New York will probably not be the only city to experience a snow day on Tuesday. Boston Patch is predicting that many Massachusetts schools will close on Tuesday and perhaps even Wednesday, depending on the storm's intensity, though this has not yet been confirmed.
Thousands of Monday and Tuesday flights have already been canceled, many of which were due to current weather patterns in Chicago and the rest of the Midwest, and several airports in New England may also have to cancel Wednesday flights if conditions do not ease up. However, even as the storm comes to a close on Wednesday, a second burst of arctic air is expected to take hold of the Northeast, so spring-like temperatures from the past couple of weeks will not make a comeback just yet.
According to The Weather Channel's latest forecast, the nor'easter will take shape late Monday night off the East Coast. The Weather Channel also warns that the Northeast may experience tree damage and power outages due to strong winds, but also mentioned that locations near Interstate 95 may temporarily experience rain or sleet instead of snow.
The Weather Channel and other meteorologists have recommended against traveling in affected areas during the storm.