Leaked ACA Draft Would Impact Women's Health Care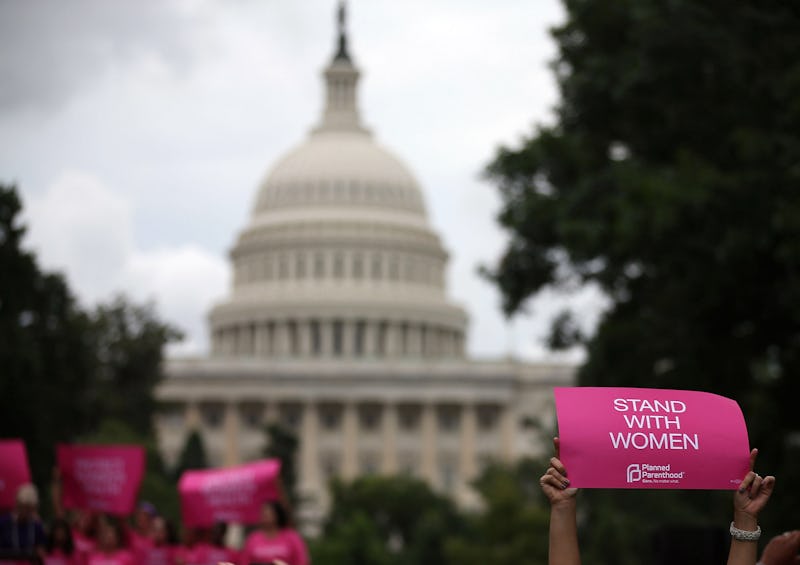 Mark Wilson/Getty Images News/Getty Images
A leaked draft of House Republicans' plan to repeal Obamacare could have major repercussions for women's health. Congressional Republicans are hoping to use legislation aimed at dismantling President Barack Obama's Affordable Care Act to make good on the party's longstanding goal of defunding Planned Parenthood, according to a leaked draft of House Republicans' repeal bill obtained and published by Politico on Friday.
Along with dismantling key parts of Obama's health care reform law, including Medicaid expansion and the individual mandate, a leaked draft of House Republicans' Obamacare repeal law moves to strip all federal funding from Planned Parenthood, one of the nation's leading providers of high-quality and affordable health care for men and women. The leaked draft repeal bill called for revoking hundreds of millions of dollars in Medicaid reimbursements from Planned Parenthood, a major source of the health care provider's federal funding.
Pro-life Republicans opposed to abortion services offered by Planned Parenthood have long pushed for defunding the nonprofit organization despite the fact that current law prohibits it from using federal funds to cover abortion procedures. Yet while Congressional Republicans have been vocal in their desire to strip away Planned Parenthood's federal funding, the draft of House Republicans' Obamacare repeal bill obtained by Politico moves to halt Medicaid reimbursements not just to Planned Parenthood but to any organization providing abortions with exceptions made for cases of rape, incest, and when the woman's life is in danger.
The leaked draft bill would also prohibit government subsidies, which help the more than 10 million Americans who get their health insurance through the Affordable Care Act keep their costs down, from being spent on insurance plans that include abortion coverage. The draft bill does not prohibit providers from offering abortion coverage. Nor does it prohibit anyone from buying insurance with abortion coverage. However, should it pass without changes, the leaked draft repeal bill would likely lead to abortion coverage being more expensive, and potentially out of reach for many women.
"An estimated one in five women in America will rely on Planned Parenthood for care at some point in her life," the Hill reported Planned Parenthood Executive Vice President Dawn Laguens said Friday in a statement rebuking Republicans decision to tie defunding the health care provider to repealing the ACA. "Access to basic women's health care shouldn't get caught up in congressional Republicans' extreme agenda."
However, House Republicans may find their attempt to tie defunding Planned Parenthood into legislation repealing the Affordable Care Act draws staunch resistance from Congressional Democrats and pro-choice Republicans like Sen. Lisa Murkowski and Sen. Susan Collins. According to political blog the Hill, if three Senate Republicans joined Senate Democrats in opposing an Obamacare repeal bill similar to the draft leaked Friday, the legislation would not pass.