The Life And Death And Life Of Mandy Moore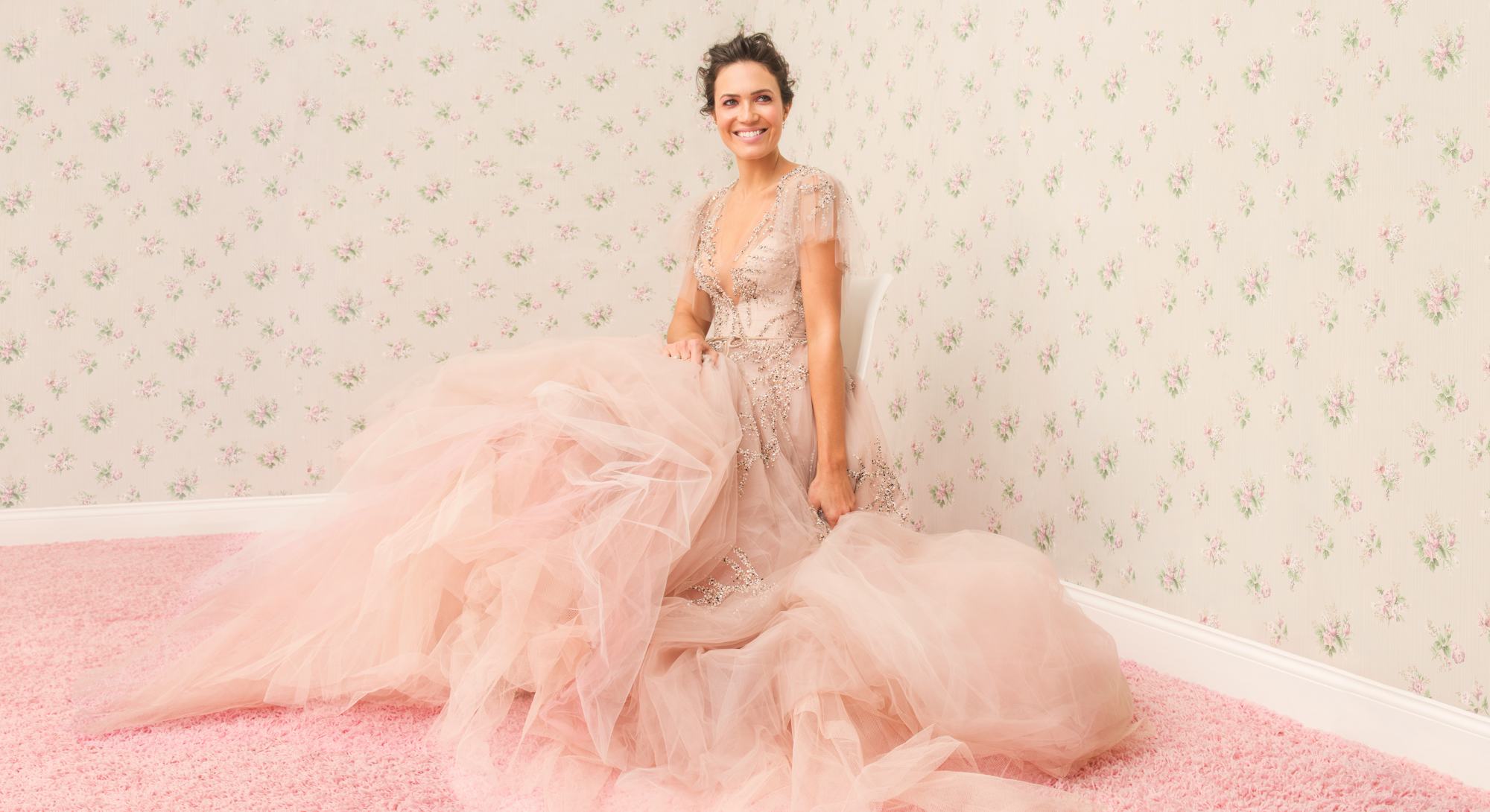 Twenty years ago, music executives in midtown Manhattan's Sony building were excited about a 14-year-old girl from Orlando. She'd just started her freshman year of high school back home in Florida, the number one song in the country was "I Don't Want To Miss A Thing" by Aerosmith, and a month later in October 1998, Jive Records would release "...Baby One More Time." That song would go on to top the charts in the United States and 18 other countries, become one of the best selling singles of all time, and launch Britney Spears into stardom with a propulsion so strong, the Earth would crack and little Britneys would spring from it and fight for their time in the sun.
She apologized for being late, which she wasn't.
Mandy Moore and I are eating lunch 528 feet from that building where it all started two decades ago. "I was just looking at the Sony building thinking, whoa. If I had told myself 20 years ago that this would be my life, I'd still be doing this in some capacity, it's insane." I ask her if she ever thought she was as good as Spears.
"When I look back on being a pop star, those girls, they were made for it." She's talking about Spears and Christina Aguilera, of course. (She could be talking about Jessica Simpson, but it's... unlikely.) "They're dancers and they're entertainers and they're performers. They give their all — and costume changes! — and they can live on that level. And that was never going to be me."
Moore showed up to our lunch alone, wearing an oatmeal-colored sweater. It's soft, and I know that because she gave me a hug. Her hair is brown, but brown in a suspiciously beautiful, shiny way that only celebrities and duchesses can achieve. Her eyebrows raise as if someone is holding on tight to the outer end so that only the inner parts move upwards — it's amazing. It's a look of sweetness and fearful sadness, and somehow communicates both "I can hold all of your problems for you," and "Don't be mad at me." Whenever she raises her eyebrows like this during our conversation, well, first of all, I notice, because it's noticeable, and second of all, I welcome it, because you can't help but just feel better about everything when someone looks at you like that. She apologized for being late, which she wasn't.
"Once I did that hard work, life opened up in a way that I never could have expected."
After signing her record deal, Moore left normal high school behind to work on her album and to go on tour opening for *NSYNC and the Backstreet Boys. Her debut single "Candy" came out in the summer of 1999. It never made the Billboard Top 40; it peaked at number 41, but gosh darn if the music video didn't make a lime green Volkswagen New Beetle (the bubbly, flower-vase-in-the-console 1998 remix of the original punch buggy, which was replaced in 2012 by a new-New Beetle) look very cool. Moore's only other well-known song, "I Wanna Be With You," peaked at number 24 on the charts in August 2000, likely bolstered by its place on the soundtrack of ballet-movie masterpiece, Center Stage.
That's two singles that made moderate waves off two albums (So Real in December 1999, and I Wanna Be With You in May 2000) that include tinny, colorless supporting tracks as memorable as the names of the guys in BBMak, if you even remember BBMak. (Spears has had five number one hits over her career, 13 that made the top 10, and 35 that charted. Aguilera has had five number one hits, 11 that made the top 10, and 30 that charted. Simpson… who cares, she's a bagillionaire shoe empress now.)
Moore is remarkably unguarded and apparently unperturbed by her third- or fourth-place ranking as a pop star. Over the years she's said that she didn't like the music she was making and joked that she wanted to refund anyone who paid money for it. Yes, she performed for 20,000 people waving glow sticks, but most of them were young teenage girls there to see someone else. Yes, she helped make late '90s pop music, spaghetti strap tanks, cargo pants, butterfly clips, and shiny lip gloss must-have trends, but it wasn't her — she was wearing a costume, dressed up by somebody else in pop star clothes. She never viewed herself as a trendsetter, and when she wasn't styled for her concerts or MTV appearances or award shows, she shopped at Abercrombie & Fitch and Claire's at the mall with her friends.
"We do ourselves such a disservice. And I think, not to make a generalization, but I think it often afflicts women more than men."
She's proud of having worked hard, though, and of what she accomplished (three studio albums in three years from 1999 to 2001, the music videos, the touring, the hosting gigs on MTV, the trips to the mall with her friends) while the rest of us watched in Sunny-D-stained sweatshirts.
Plus, not being a pop icon freed her up to do other things. After her medium music success in the late '90s and early two-thou, Moore found her footing as an actor with a breakout role in The Princess Diaries, a starring role in A Walk To Remember, and a slew of other roles in movies from 2002 to 2010 that kept her, if not a household name, then an every-other-household name. She was in Chasing Liberty, Saved!, American Dreamz, Because I Said So, License To Wed, and Tangled, in which she voiced Rapunzel, officially marking any actor's rite of passage as a Disney princess. And then she sort of disappeared.
Moore was effectively out of the spotlight for about five years starting in 2010. That's equivalent to roughly 750 in Hollywood Years, and to crawl out of that shadowy purgatory is nearly impossible once you've had your moment on stage (unless you have a fashion line up your sleeve — hat tip, Simpson).
And dark down there, it was.
In 2009, Moore married Ryan Adams, a prolific, seven-time Grammy nominated alt/rock/folk singer-songwriter. It was not the right relationship. She thought she could fill the emptiness with work, but her work suffered. She was terribly lonely and unhappy.
"When I think back to that particular time period that we're talking about ... It was heavy. It was dark. It was confusing. It was lonely. There was no room for me. There was no room for me to have anything else in my life."
Moore tried to find her way back to the light; she just wasn't successful. "I put all the emphasis and pressure on, well, I can just dig myself out of this hole by finding fulfillment strictly from a career perspective."
"I felt like somebody else was more important. Somebody else's choices or time, or whatever, should come before me."
To that end, she auditioned for several TV pilots that came devastatingly close to getting picked up, but never were. There was an hour-long CBS drama with Ben McKenzie, in which she played a former attorney turned victims' advocate, that almost was; a comedy pilot in which Moore's character and her husband (James Roday) go to a marriage counselor (Tracey Ullman) to figure out if they want to have a baby, and find out they have a host of other issues; and another show by one of the heads of Family Guy in which Moore would have starred as a woman who's about to get married but suddenly goes a different route, moving to New York to discover herself as a singer and performer and live the life she's always dreamed of living. Her character in that one felt that running away was the solution; she ends up getting a job as a singing birthday party princess.
In real life, Moore was hoping work would correct her course, but the start-stop momentum of it was tough and made her think, "Oh, OK, well maybe my time has passed." She considered maybe going back to school, maybe blogging. And maybe, getting back into music. She was lost. "No wonder those TV pilots never happened," she says now.
Moore and Adams announced in January 2015 that their marriage was over. Moore had come to the realization that finding work, while nice, wouldn't make her feel better about herself. It wouldn't have given her the kind of confidence she needed. She tried the role of wife in that relationship, but it wasn't for her, wasn't her style, as hard as she tried to make it fit. "I exhausted every effort before I was like, 'OK, well, that has to be addressed,'" she says. Ultimately, she moved on, but not without all of the attending heartache. "Those monumental shifts in your life … they come at a big cost," she reflects. "It wasn't a decision that I made flippantly."
But it was the right one. "It's no coincidence to me that once I did that hard work, life opened up in a way that I never could have expected. Once I did that, it was like, the sun came back out again. In every respect I felt like, 'Oh, now I'm living the life that I'm supposed to be living.'"
In two very obvious ways, that's true. First, in 2016, This Is Us premiered, starring Moore as matriarch Rebecca Pearson. The NBC hit drama and its cast and crew have been nominated for more than 90 awards combined, including the Emmy for Outstanding Drama Series (nominated, 2018) and the SAG for Outstanding Performance by an Ensemble in a Drama Series (won, 2018). The show has made Moore a bonafide TV star; she was nominated for the Best Performance by an Actress in a Supporting Role Golden Globe last year.
"There's a lot of weirdness wrapped up in music for me that I still have to work through. That I don't think I'm good enough. That I don't think I'm deserving."
Second, Moore and folk singer-songwriter Taylor Goldsmith got engaged in late summer 2017 after dating for two years. He's in the indie band Dawes, and he plays guitar around the house. Thanksgiving is going to be at their place this year. (Let me just say here that I asked what would happen if Moore was to run into Spears at an L.A. grocery store while shopping for turkey stuff — would she say hi? Moore's 50/50 on that — for one, she thinks Spears has "absolutely no idea" who she is, and two, Moore is pretty shy.) She talks to Goldsmith's parents a lot about This Is Us. She and Goldsmith are planning a really small and really quiet wedding; she says he's a beautiful influence in her life and a reason she's excited to get up in the morning. Her eyebrows indicate that she is genuinely happy.
Moore shared something on Instagram, though, that makes it seem like there's a part of her still stuck in that purgatory — and slowly angling toward the light. In July, she posted a short video of a studio mixing board. Moore can be heard singing a moody, almost-country-accented vocal lick that cuts in with what sounds to be her singing the lyric, "don't underestimate." The song, the small part that is audible anyway, is thick and emotional. So is the caption she wrote for that post:
Getting back to it. It's time. I miss it. I'm not scared anymore. No more excuses. No more allowing someone's else insecurities to dictate my relationship to music and singing. Boom. Also- this is just a little demo of something @themikeviola and I worked on yesterday... but still, it's a start! 🎶
When I read these words out loud to her, Moore starts to cry.
"Crying in a restaurant, sorry." She wipes tears away. "We do ourselves such a disservice. And I think, not to make a generalization, but I think it often afflicts women more than men, where we make ourselves feel so small to make other people comfortable. I think I did that for so long because I was scared of ruffling feathers. I just didn't want to cause trouble. I felt like somebody else was more important. Somebody else's choices or time, or whatever, should come before me."
"Once you sort of" — she makes a whooshing sound and fans her face at once with both hands, her eyes wide open, her eyebrows being her eyebrows — "wake up and realize that that is so not the case, and you have to be your biggest advocate. No one's going to do it for you. It's a stunning realization." Moore says this awakening was recent, and it's still a struggle. "The emotions are right there under the surface," she says. More tears well. "There's a lot of weirdness wrapped up in music for me that I still have to work through. That I don't think I'm good enough. That I don't think I'm deserving. That I allowed other people to make me feel bad about wanting to do it. That I clearly have to go to therapy for, so..." she laughs a small laugh. "It's just an ongoing effort."
She doesn't want to put all the blame on one person, though, and she's ready to try again. "I'm going to drop the bags, and I'm going for it because I miss [music], because I love it, because it's a part of me. And I shouldn't let anybody else's ideas of that determine how I feel, or the choices that I make." Her nose is very stuffy, and she sniffles a lot. "There's scar tissue there where you're like, 'Should I be doing this? Is that part of my life over?'"
"I'm trying to accumulate a couple songs that I think are really great. And then I'll go record them properly, and then I'll probably just put it out. No fanfare."
It is a universal truth no matter who you are that whenever you cry in a restaurant — even just for two minutes, even if you sang "I See The Light" from Disney's animated motion picture Tangled on stage at the 2011 Academy Awards because it was nominated for Best Original Song and you sang that song in the movie and on the soundtrack, even if you were a teen pop star who maybe wasn't the best pop star but you were still better than 99.99 percent of performers out there, even if you play a singer and sing on a TV show that more than 10 million people watch a week, even if your insecurities are confusing and your vulnerability admirable, even if you do or don't do costume changes — the moment you start to cry in a restaurant is the exact moment a server will show up with your salmon, salad, and fries.
After Moore and I spoke, Adams posted, then deleted, several tweets that shared his side of their story — he was responding to Moore's profile in Glamour in which she said she "didn't choose the right person." Jezebel reported that Adams tweeted he knew their marriage was doomed from the start. He likened their relationship, or Moore herself, to a "soggy piece of cardboard." He said none of his love songs are about her. He later apologized for his tweets, said he was trying to be funny, said he'll always choose to remember the amazing moments, and said he is seeking crisis and grief counseling.
Despite the tears, there's a lightness to Moore, which is remarkable given what are clearly lingering effects from those years. "It's funny because I think back to being the 15-year-old on stage opening up for the Backstreet Boys, and I was fearless and clueless. I didn't know any better to be scared. I wish I could just capture that feeling and that attitude, bottle it, and just sprinkle it all on me whenever I needed it." Would it smell like cucumber and melon? "Bath and Body Works, obviously."
This Is Us will end. Creator and writer Dan Fogelman (he also wrote the screenplay for Tangled, by the way) has planned and shot parts of the series finale. Moore knows how it will end and that she'll be working on the show for another three seasons or so, maybe more. She feels secure knowing that Fogelman is in the driver's seat; that there's control. "No one's flying by the seat of their pants, making it up as they go along. It's a fully realized trajectory, and then we'll backtrack from there. That made me feel good. Like, just sit back. Enjoy it."
It's unclear if she's talking to the fans or to herself, but she's heeding the instructions regardless. And she hears it when people compliment her singing voice, vis-à-vis Rebecca's. "Over the last year or two years since the show's been on, those little comments being peppered into conversations give you the confidence. And to me, the wherewithal that people are like, 'Oh, OK!' I didn't know that people were even interested in that side of me anymore."
Where Moore's confidence has evolved, her humility has remained a constant. She's grounded (she says "thank you" when I tell her so) and thinks a lot about the state of the world. In fact, it keeps her up at night. "I love politics. It's a very tricky balance because it's hard to not to be…" she pauses. "I want to be more political than I am, but it's such scary territory to wade into. I'm terrible at confrontation. I don't think that I'm the best vocal advocate to fight on the front line for things that I really believe in, so I find other ways to do it."
"I think I sort of lived and died at different parts of my life."
In September, Moore announced that she signed a production deal with 20th Century Fox TV, the studio behind This Is Us. Under the two-year agreement, Moore will produce new projects for both cable and broadcast TV. "I have some ideas percolating. I wanna find really female-focused [projects]. I love what Reese Witherspoon is doing. I think she has impeccable taste and that she's a real champion for other women. And I want to do that in my own capacity. I want to maybe find something that has a musical lean to it."
Like Glee?
"Not Glee," eyebrows, "but I want to have music incorporated somehow. In a way that This Is Us does, in a smart, sort of subtle way. I'm reading articles and trying to acquire properties and figure out what to do. I love that the show has given me some confidence and authority and a platform to find the stuff for other women that I was so desperate for. And it's just that old adage of, if you can't find those opportunities, you gotta make 'em for yourself."
Moore is up for further reinvention and always has been. Alongside the personal healing, the hit TV show, the production deal, and the upcoming wedding, music is eking its way back into her life. "I'm trying to accumulate a couple songs that I think are really great. And then I'll go record them properly, and then I'll probably just put it out. No fanfare."
She needed to go through all of it — the success, the self-doubt, the divorce, the trying on of various voices and roles and costumes — in order to find what does make her feel real. She gets teary again thinking about what she's been through — "I think I sort of lived and died at different parts of my life," she says — but is relieved that she's now in control. "I feel like I am the captain of my life again," she says. Captains rarely get lost.
Tonight, if she's home, Moore will prepare the morning's coffee like she always does. "I set up my cup and my pour-over and my filter. My kettle's ready to go," she says. "I can just go and press a button and grind my coffee beans." For her, this ritual is like "picking out an outfit before school" — there's the preparation, the anticipation, the power. She'll go to bed knowing what's next and wake up knowing where to begin. All she has to do is press start.
Main Image: Dress: Monique Lhuillier. Rings: Alison Lou. Earrings: Zoe Chicco. Ear Cuff: Anita Ko.
Photographer: Matthew Priestley
Stylist: Sarah Slutsky at The Wall Group
Hair: Peter Butler for TraceyMattingly.com
Makeup: Matin using Chantecaille, for TraceyMattingly.com
Manicure: Casey Herman for Essie at The Wall Group
Set Design: Stockton Hall for Atelier Management
Art Director: Becky Brown
Bookings Manager: Guillermo Perez
Photo Editor: Clare Thigpen
Executive Editor, Fashion & Beauty: Kara McGrath
Deputy Entertainment Editor: Allison Piwowarski
Director of Features and Brand Initiatives: Margaret Wheeler Johnson