Why This Tween Movie Is The One To Watch Before It Leaves Netflix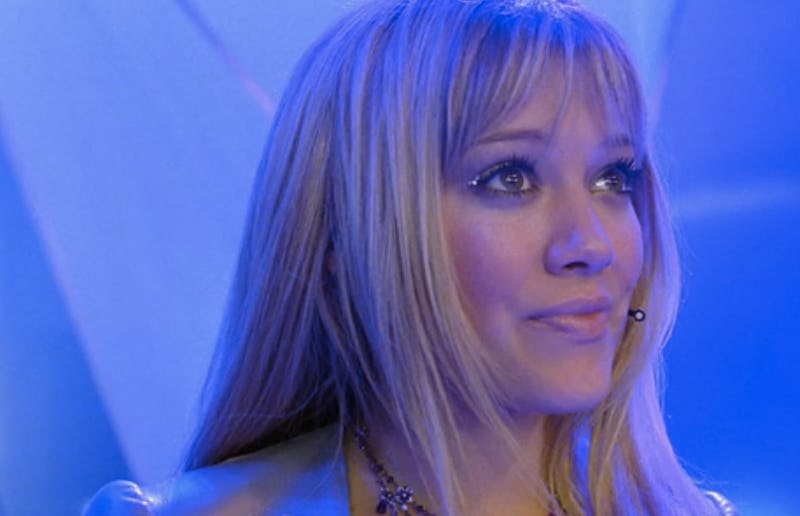 Buena Vista Pictures
Netflix is a flighty friend. One day the streaming service puts all the best movies from your tween years online, and the next it's taking your favorite one away. It's difficult to think of a Disney Channel original series more iconic than Lizzie McGuire, and the show was so popular that the movie adaptation merited a theatrical release. Netflix was kind enough to add the film to their repertoire for anyone who didn't get to see it on the big screen or for fans who wanted to revisit their tween years. But no matter what the reasoning, The Lizzie McGuire Movie is the nostalgic film you need to watch right now. This modern classic leaves Netflix on August 1, so why not take a crazy chance and revisit it today.
For anyone who missed out on The Lizzie McGuire Movie, and therefore a fulfilling childhood, the film follows Lizzie and friends on a class trip to Rome, Italy. At the Trevi Fountain, Lizzie wishes to have adventures, and is almost immediately mistaken for an international pop star named Isabella by her musical partner, Paolo. Wishing fountains are no joke, people. Paolo and Isabella broke up, but the singers were booked for an Italian Music awards show. Paolo begs Lizzie to sub in, and Lizzie agrees, because when in Rome do as the Romans do, which in this case is identity fraud.
Have you ever seen such a beautiful plot? If this concept alone isn't enough to convince you to revisit Lizzie, the movie has more to offer. First of all, it was actually filmed in Italy, and all of Paolo and Lizzie's dates feature beautiful shots of Rome. In addition to the Trevi Fountain, Lizzie get to see the Pantheon, The Coliseum, and ride through the historic streets on a Vespa. Honestly, move over Rick Steves, who needs a travel documentary when you can just get the Paolo tour experience. Of course, travel tips aside, Paolo ends up being less dreamy than he seems.
Forget the The Sixth Sense, Paolo lying to Lizzie was the most shocking twist ending in film history. Not to mention that it allows the end of the film to becomes more about Lizzie and Isabella's friendship and Lizzie's self actualization. (Side note, but when you're 11, Hilary Duff playing Isabella in a brown wig actually has you fooled.) Who doesn't want to watch two ladies take down a total sleaze in front of hundreds of people? The Lizzie McGuire screenwriters knew how to turn a story.
However, if you're still not sold, this movie has music and fashion to spare. The opening sequence features a timeless Hilary Duff cover of Blondie's "The Tide Is High" that would make anyone want to sing into a hairbrush, and the finale song "What Dreams Are Made Of" is an anthem. The Italian Music Awards performance is the best part of the movie, and features an unparalleled tearaway outfit moment. Of course, the fashion is a great reason to take a walk down Lizzie McGuire's memory lane. From platform sneakers to pageboy caps to butterfly hair clips, this movie epitomizes the style of the early 2000s.
There's also a fashion runway fitting, and Lizzie tries on costumes, including an inflatable Igloo dress. Which brings us to the next reason The Lizzie McGuire Movie should be required viewing: It's super funny. Alex Bornstein's Miss Ungermeyer steals the show with her vigilant chaperoning, and when Lizzie has to sneak out of the hotel, it's actually quite suspenseful. Not to mention the opening sequence, a disastrous graduation ceremony, which will make any self-respecting clumsy person feel less alone. Just as with the show, Lizzie's thoughts are narrated by her sassy animated alter ego.
There are so many reasons to revisit this nostalgic favorite, and Lizzie herself is one of them. After dropping off the map for a long time, Duff has had busy few years. She's released some new music, and her role in TV Land's Younger is her best in years. What better way to celebrate the Hilary Duffaissance than revisiting some of her best roles?
Make sure to watch The Lizzie McGuire Movie now (hey now, hey now), because Netflix is taking the movie down, along with a few other teen and tween favorites. This blast from the past will only be up to until August 1, so now is the time to find out what dreams are made of.