'Luke Cage' Season 2 Is Almost Here & This New Teaser Is INTENSE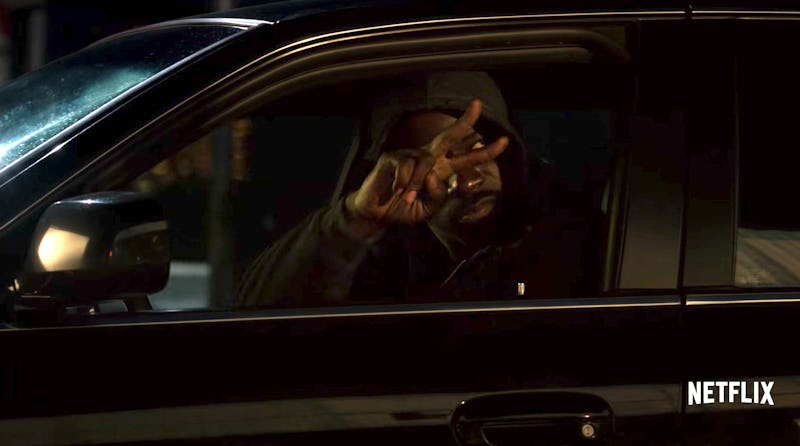 Netflix
Now that The Defenders is in our rearview mirrors, it's time to get back to the basics. So, enjoy this Luke Cage Season 2 teaser, because the second season of the show starring Mike Colter looks like it's going to be even more explosive than the first. The Luke Cage Season 2 premiere date is also revealed in the teaser, informing fans that they only have four months to wait before their summer is spent back in Harlem, watching Luke face his latest foe. The teaser gives no real indication of who that foe is, but it's certainly intriguing.
Season 2 of the Netflix superhero series premieres on June 22, and Luke Cage is hyped. "You can't burn me, you can't blast me, and you definitely can't break me," he announces as Eric B. & Rakim's "I Ain't No Joke" plays in the background. "You wanna test me? Step up. I'm right here." According to Deadline, the synopsis for the second season is,
"After clearing his name, Luke Cage has become a celebrity on the streets of Harlem, with a reputation as bulletproof as his skin. But being so visible has only increased his need to protect the community and find the limits of who he can and can't save. With the rise of a formidable new foe, Luke is forced to confront the fine line that separates a hero from a villain."
The hero's celebrity status is shown off in the clip as well, where a random citizen encourages him to "get paid, black man."
We see a truck exploding, and Luke patting down his flaming shirt as he walks away from the explosion. We see him shoving away a gun, jumping off a roof, and flipping a man onto a table. We see him walking the streets at night, we see him surrounded by foes, and we see him knocking down a warehouse door. It's a lot to process, even though it doesn't give us many specifics about what new war Luke is fighting after helping the Defenders the last time we saw him.
Regardless of who Luke's newest opponent is, it seems like the superhero is ready to take on anyone who threatens him and his city. He has good reason to be confident, too, especially after last summer's release of The Defenders. After Luke, Matt Murdock (aka Daredevil), Jessica Jones, Luke Cage, and Danny Rand (aka Iron Fist) battled against the Hand for an intense season, Luke is ready to work alone again, or at least without the distracting feelings he and Jessica Jones have between them.
Luke won't be completely alone, though, as the new season promises the return of Misty Knight, and — slight spoiler ahead — she appears to be rocking her new bionic arm. Rocking her arm, of course, actually means beating up bad guys with it.
Even after she lost her arm to the Hand in The Defenders, Misty still kicks ass as a NYPD detective, and her return is just as exciting as Luke's. Whether or not the new season will get into the details of how she got her arm will be determined, but it could mean that Misty will gain superhero abilities. And that's what everyone's always wanted, isn't it? According to Entertainment Weekly, Misty gets her bionic arm made by Tony Stark and Stark Industries in the original comics. Hopefully the show will follow the comics, because watching Misty fight with superhuman strength sounds incredibly fun.
Since Misty is noticeably absent from the new Luke Cage trailer, though, it seems like the upcoming season will focus on him more than anything, which is totally fine with fans of the Harlem superhero. With the return of Jessica Jones coming on March 8 the new Luke Cage season to officially countdown to, Netflix's Marvel fans have an exciting next few months ahead of them.