You NEED To See Who Turns Up In The New 'Luther' Series 5 Trailer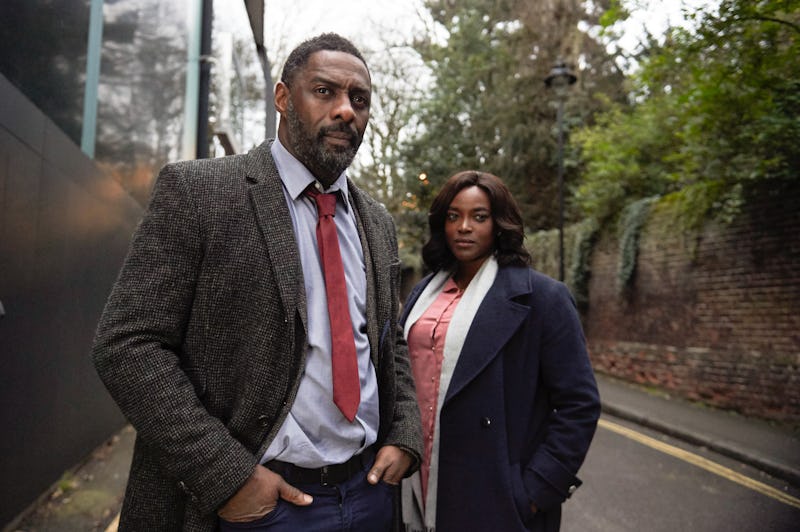 Des Willie/BBC
Take a deep, calming breath, readers: the Luther series five trailer is here, and it looks positively chilling. A masked killer crawls towards a young woman from the back of a deserted bus. A man flees from a predator in a deserted container port. A naked figure flails under a projection of the human muscular system. Oh, and Alice Morgan's back, by the way. Sign me up, Luther: I'm ready to be petrified.
Idris Elba returns, of course, as genius detective DCI John Luther. "So you're telling me to behave myself?" he asks. (Let's just assume he has no intention of doing so.) The series also sees the introduction of Wunmi Mosaku as D.S. Catherine Halliday. Mosaku won a BAFTA for her role as Gloria Taylor in 2016's Damilola, Our Loved Boy, and she's also pretty familiar with playing detectives, as the Guardian points out, with police roles in Vera, Fearless, The End of the F***ing World, and Kiri.
And then there's that fleeting, bordering on subliminal image glimpse of Ruth Wilson's Alice Morgan, who supposedly died at the end of series three. Luther didn't exactly take her death lightly, so it seems fair to predict her reappearance will be a series-defining plot point.
So what else do we know about the eagerly awaited fifth season of Luther? The series was announced back in June 2017, and writer Neil Cross told the BBC, "Now what? It's a question Idris and I get asked a lot. What happened to John Luther after we last saw him striding unbowed through the streets of his city, his blood red London? It can't be over, can it? There's so much we don't know. So much unfinished business."
"In the end, we picked up the phone to some old friends and asked if they'd like to find out what happens next. It turns out, they would. So that's what we're going to do. We're going to find out what happens next," Cross added. "Now what? Luther's coming back. That's what."
Elba said in a statement, "Neil, the BBC and I have been talking about a further season and I am thrilled that we have been able to bring it all together. I look forward to putting the coat back on."
Elba began filming in London in January this year, according to the BBC, saying, "It's good to be back in London, back in the coat." Cross promised the series would be "the biggest, scariest, darkest, most thrilling series of Luther there's ever been" (I'm sweating already).
The BBC also released the first synopsis of the series. "When the moonless shadows of London give birth to a new nightmare, DCI John Luther must once again confront the depths of human depravity," it reads. "As a series of monstrous killings becomes ever more audacious, Luther and new recruit D.S. Catherine Halliday are confounded by a tangle of leads and misdirection that seems designed to protect an unspeakable horror."
"But even as the case brings him closer than ever to the nature of true evil, a reluctant Luther must also face the ghosts of his own past. Striding back into the line of fire, he must choose who to protect…and who to sacrifice."
"Whatever his next move, it will have devastating consequences for those around him — and will change John Luther forever," the synopsis ends.
And Luther devotees need not worry that this is the last they'll see of the detective: Elba told Empire, "This season is not the end." What's more, that rumoured Luther movie is still very much on the cards — and according to Elba, it's going to be massive. "Our ambition is it falls on the scale of Seven," he said. Have you ever been quite so excited to be so completely terrified?