The Mac Miller Benefit Concert Will Pay Tribute To The Rapper's Life In Such A Touching Way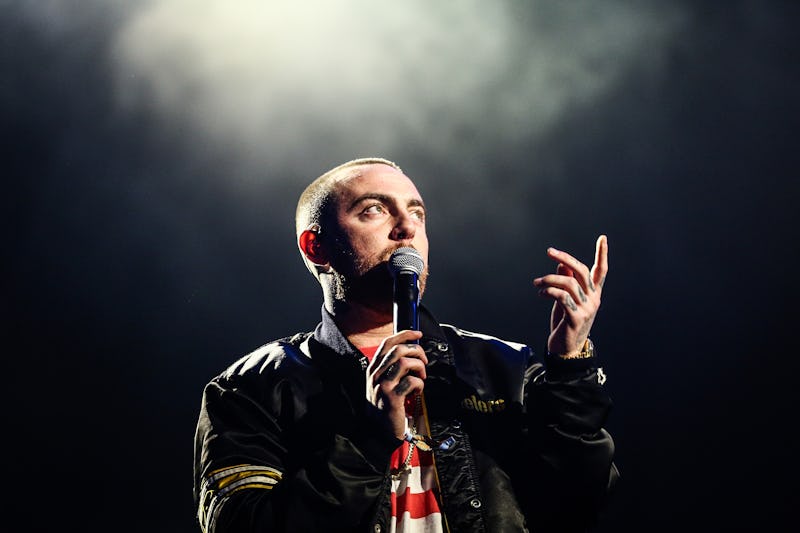 Rich Fury/Getty Images Entertainment/Getty Images
A little less than a month ago, on Sept. 7, Mac Miller (born Malcolm McCormick) passed away unexpectedly at 26 years old. Now, the musician's family is honoring his memory with a benefit concert and charitable fund in his name. Per a Tuesday press release, the Mac Miller benefit concert will pay tribute to the musician's life. Fittingly, the upcoming event is called "Mac Miller: A Celebration of Life." And, in celebrating his life, the concert will solicit a little help from some of Miller's old friends, many of whom also happen to be world-class musicians.
As of right now, there are a number of music industry luminaries slated to perform at Miller's benefit concert, including but not limited to: Action Bronson, Anderson .Paak, Chance the Rapper, Dylan Reynolds, Domo Genesis, Earl Sweatshirt, J.I.D, John Mayer, Miguel, Njomza, ScHoolboy Q, SZA, Thundercat, Travis Scott, Ty Dolla $ign, and Vince Staples, according to Tuesday's press release.
And, in addition to celebrating Miller's life and legacy (both musical and personal), those stars will also be stepping up to help Miller's family celebrate the official debut of the Mac Miller Circles Fund, or MMCF. According to Tuesday's press release, the fund's underlying mission was initially conceived of to honor "[Miller's] commitment to the arts." Continuing, it explained exactly how the MMCF plans do that:
"The MMCF will provide programming, resources, and opportunities to youth from underserved communities, helping them recognize their full potential through exploration in the arts and community building."
As the press release noted, "Mac Miller: A Celebration of Life" will partially act as a platform for Miller's loved ones to launch the MMCF. Per a recent statement from Miller's mother, Karen Meyers, it sounds like the musician's family created the fund very much in his image, and with his famously kind disposition in mind. "We hope [Miller's] ambitions to bring people together and to create new opportunities will continue to live through the MMCF," she said, adding that her son "was a caring, loving human" who wanted to make the world a kinder place. Hopefully, she finished, the MMCF will continue to further that legacy.
This month's benefit concert was helmed by members of Miller's immediate family — his mom, dad, and brother, respectively — and is slated to take place at L.A.'s Greek Theatre on Wednesday, Oct. 31, otherwise known as Halloween. Much like the vigil that took place in Pittsburgh a few days after his untimely death, the "Mac Miller: A Celebration of Life" concert will also be open to the public. Those who'd like to secure their tickets as soon as possible can do so via Ticketmaster, but not until this upcoming Friday, Oct. 5. (Head over to the ticket sales page for more specific information about timing.)
And while there are certainly lots of reasons why fans might be inclined to purchase a ticket to "Mac Miller: A Celebration of Life" (to celebrate, to mourn, to listen to some good music, etc.), perhaps the most important one is to support Miller's other loved ones, who've likely weathered an unbelievably difficult past month. With that said, it sounds like a lot of Miller's fans — and a handful of his famous friends, too — know that already. His mom spoke to this in her recent statement, saying,
"The support we've experienced is evident in this amazing line-up and is a testament to Malcolm's incredible life. His Father, brother and I are beyond thankful to everyone who is working to make this concert happen along with every fan and every friend for continuing to support Malcolm and his vision."
Proceeds from the concert's ticket sales will be donated directly to MMCF, per the event's press write-up. So, for those who are able to buy a ticket and have the means to get there, it sounds like the "Mac Miller: A Celebration of Life" concert will definitely not be a celebration to miss.