The Clue That Lorde May Be Dropping A New Album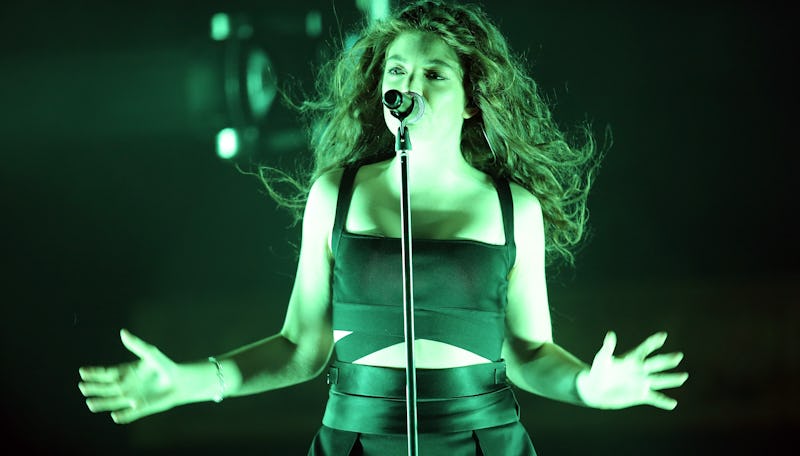 Rob Jefferies/Getty Images Entertainment/Getty Images
Do you have a deep loyalty for a certain velvet-voiced musician from New Zealand? If that's the case, then you've probably already got Christmas morning-level emotions about the fact that Lorde is appearing on Saturday Night Live on March 11. Because this probably isn't just another great performance, but as many other publications have already observed, this almost certainly is a clue Lorde is releasing new music, right? After all, the singer hasn't dropped an album since 2013's Pure Heroine.
So, how normal is it for a musician to use SNL as a platform to launch new music? Well, let's review some of the recent musical guests on the show. In February, Alessia Cara and Ed Sheeran appeared on the show. Cara performed "Scars To Your Beautiful" and "River Of Tears" (both tracks from her 2016 album Know-It-All) on the Feb. 4 show, and then on Feb. 23, she released her new single "Stay."
Similarly, Sheeran performed on Feb. 11, a little over a month after releasing two new songs, "Castle on the Hill" and "Shape of You," and unsurprisingly enough, these were the two songs he performed. Clearly, Sheeran's performance was tactical: He was telling the world he was back with less than a month to go before dropping his new album (which comes out on March 3). Could Lorde be using the same trick?
If recent evidence is anything to go by, then yes. But what about January? Sturgill Simpson performed on Jan. 14, playing "Keep It Between the Lines" and "Call to Arms," two of the tracks from his Grammy-nominated 2016 album A Sailor's Guide to Earth; while Big Sean appeared on Jan. 21 to perform his previously released track "Bounce Back" and a premiere performance of "Sunday Morning Jetpack." Big Sean released his album I Decided, which features both tracks, just two weeks later on Feb. 3 — but no further new music from Simpson was forthcoming.
So sure, this isn't an exhaustive pattern, but it seems easy enough to read: If an artist has released an album over the past few months, they perform tracks from this record. If an artist hasn't released new music in a while, they usually use SNL as a platform to perform upcoming tracks or old tracks to get back into the public eye just in time to release new music.
I'd say the above speaks for itself. It seems almost certain that we're going to get new music from Lorde in the weeks following her Saturday Night Live performance. And given how many years we've been waiting, thank goodness for that.