The Makeup Product 19 People Were Wearing During Pivotal Life Moments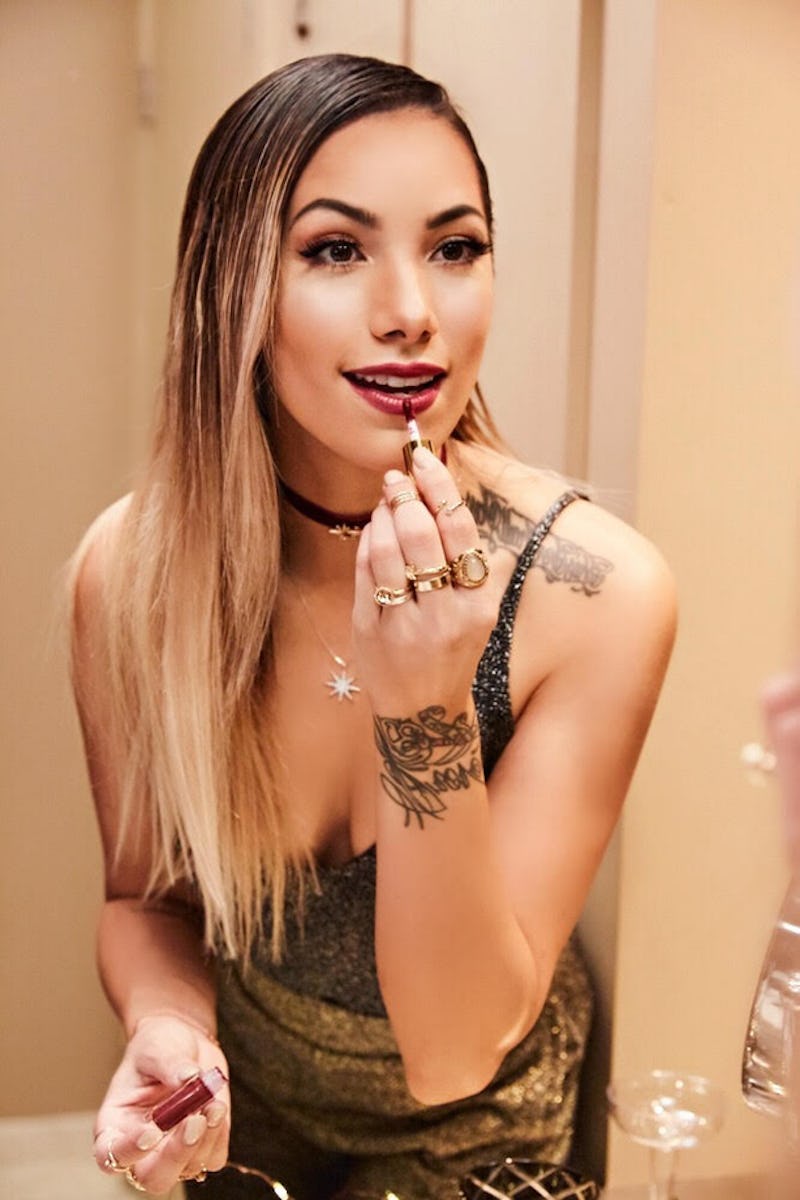 Bustle presents our Beauty IRL package, a tribute to our readers' love of beauty and the way they use makeup and skin care to express themselves, to embrace their identities, and to self-soothe. Check out more of those stories here.
What makes someone gravitate toward a certain lipstick or mascara? The product decisions we make are highly personal, if elusive. The choice could be as simple as the formula or as complex as the feeling you get when you put it on. Our attachment to certain products often has nothing to do with how good they actually are or how pretty they make us feel, but rather the things we associate them with. The makeup products we wear during the most pivotal moments of our lives stay with us, whether or not we continue to use them afterward.
It wasn't just one product or one moment for me. As a teenager, I never really wore makeup, aside from the several times a year I needed to for a dance performance. My skin care routine was minimal — face wash whenever I thought I needed it (very scientific, I know) and sunscreen moisturizer during the day.
But a few months before my high school graduation, my mom took me to Sephora and I stocked up on Urban Decay eyeshadows that I would wear to prom and graduation, that I would take to college and keep on top of my dresser in every dorm I lived in, and that I would later keep in a plastic bag and carry between my parents' and my boyfriend's apartment in Manhattan once I graduated and became "an adult."
Even after I began to work in the beauty industry and quickly realized I would not want for new eyeshadow for a long time, I struggled to part with these now-dusty and well-loved products. It wasn't because I still used them, but because of what they represented, what we had been through together. Here, 19 people share the makeup, skin care, and fragrances they connect with important moments and eras in their lives.
For Kate Ward, Givenchy's iconic Very Irresistible scent will always hold special meaning. "I am slightly embarrassed to admit that, as a pre-teen, I would take full advantage of the perfume sample pull-outs in the middle of my latest issue of YM," she tells me. "And, 15 years later, though I don't head to the magazine rack for my free samples anymore, I am still more than willing to accept any bonus products Sephora might gift me in my bag. Which is why, during a few short weeks in July 2010, I wore Very Irresistible, which smelled amazing, but was, more importantly, free. But I didn't only get a great perfume gratis in July 2010 — I got a great date with a dude that ended up becoming my husband."
Givenchy Very Irrésistible Givenchy, $76, Sephora
Makeup isn't only connected to the good moments in life. "I haven't been able to wear the lipstick I wore on election day 2016 since then," Hannah Caldwell tells me of her Sephora Cream Stain in bright red. "I wore it very purposefully for that day in celebration and now it just makes me sort of sad to think about."
Lynette Cynée grew up watching her parents perform on stage. "My dad is a professional magician and my mother was his lovely assistant," she tells me. "I was given such a unique perception of makeup at a young age. Being backstage seeing all of the performers in the dressing rooms applying stage makeup in the vanities with all the light bulbs was thrilling for me. It was my mother's red lipstick that ignited my love for all things beauty."
It's not always just one product that can reminds us of an important time in life. Marie Brewer says that her introduction to Benefit Cosmetics "the first time I felt beautiful [...] in a full face of makeup." She used the brand exclusively for several years.
For YouTube sensation Laura Lee, creating her own MAC lipstick in the shade "Larlalee" was like coming full circle. "As a young girl I was obsessed with and always held MAC Cosmetics in the highest regard. I would save up everything I had and buy new collaborations piece by piece," she tells me via email. "MAC has always been such an important brand in my life and in my makeup journey. I was beyond honored when they reached out to me to collaborate on a lipstick shade ... Being able to have this opportunity was pivotal for my life as well as my career. "
MAC lipstick was also a life-changer for writer Isabel Calkins. "When I was a freshman in college at NYU, I spent my first year studying abroad in London. I got there and, although in high school I thought of myself as 'trendy' or fashionable, I realized that I totally was not," she says. "I had this vision of myself being a full-on Londoner and grown up, and although I was only 18, I desperately wanted that. So I marched myself down to the MAC store nearest to me, and I bought my first ever big-girl lipstick. It was a nude colored matte called Twig and, to me, buying that lipstick and every day that I would wear it, I felt like a different person almost."
MAC Lipstick In Twig, $17, Nordstrom
The lipstick the Grey Chapman wore at her wedding, Nars VIP Red, remains the most memorable in her collection. "[It] took months to find the perfect red," she tells me.
Nars VIP Red, $28, Nars
"Aphogee Two-Step Protein Treatment is a hair product that takes me straight back to one of the most important events of my life," says celebrity stylist Nancy V. Brown. "When I was 15, I had a hair chemical service go horribly wrong, and I started experiencing hair loss. At that age, I thought my life was over. I'd always been interested in hair styling, so I started playing around with different styles and products to cover up the problem areas. I came to rely on Aphogee to nurture the damaged hair. I learned how to treat my problem, and started helping my friends who had similar issues with their hair. Eventually, I decided to turn this passion into a business, and now I own two salons that focus on treating hair loss problems for women. And every time I see a bottle of Aphogee, it reminds me of how far I've come."
Aphogee Two-Step Protein Treatment, $22, Amazon
For Kelsea Stahler, Chanel foundation and face powder will forever represent a milestone moment. "My mother got them for me when I went away to college," she says. "It was the first time I didn't buy drugstore makeup, and to this day they represent this sort of shift from the cheapo dollar brands that I bought with my allowance and goofed around with to makeup I could wear to internship interviews and big presentations at school."
"My wife, Kristen, and I spent two years developing and perfecting our first few shades for Arctic Fox Hair Color," Ryan Morgan tells me. "I cried when we finally launched the line."
Aubrey DePew first got into makeup when her sister was competing at Miss America and taught her how to use an airbrush kit from Tru Essentials. "Up until a few years ago, we weren't super close, so sharing in something as small as her doing my makeup meant a lot," she says.
Tru Essentials Airbrush Kit, $142, Amazon
For Gabriel Zamora, wearing false lashes proved to be an important step toward self-acceptance. "A pivotal point in my makeup journey was when I wore my first pair of Lilly Lashes. That's when I stopped caring if people thought I was trying to be a girl by wearing makeup," he tells me. "When I applied the lashes and wore them because I wanted to, that is when I started to do things without the consent or approval of society. As long as something makes you happy and doesn't hurt others, why not do it?"
Sometimes a lipstick is way more than just a lipstick. "I guess I could say Ruby Woo from MAC was the first bright lip color I wore because the majority of my life I didn't believe darker complexions could pull off red lipstick," Cyndee Black says. "Once I bought that one, I wore it everyday for like a month!"
MAC Ruby Woo Lipstick, $17, Nordstrom
It's no surprise that k-beauty product J.One Jelly Pack reminds the Glow Recipe co-founder of her brand's humble beginnings. "It's one of those unique skin care makeup hybrid products that helps to create a perfectly primed canvas [...] while treating the skin," Christine Chang says. "I've always had a much stronger relationship with skin care than makeup. When I started my own business, however, wearing makeup and having a polished look that represented Glow Recipe became that much more important. Running on a perpetual lack of sleep and non-stop business travel between Korea and the US didn't always make that very easy," Chang recalls. "This product helped bridge that gap between skincare and makeup for me. It's my [eight] hours of sleep in a bottle, it helps me feel in control of the face I'm presenting to the world, and it makes makeup that much easier and more manageable."
J.One Jelly Pack, $28, Glow Recipe
Beauty influencer Sylvia Gani feels a special connection with MAC Turquatic Perfume. "I started wearing this perfume when I got a job as a makeup artist at MAC. I wore it every day for about a year. It's so important to me because this is the time I really starting believing in my makeup skills and when I started taking a career in the beauty industry seriously," she tells me. She founded her YouTube channel, kicked off her freelance makeup career, and graduated from college that same year. "I decided to go a different path than what I studied in school, a decision that has changed my life completely, and this scent reminds me of that. Nowadays, I switch up my fragrances here and there, but I will always keep a bottle of MAC Turquatic around to wear occasionally, since it brings back great memories and makes me feel at home."
MAC Turquatic Perfume, $57, Nordstrom
After participating in The Colored Girl: Rebirth campaign, which focused on the "rebirth of the black woman," model Khoudia Diop developed a new appreciation for makeup. "I had been modeling for a few years prior, but it wasn't until being featured in that campaign and working with @thecgirlinc that my life really began to change," she says. "That was a pivotal moment for me, to be celebrating the skin I'm in. The same skin I was bullied for while growing up. My dark complexion is amazing and I wouldn't change it for the world," Diop says. "Until this point, I found it hard to get makeup that matched my skin tone. This campaign was the first time I used @MakeUpForeverUs HD Foundation (R540)." Now the product is Khoudia's "go-to," and she is a new addition to the brand's #blendinstandout campaign.
Make Up For Ever HD Foundation, $43, Sephora
"The most pivotal moment tied to makeup in my life was the first purchase I made for myself when I moved to New York," Nicole Loher says. "When I finished my first semester of college, my mom's best friend sent me a $50 gift card to Bloomingdales as a congratulations. I made a whole day out of it. I left Bloomingdales in SoHo with Chanel Rouge Coco in Gabrielle. It became my iconic red lip for four years."
Chanel Rouge Coco In Gabrielle, $37, Nordstrom
Farin Rebecca Loeb discovered Aveda Petal Essence Single Eye Color in Viridian 987 during a particularly tumultuous time in her life. "I can't remember buying it. But the slate grey tone was just right for my cool undertone's freckles. I'd even mix it to contour! It gave me a pop," she says, and made her "look more alive than I felt sometimes."
When she finally ran out of the shade, Loeb realized she didn't actually know what it was called, but "after a last rainy day searching, my friend and I stopped in Aveda to catch our breath. She reached for something I didn't see — and there it was! One left! Once again randomly showing up when I needed it."
Aveda Petal Essence Single Eye Color, $15, Aveda
Clinique's Happy scent is a powerful memory trigger for Tara Brose. "Every time I smell [it] I am immediately brought back to those awkward middle school years. All I had was a tiny sample that I stole from my big sister's makeup bag, but it's what got me through my first kiss," she says.
Makeup isn't just about the way we look — it's about how it makes us feel and the memories we associate with products we once loved.
Clinique Happy, $51, Sephora