The Man Who Killed Heather Heyer Was Just Convicted Of First-Degree Murder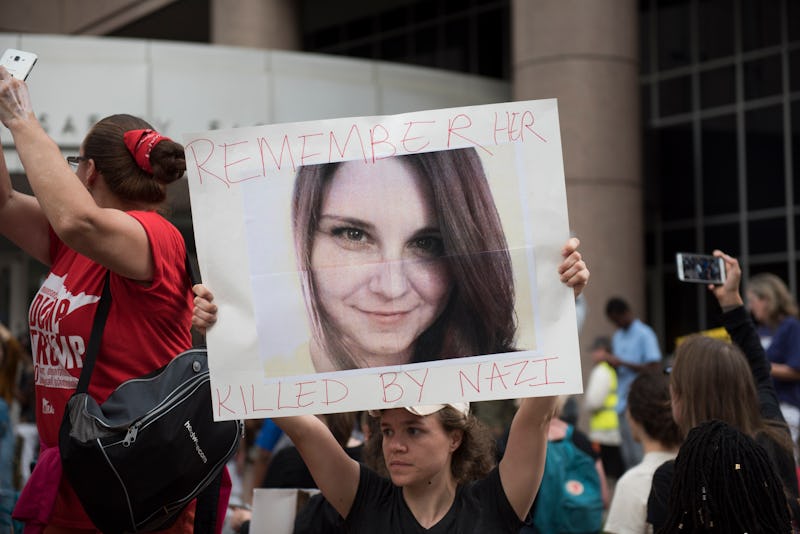 Stephen Maturen/Getty Images News/Getty Images
On Friday, a jury found self-described neo-Nazi James Alex Fields Jr. guilty of first-degree murder for killing Heather Heyer after he rammed his car into a crowd of counter-protesters at a white nationalist rally in Charlottesville, Virginia. The jury of seven women and five men also found the man guilty on three counts of malicious wounding, five of aggravated malicious wounding, and one count of failing to stop at an accident involving a death.
The white nationalist rally in Charlottesville on Aug. 12, 2017, turned deadly when the man, who was there to protest the removal of a Confederate statue, drove his car into a group of people protesting the rally. He injured dozens, and killed Heyer, a 32-year-old woman who was one of the counter-protesters.
The jury's decision came after nearly one week of testimony in the Charlottesville Circuit Court. The prosecuting team spoke about Heyer's injuries, and several survivors of the attack testified, describing the incident and the extent of their injuries, The Washington Post reported. Heyer's mother, Susan Bro — who in the wake of her daughter's death set up a social justice foundation in her name — sat close to the front of the courtroom each day during the testimony, according to the Post.
Fields had traveled from Ohio to Charlottesville to attend the rally. In court, his defense team had argued that he did not crash into the crowd out of malice; rather, his lawyers said, he had feared for his own safety, the Post reported. The defense attorneys claimed he regretted his actions and felt remorse over Heyer's death and the injuries he caused.
But prosecutors argued that he had, in fact, acted out of anger, not fear. They pointed to a previous Instagram post from him that depicted a car driving into people, as well as a text message to his mom while he drove to Charlottesville that included a photo of Hitler. Prosecutors also pointed to records of a December 2017 conversation that Fields had with his mother, in which he described Heyer's mother — Bro — as an "anti-white supremacist." In the recording, Fields' mother reminded him that Bro "lost her daughter," to which Fields responded that the death of "that one girl" didn't matter.
In her closing statement, Virginia Commonwealth attorney Nina-Alice Antony argued that Fields' actions exemplified hatred.
"Hatred fills his mind when he sees the counterprotesters, that group that was so clearly the Other" to him, Antony said, per Vox. "He's presented with an opportunity. He takes his car from drive to reverse, then floors it. He seizes that opportunity to make his Instagram post a reality."
According to BuzzFeed News, Fields was quiet and subdued as the judge handed down the verdict on Friday. He faces 20 years to life in prison, the BBC reported, and on Monday, he will receive his sentence. He also faces 30 other federal hate crimes charges, per the BBC; he has pleaded not guilty to all of these charges, and will go on trial for them next year.